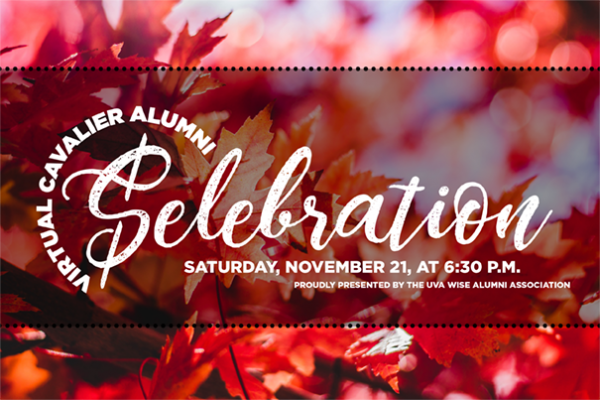 Alumni
Virtual Cavalier Alumni $elebration
Proudly presented by the UVA Wise Alumni Association, Virtual Cavalier Alumni $elebration will include a tasting event featuring Mountain Rose Vineyard and Sugar Hill Brewery and Cidery. Prize drawings totaling $10,000 will also highlight the evening, which takes place on November 21. Proceeds allow the Alumni Association to provide events and activities for alumni and students.

While the pandemic has forced the Alumni Association to transition the Cavalier Alumni $elebration to a virtual drawing, we are excited about the opportunity to maintain our strong connection to our alumni and friends. The drawing will be held through the Facebook Live platform on the Alumni Association's Facebook page at 6:30 p.m. on Saturday, Nov. 21. Prizes will include five cash prizes: $500, $1,000, $1,250, $2,250, and a grand prize of $5,000! Tickets are only $60 each with $30 being tax deductible.

Checks may be made to UVA Wise Alumni Association and mailed to UVA Wise Alumni Association, 1 College Avenue, Wise, VA 24293. Supporters may also make gifts for tickets online noting in the special instructions section that it is for a Virtual Cavalier Alumni $elebration ticket.