Featured
First Office for Diversity, Equity and Inclusion Announced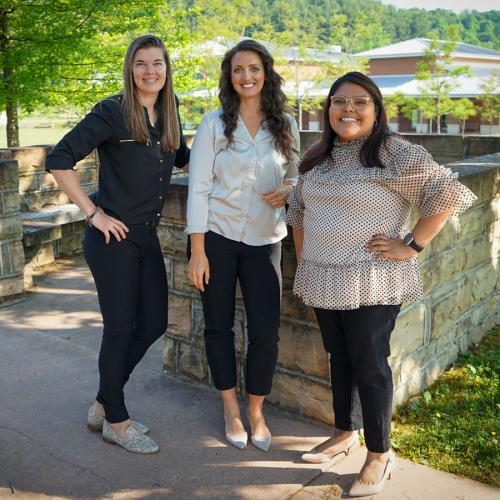 The University of Virginia's College at Wise announced today the creation of an Office for Diversity, Equity and Inclusion (DEI), the first of its kind at the College. UVA Wise has, for some years, worked on advancing diversity efforts through their Office of Compliance and Inclusion, but the new office marks a historic move for the College, whose inclusion efforts have grown in scope, accounting for not only student inclusion, but encapsulating an institution-wide commitment to inclusive excellence.
The newly created unit will assist all units of the College in their efforts to provide affirmative and encouraging environments for work and life at UVA Wise. Members of the DEI office aspire to help create and sustain an institutional culture which understands that diversity, equity and inclusion are essential to the College's mission and continued inclusive excellence efforts. The Office's purpose is the ongoing enhancement of a campus environment where all individuals feel welcomed, valued and supported for success.
The Office will continue their work to support the student-led Multicultural Center, keep the campus community informed about safety incidences and statistics, prevent the abuse of drugs and alcohol on campus, promote and educate an environment that can be free of gender-based discrimination, sexual and interpersonal violence including all reports related to the federal law of Title IX, and the abuse of minors, among other duties. They will add to their portfolio efforts to embrace diversity and equity as pillars of inclusive excellence; synergize diversity, equity and inclusiveness at all levels of the College; cultivate inclusiveness and mutual respect throughout the community; and implement prevention and education programs around all protected statuses.
Because of its institution-wide focus, the Office will report directly to Chancellor Donna P. Henry.
"The work that's been happening around compliance and inclusion at UVA Wise has strengthened our entire college," says Henry. "I look forward to seeing how we can further enhance our inclusiveness to continue to attract a more diverse pool of students, professionals, and partners to our community."
Already, the Office has captured community-informed goals around diversity, equity and inclusion in the College's first-ever Inclusive Excellence Plan. A cross-campus task force laid out the plan, which identifies the actions necessary for and the outcomes of several 2030 goals including: prioritizing affordable access to an excellent, inclusive, and comprehensive college experience; valuing the unique contributions of all members of the UVA Wise community as representatives of diverse populations and rich cultural heritages; encouraging all members of the college community to seek understanding beyond the boundaries of their current knowledge; committing to intentional listening that opens minds to new perspectives; and endeavoring, through teaching and scholarship, to deepen community members' understanding of the unique characteristics of our region to apply and share that knowledge broadly.
The newly formed Office will be led by Tabitha Smith, an alumna of UVA Wise, who is being promoted to Associate Vice Chancellor on July 1 just three months after she was honored as first UVA Wise employee to receive the John T. Casteen III Diversity-Equity-Inclusion Leadership Award in April 2021. She will remain the College's Title IX Coordinator. Smith currently serves, and will continue to serve, as Interim Vice Chancellor for Student Affairs until August 1.
Molly Land, formerly assistant director of compliance, will be promoted to associate director for compliance and inclusion and will remain a Title IX Investigator, and Karina Rufino will continue to serve in her new role as coordinator of diversity initiatives.
"Although this work is a shared responsibility, having an office dedicated to it allows for one unit to always have it 'top of mind,' thinking strategically about its incorporation into all aspects of the organization's functioning areas," says Kevin McDonald, vice president for diversity, equity, inclusion and community partnerships at the University of Virginia. "UVA Wise's DEI office is primed for success under Tabitha's leadership. She is dedicated to forging and maintaining relationships, which are important tools in building lasting efforts. I look forward to learning about UVA Wise's efforts during the months and years ahead."
Learn more about UVA Wise's new Office for Diversity, Equity and Inclusion at www.uvawise.edu/inclusion.