Theater is the place where philosophy & action disguise themselves as each other and dance with our beliefs…whispering lies in our ears, that we might hear truth.
At UVA Wise, we are devoted to theater as a unified art form that blurs the lines between visual-art, story and music by fusing performance, design and engineering in a single, meaningful experience. We are dedicated to cultivating the well-rounded theater student capable of forging meaningful artistic work through a comprehensive and practical experience across the theatrical spectrum.
Getting Involved in Theatre 
It's easy to get involved in Theater at UVA Wise.  There are countless opportunities onstage and off.  You can dive in the first semester of your freshman year without waiting in line to achieve 'seniority.'  You can participate at any level, regardless of your major.  You can take tickets or take over and manage an entire department… but don't expect to sit back and bask in the limelight.   We work hard to be proud of our performances.  Students who participate in theater at UVA Wise are dedicated individuals.  They give up what might be the most guarded and precious possession of a college student- free time!   However, in exchange for that sacrifice, they are rewarded with transformative real-world experiences that set them apart in their readiness to take on responsibilities, accept complex challenges and make things happen for themselves and the communities of which they are a part!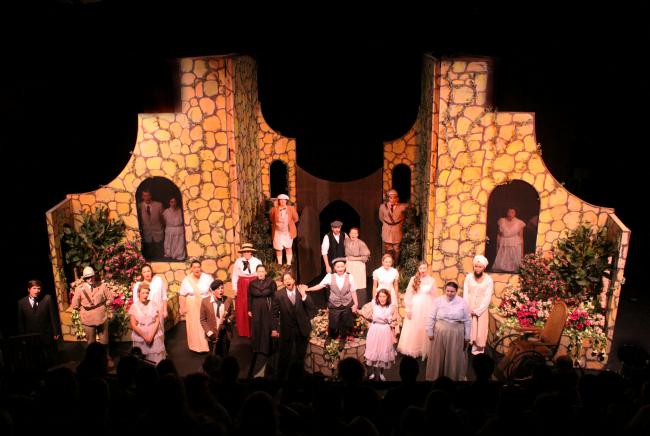 So how do you start?
Make the first move.  Fill out an interest form and tell us what you'd like to do.  Then, we'll attempt to contact you and help you get involved.
What if I'm not sure?
Attend one of the theater division's interest meetings at the beginning of each semester.  This is an informational meeting for students interested in learning more about the productions for that semester, the opportunities available for participating, and the process by which students audition for roles in the play. Students can meet others involved in theater at UVA Wise and get any questions they might have answered.
What happens next?
Auditions: A few days after the interest meeting, auditions are held to cast the play productions for the semester.  Auditions generally consist of some theater games and exercises and readings from the play.  Students submit an Audition Application and then audition together as one big group or several small groups.  All students are welcome regardless of major or previous experience.  Freshman regularly get substantial roles in their first production of their freshman year.   Sometimes they even get leads.  Decisions are made based on who is best for the role, not is the oldest in the department or who has the most experience.
Backstage:  Shortly after the interest meeting and auditions, production work begins to work on building sets, props, and costumes, focusing lighting, and editing sound effects.  Others work on advertising, marketing, organizing the production and handling ticket sales and seating.  Some of the more demanding work (sets and costumes) goes on daily while other preparations are less demanding of time, especially early in the process.  Students are welcome to participate in backstage activities at whatever level of commitment their schedule and interest permit.  We just ask that you honor the commitment you make, at whatever level it is.  You can even consider signing up for class credit, if you are willing to make a substantial time-commitment to the effort!
Tech Week and Showtime:  This is when all the different aspects of production come together to coordinate all of their different efforts into the final production.  It is an intense time and a significant commitment, but the production makes all the effort worth while.
Our Program, Philosophy, and Offerings
Who we are
Good theater is not created by a tired formula and ushered through an assembly-line division of labor.  The strongest theatrical artists are passionate learners and innovators who integrate performance, design and engineering-the most potent elements of expression-to create compelling theater that inspires the communal imagination.  At UVA Wise, we are devoted to theater as a unified art form that blurs the lines between visual-art, story and music by fusing performance, design and engineering in a single, meaningful experience. We are dedicated to cultivating the well-rounded theater student capable of forging meaningful artistic work through a comprehensive and practical experience across the theatrical spectrum.
What we offer
We are committed to maintaining a small ensemble of student majors that function like most professional theater companies-where all students produce, promote, design, act and build the show. It is rare in this world that an artist is given unlimited resources, where everything is provided for him or her. At UVA Wise we seek to develop artists that can do for themselves, students with the breadth of understanding and experience to make their own way and not be waiting for someone else to create opportunity for them because of what they don't know or can't do. So unlike most schools where you'll have to 'wait your turn' to be in a "main-stage show," at UVA Wise you can begin gaining practical experience right away. That is why we are committed to remaining small in number. But don't expect to do your part and leave the rest to someone else. At UVA Wise, we ALL work on WHOLE show. So, be ready to put down your script and pick up a hammer! The experience makes all the difference.
Philosophy
The Theater Arts program at the University of Virginia's College at Wise is committed to fostering an understanding of theater as an integrated, collaborative art form that strives for a communal imagining of what it means to be human. We hold that the practice and experience of theatrical form founds an experiential understanding which engenders empathy and compassion. It is our endeavor to bring this theatrical way of knowing to the larger college community. We strive to make these aspirations our foremost intent, realized persistently through our interactions and undertakings-placing the good of the community and its work above any personal interest we may reap from it.
Productions
The Division of Theater Arts produces at least two productions each semester of the school year. Additional productions are often mounted by students and faculty as interest suggests. All productions are open to all students and, at times, also include members of the faculty, staff, and/or the community at large, where appropriate. They are intended to represent a variety of styles, genres, and forms of theater and to demonstrate, within the college community, the larger cultural function that theater serves. Concurrently, these productions are intended to provide opportunities for students to apply skills and techniques, learned in class-work, to a fully realized theatrical production. These opportunities span all elements of production work including performance, management, design, technical theater, and public relations.
Recent and Upcoming Productions Include:
Of Government by Alex Borinsky
American Buffalo by David Mamet
'Some Assembly Required' Student Theater Festival
Uncle Vanya by Anton Chekhov
The Secret Garden (Musical) by Marsha Norman and Lucy Simon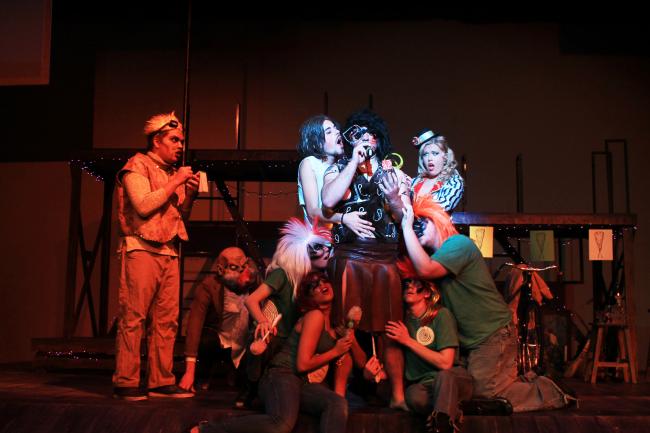 Course Work
Students are challenged to explore and practice various elements of theatrical production while studying the forms, techniques, theories, histories, and philosophies which found them. Theater course-work is rigorously interdisciplinary and a well-rounded theater student requires an extent of knowledge and skill-sets from a variety of disciplines. Theater students don't just study these various disciplines; they apply learning through theatrical productions.  Theater students gain real-world experience and practice in operational analysis, organizing, planning, budgeting, scheduling, production-deadlines, written and verbal communication, problem solving, teamwork, and the complex operational execution required to synchronize lighting, sound, scenery, and actors in performance.
Some of our most popular courses include: 
Acting Techniques

Theater History

Lighting Design

Magic

Theater Aesthetics

Scenic Design

Directing

Performance Studies

Voice & Speech

Puppetry

Stagecraft

Production and Management