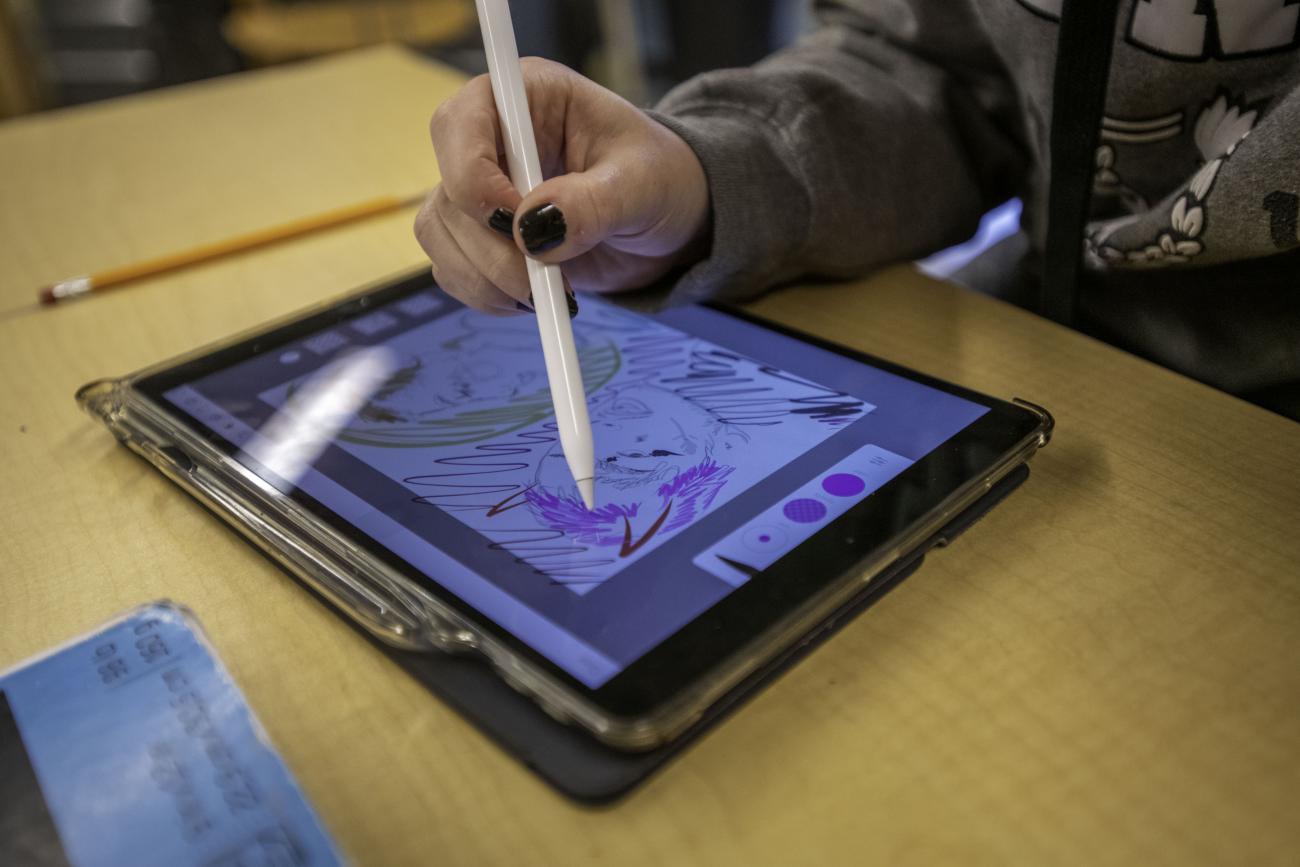 UVA Wise is committed to bridging the technology gap by providing each full-time student, faculty and staff with iPad, Apple Pencil and Smart Keyboard. The innovate2eleVAte (i2eleVAte) project gives students the technical skills required for academic success. Equipping our community with iPads boosts innovative teaching and academic success on campus and enhances the educational experience in the classroom and beyond.
iPads come preloaded with apps that support academic success, and iPad implementation allows faculty to select open source text books, which students can download for no cost to their iPad. This helps save on the expense of textbooks each semester.
"The innovate2eleVAte iPad initiative at UVA Wise will level the playing field for our students. Faculty and staff are excited to implement projects that will create community, enhance academic engagement and help our students develop technological skills to meet changing workforce demands"

Donna Price Henry
Chancellor
Innovate2eleVAte in the News
All UVA Wise Freshmen Receive Free iPads
UVA Wise Program Bears Fruit for Student Faculty Technology Use
iPads Strong Tool for Music Portfolios
iPad Lifeline: Chancellor Henry podcast interview
UVA Wise iPads Prove Valuable Tool During Covid-19
Curious about the innovative ways our students and faculty have used iPads to teach and learn? Read on. 
Teacher and Student-Designed Interactive Workbooks
In search of a way to create a more engaging learning experience for their education students, UVA Wise professors have reimagined their lectures by transforming them into interactive Keynote workbooks. Initially, instructors Wendy Martin (Mathematics) and Rachel Clay-Keohane (Mathematics) designed the workbooks for students to take notes and guide them through the assigned chapter. However, they've discovered that they could empower students to show what they know by assigning a chapter in the textbook and giving each student the responsibility of designing a workbook for their peers to complete.
The instructor-designed interactive workbooks were created using Keynote. Notice the various ways students demonstrate learning using the tools in Keynote using drag-and-drop word banks, embedded video tutorials, a place to write a response using the Apple Pencil, and erase the key to reveal the correct answers.
The student-designed interactive workbook uses the instructor-designed template, but the student became creative and added a personal touch as they explored designing their own assignment activities. On the last page, students learn to provide constructive peer feedback along with a numerical score.
Online Engagement with Collaborative Tools
In order to create an engaging and safe environment that promotes interaction between both faculty and students, students at UVA Wise use iPads to access faculty-created Padlet boards in both synchronous and asynchronous courses. Professors Madelynn Shell (Psychology) and Cody Sanders (Education) use Padlet to promote discussion and check in with students, and professor Margie Tucker (Chemistry) creates a platform for students to present their research findings.
Padlet discussion boards are used during a Developmental Psychology course (left) to engage in perspective-taking. The discussion board on the right is used for a Nutrition course in the Education department to promote weekly conversations and provide regular check-ins on student well-being and project completion.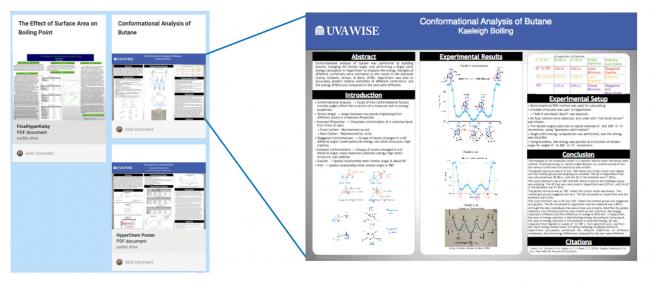 This Padlet board (left) is used during a Chemistry course for research poster presentations. Students create their posters in Keynote and present their findings during class by accessing the Padlet board, providing a virtual "gallery walk"-style experience that saves money on printing costs and allows students to review the work of their peers at their own pace. The example on the right (blown up picture) is a student poster created in Keynote that uses multiple input methods from the iPad to display information: typed text with the keyboard, captured reference images with the built-in camera, and handwritten annotations with the Apple Pencil. This project was created by exercise science student Kaeleigh Bolling, class of 2021.
Microlectures, Introductions, and Tutorials with Clips
Students, faculty, and staff use the Clips app to create videos that utilize photos, live footage, sound, and animations to deliver content. In the samples below, the UVA Wise Office for Diversity, Equity & Inclusion uses Clips to produce their Wise Woman Wednesday series, professor Donald Sorah (Music) creates tutorials for both Gazpacho soup and student jury procedures, and professor Alex Reynolds (Psychology) creates course introduction videos.
Bringing Text to Life with Augmented Reality
In the education department, professor Elizabeth Dotson-Shupe prepares future middle- and high-school teachers to bring text-based concepts to life with augmented reality (AR) tools on the iPad. Using Keynote and AR apps on iPad, students choose a chapter from a grade level textbook and create augmented reality visuals to illustrate key concepts and vocabulary from the text. With the iPad's built-in screen recording tool, students then film themselves exploring and narrating the scene.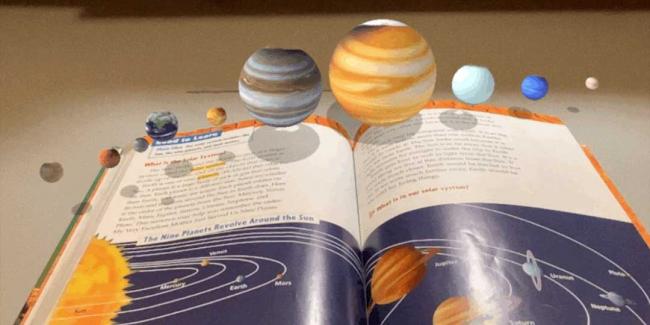 This student's scene helps middle schoolers visualize the solar system by placing the augmented reality shapes above the textbook and into the student's environment.
Concept Maps for Complex Vocabulary in Numbers
In the natural sciences department, professor Ryan Huish often facilitates a collaborative white-boarding activity with his students using post-it notes to organize complex terms. With iPads, Professor Huish and his students transform this activity using Numbers and iCloud collaboration. Professor Huish creates template documents with terms on sticky notes at the top, and students work together to create a concept map. Students use the formatting tools in Numbers to color-code the terms, and the built-in shapes library to add visual symbols.
UVA Wise Student iPad Guide
Every campus iPad automatically receives a copy of this 37-page multitouch ePub book produced by a team of students, faculty, and staff at UVA Wise using the Pages app. The guide presents embedded videos, screenshot galleries, and audio clips in a series of chapters designed to help students use their iPad for working with files, taking notes, creating media projects, organization and studying, and staying connected.