iPads strong tool for music portfolios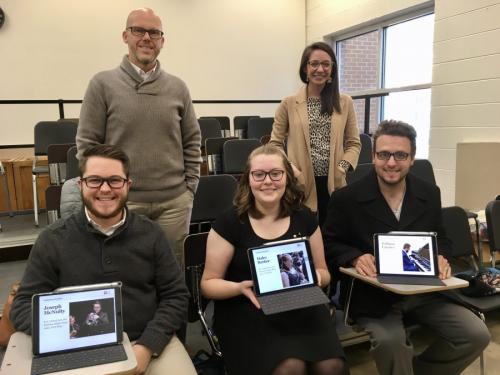 Music majors at the University of Virginia's College at Wise are pioneers when it comes to finding new uses for the iPads the College provided to students at the beginning of the academic year.
Music students prepare for careers or graduate study when they graduate from UVA Wise, and that often means building a bulky paper portfolio or an electronic one stored on a thumb drive to send to potential employers or to graduate school professors. Those tedious days are over for the UVA Wise music majors.
The students, with encouragement from Professor Donald Sorah and technical help from Apple representative Rachael Hulme, the students are creating portfolios on their iPads. The portfolios are electronically sent to graduate school professors or potential employers, and those who receive the files can watch videos of the students' performances. The students can also present their portfolios in person. The portfolios also contain resumes, cover letters, teaching philosophies, original composing work, and a variety of other material that can be viewed with just a click.
Sorah, who has worked with the students on their digital portfolios, believes embracing the technology will give his students an edge in the job market or for placement in various graduate music programs.
Haley Barker plans to enter graduate school and work in music therapy when she graduates. Her portfolio contains her resume, cover letter, audio files or her performances, and examples of her arrangements. She also includes a section on clarinet history with images. Samples of her writing are also featured.
"We go through so much paper," she said. "It's better to have it all in one place, and I can do that with the iPad. I can also easily add more to my portfolio when needed. I like not having to use a USB anymore. The USBs are so easy to lose, and it is better than putting them in a binder like we used to do."
Sorah agreed. He doubts that many employers have the time to load a thumb drive into a computer if they have dozens of portfolios to view.
Joseph McNulty has similar items in his digital portfolio, but he has videos of his conducting, running a rehearsal session, auditioning with Symphony of the Mountains orchestra, and even conducting a piece for Symphony as well.
"I'm having more fun with this than I thought I would," he said.
Sorah said the technology really draws the students into the portfolio project, and the hard work shows. McNulty agreed.
"I feel like I really know all the material in my portfolio," he said. "It will make it easier to explain myself and my work to an employer."
Will Farmer is also using his portfolio in a similar way, but he is planning a non-teaching career in music.
"This will be convenient to take to an employer," he said. "I like that I can put videos and audio in and not have to worry about keeping up with a flash drive. I also like the look of it."
Sorah plans to expand on the use of the iPad technology in coming semesters. He expects the portfolio use will only get better as the technology improves.
UVA Wise provided iPads, Apple pencils, and a keyboard to all full-time students, and that program will continue.