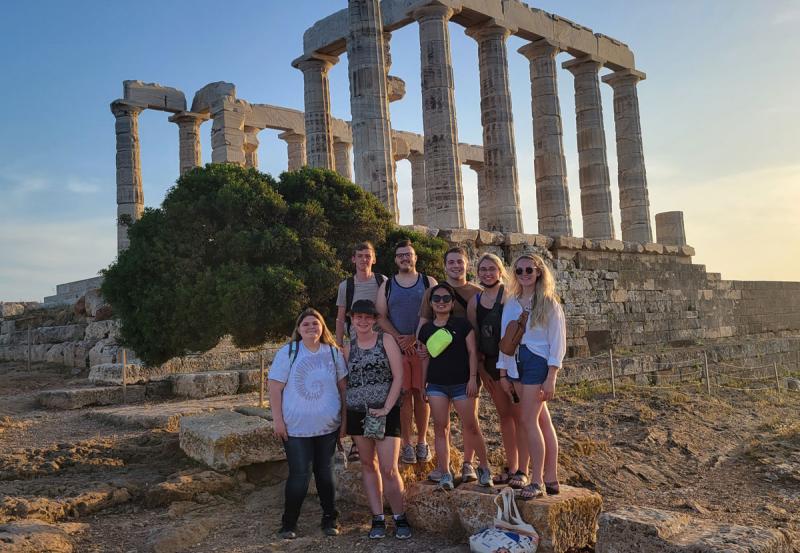 UVA Wise Students Experience Life Changing Trip in Greece
Thirteen students toured Athens, Delphi, the Cape of Sounion (the Temple of Poseidon) and Santorini during their two-week trip abroad as part of the "Politics and Philosophy of Ancient Greece" course in Summer 2022.
See the world with UVA Wise
The International Programs office provides students at UVA Wise the unique chance to complement and enhance their academic experience with a variety of international opportunities. Programs run anywhere from a few weeks (Study Abroad Trips, Summer/Winter programs) to an academic year and offer courses that can earn UVA Wise general education, elective, minor, and/or major credits depending on the program.
Accessibility
Getting started on your study abroad journey is easy. Once you are a sophomore with at least a 2.75 GPA for a semester abroad — or a 2.5 GPA for short trips — you are eligible. Freshmen can participate in our short trips if admitted by the trip director.
Meet with the Office of International Programs (Zehmer 120) to discuss your options and be guided through the application process.
Affordability
If you enroll in a UVA Wise-sponsored study abroad program, you will be considered for financial aid and special scholarships. The majority of our semester/year study abroad programs have the same cost (including tuition, room and board) as studying at UVA Wise. Ask the Office of International Programs for more information.
Applicability
Studying abroad fits into your academic plan because credits earned abroad count toward your degree. You earn credit toward your general education, major, minor, and/or elective requirements.
Sister Schools and Foreign Exchange Student Programs
UVA Wise Students have the option to spend a semester or year studying at one of these institutions.  While some facility with the language of the country is required for most, Gakushuin provides online Japanese lessons for students planning to spend the semester in Japan.
We are proud to regularly welcome students from these educational institutions to the College at Wise as exchange students:
Chile: University of the Andes
France: Pôle University Leonard de Vinci
Germany: Technical University of Dortmund
Japan:  Gakushuin University
Luxembourg: University of Luxembourg
Spain: University of Seville and University of Huelva