You already know that the University of Virginia's College at Wise provides a nationally renowned education for students of the Southwest Virginia region and beyond. But did you know how critical athletic scholarships are to that mission? Athletic scholarships are a game changer in the lives of UVA Wise student athletes who use their experiences in competitions to fuel their best selves during and after their college career.
Be a Game Changer - Make a Gift
Student athletes at UVA Wise:
Nearly 100 UVA Wise student-athletes were named to the South Atlantic Conference Commissioner's Honor Roll last year, each earning at grade point average above 3.3.
Earn distinction for themselves and the College by winning conference honors.
Complete outreach projects to help the local community, including hosting games for children from local schools, assisting with Habitat for Humanity, and wrapping Christmas presents for kids across the region.
Gain vital leadership skills, including resilience and determination, from their work in UVA Wise classrooms and on the courts and fields.
Your Gift to Athletic Scholarships is a Game Changer
Right now, your gift to the Game Changer athletic scholarships initiative will be matched by University funds, because we know your investment will help students gain an athletic experience that positively impacts their lives after they graduate and for generations to come.
AT UVA WISE, WE'RE STUDENT-ATHLETES, EMPHASIS ON "STUDENT"
UVA Wise is ranked among top liberal arts colleges in the nation which attracts student-athletes like Olivia Dishner. "UVA Wise has a strong academic program in nursing and holds high expectations for student athletics," Olivia says.
"Here, my coaches and professors challenge me to rise above my own personal expectations."
And those high expectations hold true for students when they go to take advantage of college life as well.
Athletic scholarships are important. In fact, they are a game changer in empowering UVA Wise students to attend our College, experience all that a UVA Wise education has to offer, and earn a marketable degree that leads to a lifetime of success.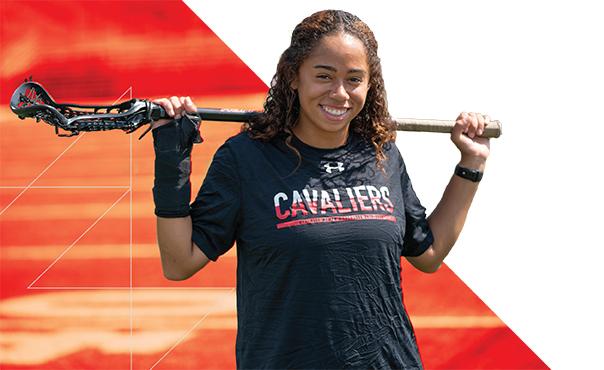 "I have had so many amazing opportunities to learn here at Wise. My scholarships allowed me to have time to get involved with student organizations and excel on the field and in the classroom."

Jesse French
Class of 2020
WILL YOU BE A GAME CHANGER TODAY FOR UVA WISE STUDENT-ATHLETES?
Every gift to Highland Cavalier Athletic Scholarships makes a difference!
Make a gift for athletic scholarships by providing your information and selecting the appropriate FUND DESIGNATION.
Athletic Scholarships (immediate impact) benefits our student- athletes by meeting current needs for scholarships. Every year, the College must raise thousands of dollars from private gifts to support athletic scholarships
CAVS Athletic Bicentennial Endowed Scholarship allows you to maximize your gift. Gifts to this fund grow over time and provide scholarship support to student-athletes in perpetuity. Established by generous donors, this endowment enables you to match your gift dollar for dollar, meaning that your $500 gift becomes a $1,000 donation to our students!
To make a gift by mail, please forward to:
UVA Wise Foundation
Office of Athletic Giving
1 College Avenue
Wise, VA 24293