McCray participates in SCHEV panel discussion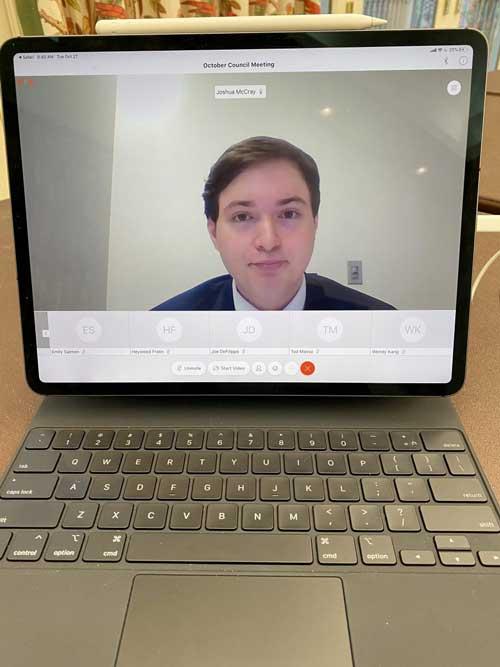 Josh McCray, a third year student at the University of Virginia's College at Wise, was selected to participate in a panel discussion before the State Council for Higher Education in Virginia Tuesday on the student perspective of the college experience during the COVID-19 pandemic.
SCHEV listened as McCray, a double major in biochemistry and history, recounted how he and his fellow students are coping with virtual learning, hybrid classes, a compressed class schedule, and an overall glance at how the semester is progressing. McCray, who is active in the Student Government Association, Circle K International, and other campus organizations, expressed concerns that freshmen may have a more difficult time dealing with college life during the pandemic than upperclassmen, and that some students may not always stay connected to campus and academic life as others who are more willing to reach out for help when needed.
The Wise County resident also told the SCHEV members that UVA Wise has done an excellent job planning for the fall semester so students could return to campus. He said the administration made sure to include students in planning, and that made a positive difference in the successful return to campus. The hybrid classes are working well and a sense of normalcy has been occurring. On-campus resources are in place to help students, and he said he is making sure to use those resources.
McCray said virtual learning could be an issue because it often seems that the assignments never stop. However, he said professors are willing to work with students and are flexible. In addition, professors hold office hours via Zoom, and he said he has always been able to get answers to any questions or issues that arise.
McCray, who is on the SCHEV Student Advisory Committee, said he was honored to participate in the panel discussion.
"I was thrilled to represent the Student Advisory Committee of SCHEV and also UVA Wise," he said. "Serving on the Student Advisory Committee allows me to highlight what UVA Wise has done this year from a student's perspective and also allows me to provide insight on higher education issues in Virginia. This year the SAC is focusing on the ongoing COVID-19 pandemic, racial and ethnic justice, and the upcoming U.S. presidential election."
McCray said he is learning the complexities of higher education and is providing suggestions to SCHEV on various student issues. It's an honor, he said, to help develop strategies and solutions to help students succeed in the face of the global pandemic. McCray plans to attend medical school upon graduation from UVA Wise.