Featured
Twinleaf Society named UVA Wise's 2020 Volunteer of the Year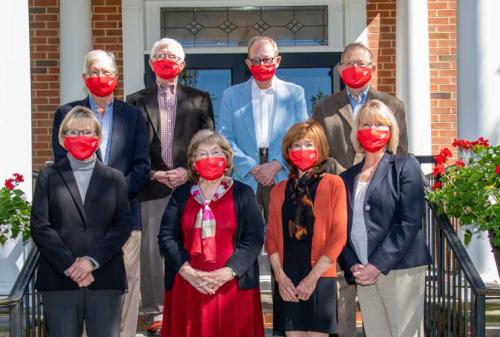 The Twinleaf Society is the 2020 Volunteer of the Year for the extraordinary service the society's retired faculty and staff have given the University of Virginia's College at Wise over the years.
Valerie Lawson, vice chancellor of advancement and alumni engagement, announced the honor during a virtual announcement held in the David J. Prior Convocation Center. The global pandemic disrupted the annual Benefactors Celebration so the announcement was made via video.
"The Twinleaf Society embodies all that we value in outstanding volunteers," Lawson said. "They have devoted their time, talents and treasures. They are tirelessly dedicated and committed to staying connected to fellow retirees while being engaged with faculty, staff, students, and the surrounding community."
The Twinleaf Society was formed in 2003 as a way for the College's retirees to build a lasting relationship between members and UVA Wise. The group is active on campus and attends numerous College events, including student and faculty research presentations, sporting events, and many academic endeavors.
Tami Ely, president of the Twinleaf Society, said the group gains satisfaction from knowing its efforts make a difference in the lives of UVA Wise students.
"Students are at the heart of all we do," Ely said.
Ely said Twinleaf members appreciate the recognition as Volunteer of the Year and pledge to always do anything they can to help UVA Wise.
"To say the College was monumental in our lives is a grand understatement," Ely said. "It really was our lives, and I do feel we are part of the College's rich history. We are also dedicated to continuing the legacy of service."
One of the Twinleaf Society's most notable projects is the clock that sits in the lower portion of campus.
"One of the group's first projects was the addition of the signature elegant clock located in the heart of campus near the Chapel and Crockett Hall," Lawson said. "Many alumni returning to campus as well as visitors are drawn to this beautiful clock. The Twinleaf Clock truly exemplifies this group's commitment to support the College's efforts to create both a collegial and picturesque environment for our campus."
The group previously created the Twinleaf Society Endowed Scholarship Fund and recently launched a campaign to endow the Twinleaf Society Helping Hand Fund. The Helping Hand Fund will support students who find themselves in difficult financial circumstances that could force them to put their college career on hold.
Ely said the group had talked about establishing an emergency fund for a few years, but the global pandemic and the financial toll of the response made the fund even more vital today.
To commemorate the Twinleaf Society's collective support, the College plans to dedicate the fifth floor of the library as the Twinleaf Lounge.
Chancellor Donna P. Henry held a small luncheon in September for representatives of the Twinleaf Society's Executive Committee and Projects Committee to thank the group for its dedication to UVA Wise.