Featured
UVA Wise and The Nature Conservancy Launch Cumberland Forest Community Fund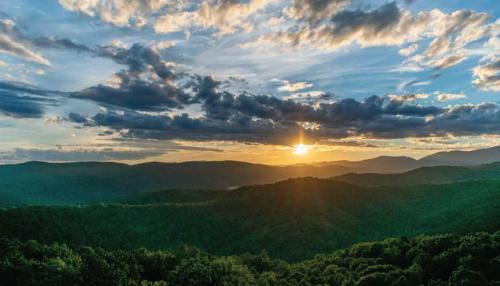 The University of Virginia's College at Wise, in partnership with The Nature Conservancy, is pleased to announce the launch of the Cumberland Forest Community Fund: a new competitive local grant program to support nature-based economic and community development projects in seven counties in Southwest Virginia (Wise, Russell, Tazewell, Dickenson, Buchanan, Lee, Scott and City of Norton).
The program is conducting its first request for proposals, seeking projects and initiatives that produce "triple bottom line outcomes" through tangible contributions to: (1) local economic development (e.g., jobs, visitor spending, lodging taxes, etc.), (2) increased community capacity (e.g., green infrastructure investments, outdoor recreation/tourism capacity building, strategic planning, creation of local policies/conditions that enable nature-based economic development, etc.) and (3) enhanced environmental quality (e.g., benefits to land, water and air quality).
$100,000 in funding, provided to UVA Wise by a grant from the Cumberland Forest Limited Partnership (managed by The Nature Conservancy), will be made available to eligible applicants whose projects are selected for funding. UVA Wise will manage the grant program.
"We are very excited to be partnering with UVA Wise to launch this new grant program that will provide seed funding to support entrepreneurial individuals and communities that have viable plans for sustainable nature-based economic development," says Brad Kreps, The Nature Conservancy's Clinch Valley Program Director. "This funding will help support local projects and local communities, creating positive outcomes for both people and nature."
The types of projects that may receive funding include but are not limited to downtown revitalization initiatives; recreational trails and/or greenways; development and/or promotion of natural or cultural assets in local communities; renewable energy projects; outdoor recreation, sustainable forestry or agricultural businesses or initiatives; and land or water restoration projects.
"Few grant programs are open to both entrepreneurs and communities. The Cumberland Forest Community Fund is unique, and we believe it will serve as a significant resource to the region," says Shannon Blevins, Vice Chancellor for Economic Development and Strategic Initiatives at UVA Wise.
Proposals are being accepted now through March 29, 2021. More information on the Cumberland Forest Community Fund, including the program guidelines and application, can be found at www.oxbowcenter.com/communityfund.