Featured
Wyllie Hall renovation grows closer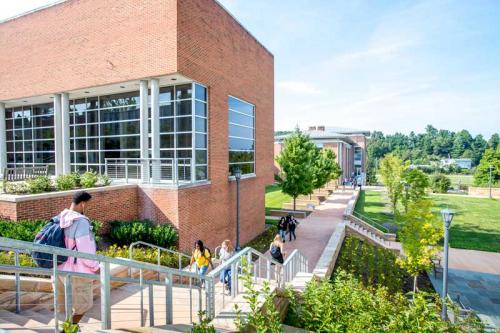 It's been in the works for many years, but the UVA Wise Department of Nursing will soon have a new facility to meet the needs of the growing program.
Wyllie Hall, the former library that served students for many decades, will undergo renovations so the nursing faculty and students will have its own dedicated space. Those in the program will move from the lower level of Darden Hall to the spacious facility that will provide plenty of classroom, laboratory, and simulation labs for the entire curriculum.
"We are planning to start construction in January 2022 with full completion of the renovation expected in time for the fall semester of 2023," said Travis Perry, director of operations.
The campus has been eager to see the renovation project begin since the new library opened adjacent to Wyllie Hall. The facility is even more vital as the College begins to pursue starting a nurse practitioner graduate program in coming years.
"We received planning funds for the Wyllie renovation in March 2019," Perry said. "We engaged with Clark-Nexsen Architects to kickoff planning with faculty in August 2019. Schematic design drawings were completed in April 2020."
However, a series of budgetary uncertainties surrounded the project during the COVID-19 pandemic, which delayed the reviews and release of full funding.
Perry said the reviews were completed by the Department of General Services in February 2021 and full project funding was awarded at $16.6 million.
"The University is now preparing to issue a Request for Qualifications for full architectural and engineering services, which will lead to final construction later this fall," Perry said. "The final renovation will include a nursing simulation lab, a skilled nursing lab, exam rooms, classrooms, computer lab, group study, administrative offices, and common areas."