Featured
Class of 2020 Honored at In-Person Commencement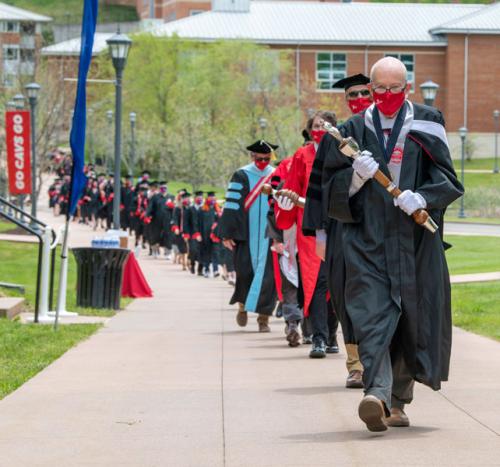 On Sunday, May 9, 2021, members of the Class of 2020 of the University of Virginia's College at Wise were honored in a Commencement ceremony that took place at 1 p.m. at Carl Smith Stadium. Although each of the 230 graduates of this class had their degrees conferred at a virtual ceremony last May due to the COVID-19 pandemic, Sunday's event provided an in-person opportunity for many class members to come together with their friends, family members, faculty and classmates present. Each member donned a branded mask, maintained social distance and crossed the stage, nearly a year after earning either a bachelor of arts, bachelor of science or bachelor of science in nursing degree.
UVA Wise Chancellor Donna P. Henry welcomed the Class of 2020 saying, "Graduates, I speak for all members of our College community when I tell you how very proud we are of you. Your achievements and service to others will contribute to the greatness of UVA Wise."
University of Virginia's M. Elizabeth Magill, executive vice president and provost, also applauded graduates sharing, "I hope you are smiling underneath your masks as you consider all you have accomplished. You found ways to create and sustain the Wise community during the toughest of times…and my hope for all of you is that this lesson and skill – creating a thriving community wherever you go – will continue to stick with you beyond the borders of this beautiful campus."
 Lewey K. Lee, UVA Wise College Board Vice Chair and a 1964 alumnus of the College, shared his greetings, as did Anthony Mason Phillips, president of the Student Government Association who graduated just one day before with the Class of 2021.
Then, Telena M. Turner, a member of the class of 2020, shared her remarks. Turner was selected as the honorary class speaker for the year, and her reflections centered on the importance of saying "Hello," saying "Good bye" and saying "Thank you."
After telling about how her experience in the College's extended orientation program inspired her, Turner touched on a question she was initially asked by John Mark Adrian, professor of English and program director for the Peake Honors Program. "What is the purpose of college?"
Turner recalled Adrian responding, "Get your degree, but do not let it be the only thing you leave with." She then went on to synthesize to her classmates that, "We are not leaving college just with degrees, but with the ability to think critically, ethically, and empathetically, with the ability to empower our ideas and the ideas of others."
Brad D. Smith, executive chair of the Intuit board of directors, delivered the Commencement address, pointing out, by persevering through the pandemic, the Class of 2020 has become "the best prepared class of students in our nation's history."
"The events of the past year may have felt like disadvantages along the way, but they were blessings in disguise," Smith counseled. "Having lived through these recent experiences has provided you with the three most critical skills for succeeding in the 21st century: adaptability, resilience and purpose."
After Smith's address, Provost and Vice President for Academic Affairs Trisha Folds-Bennett presented candidates for their degrees, with Chancellor Henry awarding.
Joseph R. Carico, a 1995 alumnus of the College and Alumni Association President during the Class of 2020's graduation, inducted all graduates into the Alumni Association.
The singing of the alma mater and recessional followed. Even though live music could not be performed due to the pandemic, recorded music was part of the day's festivities and was provided by Hannah W. Ryan, assistant professor of music; the UVA Wise Highland Winds, under the direction of Richard Galyean, director of bands; the UVA Wise Concert Choir under the direction of Hannah Ryan; and Randy D. Stanley, a 1978 graduate of Clinch Valley College and Conner D. Stanley, a 2016 graduate of UVA Wise, who together provided bagpipe music for the processional.