Featured
Class of 2021 Has Historic Commencement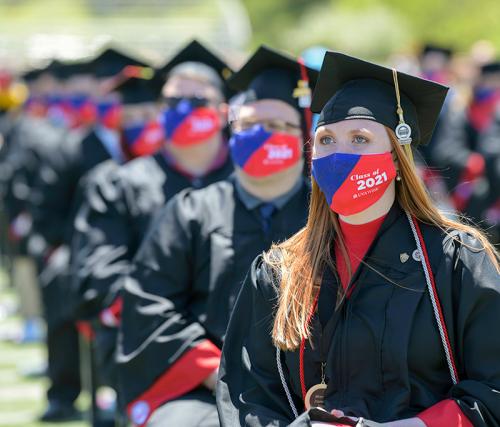 On Saturday, May 8, 2021, the members of the Class of 2021 of the University of Virginia's College at Wise graduated in a historic Commencement ceremony, the first of the College's since the COVID-19 pandemic began. With friends, family members, faculty and classmates present, 228 graduates donned a branded mask, maintained social distance and crossed the stage, earning either a bachelor of arts, bachelor of science or bachelor of science in nursing degree. The ceremony took place at 11 a.m. at Carl Smith Stadium.
UVA Wise Chancellor Donna P. Henry welcomed graduates on the historic day saying, "In many ways, you are uniquely prepared for the world. In your last year and half of College, you have been tested and challenged in ways never seen or fathomed. I know it has not been easy, and I applaud you for your determination, your resilience, your commitment to one another and this community – and your unflappable commitment to earning your College degree."
University of Virginia President James E. Ryan also applauded graduates, sharing, "A community thrives when we all act to the benefit of others, and that's always been true of Wise. This crisis (the pandemic) has revealed how caring and compassionate this community is, and I hope you carry that forward."
Lewey K. Lee, UVA Wise College Board Vice Chair and a 1964 alumnus of the College, shared his greetings, as did graduating senior Anthony "Mason" Phillips, president of the Student Government Association.
Then, Madelyn L. Lawrence, also a graduating senior, shared her remarks. Lawrence was selected as the honorary class speaker for the year, and her reflections centered on overcoming challenges.
"We, the class of 2021 not only survived; we took it all in stride and thrived," Lawrence said. "I stand here today with no fear, confident that Wise has helped me develop a strong skill set and prepared me for the challenges ahead."
Lawrence reminded classmates of the accomplishments they had overcome and asked, "Are you grinning under those masks, because you see the great opportunities out there? … Are you ready to leave your mark on the world?"
Alan Levine, executive chairman, president, and CEO of Ballad Health, delivered the Commencement address.
"You are inheriting, and being entrusted with, the future of this incredible but very complex country and world of ours," Levine said. "America's past greatness has, and her future will, rest on the strength of faith and a culture that recognizes goodness, compassion and giving will always triumph over strife and evil."
After Levine's address, Provost and Vice President for Academic Affairs Trisha Folds-Bennett presented candidates for their degrees, with Chancellor Henry awarding. Alumni Association President Santana L. Vasquez, a 2007 alumna of the College, inducted all graduates into the Alumni Association.
The singing of the alma mater and recessional followed. Even though live music could not be performed due to the pandemic, recorded music was part of the day's festivities and was provided by Hannah W. Ryan, assistant professor of music; the UVA Wise Highland Winds, under the direction of Richard Galyean, director of bands; the UVA Wise Concert Choir under the direction of Hannah Ryan; and Randy D. Stanley, a 1978 graduate of Clinch Valley College and Conner D. Stanley, a 2016 graduate of UVA Wise, who together provided bagpipe music for the processional.
A moment was taken during the ceremony to honor Michael E. O'Donnell, assistant professor of French, who is retiring later this month and has served the College for 53 years and served at today's Commencement, and at several throughout the past, as the Grand Marshal of the Commencement Ceremony with distinct honor carrying the College Mace, a symbol of authority of the University.