Featured
UVA Wise to Host Family Nurse Practitioner Program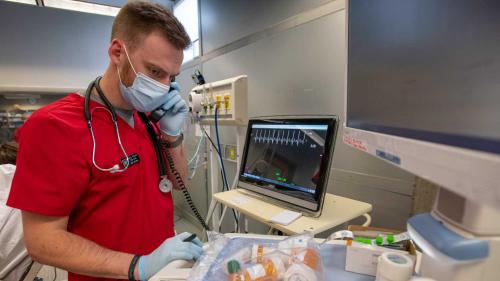 In fall 2022, UVA Wise will begin offering another educational program to advance the health care workforce of Southwest Virginia. Public health in the region will take another step forward as UVA Wise hosts the University of Virginia's Family Nurse Practitioner (FNP) program, empowering nurses to earn a Master of Science in Nursing (MSN) degree, at its Wise, Va., campus. The accredited, academically robust program from the University of Virginia has already helped hundreds of healthcare practitioners positively impact the lives of patients while enhancing their individual career paths as well.
"We're excited to call on our partners at UVA to bring their stellar program to Wise," says Chancellor Donna P. Henry. "This represents another significant step forward in our partnership with the University."
This three-year, part-time program allows students to continue to be employed while taking didactic and clinical practicum courses required for the degree.
"This program will bring educational opportunities closer to home and support the heath of communities across Southwest Virginia," says Nancy Haugen, the Kathleen Strunk Chair of Nursing. Haugen has been working with leadership across the College and at the University's School of Nursing to ensure the program able to be completed by working RN's.
Thanks to support from the Commonwealth of Virginia, Don R. Pippin and John C. Wyllie Hall, which formerly served as the College's library, will soon undergo renovation into a nursing education facility. When its renovation is complete, Pippin-Wyllie Hall will feature a technology-enhanced classroom designated for students in the Family Nurse Practitioner program. Students will have access to a renowned UVA curriculum and also a beautiful space to learn and collaborate as a group.
While most of the coursework will be offered in Wise and will take advantage of the College's impressive patient simulators, students of the FNP/MSN program can expect to occasionally travel to Charlottesville to utilize even more specialized facilities. In Charlottesville, they will practice their skills on highly trained standardized patients, which are individuals who allow students to practice procedures on them, giving students real-time feedback in a learning-focused environment.
"We are excited to support the education of nurses from Southwest Virginia because we know the tremendous positive impacts this will have on the region's communities," says UVA Dean of Nursing Pamela Cipriano, a former two-term American Nurses Association president.
Cipriano and her faculty are known for preparing exceptional graduates who provide compassionate, holistic care to patients, families and communities in their top ranked programs.
"We're thrilled to be utilizing the considerable knowledge of the University to meet the needs for health care professionals in southwest Virginia," says Trisha Folds-Bennett, provost and vice chancellor for academic affairs at UVA Wise. "And we're very excited to partner with healthcare organizations throughout the region to help them enhance patient care."
Current registered nurses interested in the program can achieve their career goals to become advanced practice nurses close to home. Applicants to the program are required to have one year of full-time experience as a Registered Nurses and to have earned their Bachelor of Science in Nursing degree. The deadline to apply for the fall 2022 start date is January 5, 2022. Applications should be submitted to the University of Virginia School of Nursing at www.uvawise.edu/FNP. Applicants should indicate under the "personal section" of the application that they are applying for the Wise location.
Individuals interested in the program can request information at www.uvawise.edu/FNP and register to attend Zoom information sessions on Sept. 27 at 7 p.m. and October 25 at 6 p.m.