Featured
UVA Wise names new Director of Alumni Engagement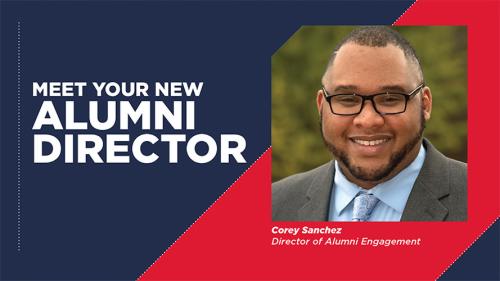 Today, UVA Wise announced that Corey Sanchez, a 2013 graduate of the College, has been named the new Director of Alumni Engagement. Sanchez was selected from a competitive search pool and will begin his new position on Sept. 27, 2021.
"I am excited to continue to work alongside Corey in his new role within the Office of Advancement and Alumni Engagement," said Valerie Lawson, vice chancellor for advancement and alumni engagement at UVA Wise.  She said, "Corey has successfully served as the Assistant Director of Alumni Giving since 2018 and has proven himself as a dedicated and engaged staff member.
Sanchez brings to the position nearly a decade of service in relationship building and service, first in roles at Crutchfield Corporation and Sykes Enterprises and then, during the last five years, at UVA Wise, where he previously served as assistant director of annual giving.  In addition, Corey has served as a member and officer of the Alumni Association's Board of Directors, experience which will prove valuable in recruiting and motivating volunteers.
Sanchez is hoping to reconnect with alumni who have been disconnected with the College and is looking forward to celebrating the successes of UVA Wise's more than 10,000 alumni.
"I like hearing our graduates' stories and about their experiences at the College," says Sanchez. "Whether you graduated from UVA Wise or Clinch Valley College, I look forward to hearing about your journey."
Sanchez also said he is looking forward to doing more local events to bring alumni clubs together and to get them fired up.
"I want UVA Wise to always feel like home," Sanchez concludes. "My door, phone line and inbox are always open."