Featured
UVA Wise's RALLY SWVA program among finalists for national economic development award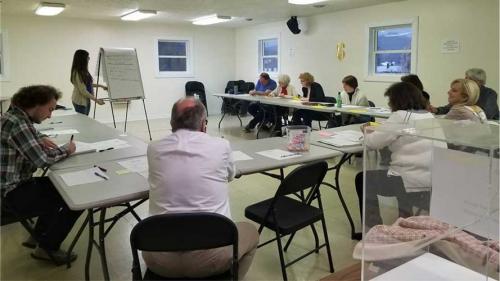 UVA Wise recently learned that its RALLY SWVA program, created jointly with Opportunity SWVA, is among 22 finalists for the University Economic Development Association's Awards of Excellence. According to the Association's website, these national awards "represent the top university-based economic development initiatives in the country, as judged by their peers." RALLY SWVA is one of only four finalists in the "Talent and Place" category, which "honors projects and initiatives that synergistically connect talent and place in ways that enrich discourse, promote civic participation and otherwise enhance quality of place."
Created in 2015, RALLY SWVA, which stands for "Real Action Leadership Learning Yay! Southwest Virginia," builds leadership capacity at the community level through hands-on learning and mini-grants, and engages community leaders from 25 communities across a 17-county geography in collaborative processes that support and sustain small businesses.
The program was created to assist with succession planning as rural, local leaders retire from governing boards and councils, and also aims to engage diverse voices in community and civic advisory boards. It bolsters communities that attract entrepreneurs, but want to increase their support for them, and assists communities with skill building to help navigate the challenging and ever-changing landscape of economic and community development. Over the course of its existence, the program has engaged 281 participants in 28 communities.
"RALLY brings all the influencers in a community together to work on a meaningful and visible project for $3,000, which allows them to gain interest for leadership training at the same time," says McKenna Blevins, program coordinator for entrepreneurship and innovation at UVA Wise. "While ideas are being discussed, leadership training is given so community leaders can enhance their ability to work together as a group and define their vision for their community. There's a lot of potential in the communities of SWVA and that is evident thanks to this recognition."
McKenna will present RALLY SWVA at the UEDA conference this weekend in hopes of earning the award. And she hopes to make not only UVA Wise, but also the region proud, especially community leaders like Debra Horne, Mayor of the Town of Dungannon.
"RALLY gave us the oomph we needed to get and keep going," Horne says. "It helped us gain important experience to do more."
Using their first RALLY grant, the Town of Dungannon purchased an LED sign to highlight the community events and offerings they provide. They then bundled a second RALLY grant and a Main Street grant to build a stage decorated with iconic quilt squares that has hosted Fourth of July concerts and church services. They also rehabilitated a deteriorated former tennis space into a basketball court. 
Mayor Horne also points out that RALLY allowed her to develop as a leader.
"As I got more and more involved as mayor, I found myself having to stand in front of people and talk, and I struggle with that," Horne says. 
Horne made use of the other essential component of RALLY aside from grants: the Community Coaching Summits, where community leaders can work to build their competencies in topics such as: building entrepreneurial communities, community planning, conflict and building agreement, managing change, and more.
The result: according to Mayor Horne, "RALLY gave me a lot of courage to stand up and speak for my community, and that feels great."
Now that she's found her voice, Mayor Horne continues to advocate for her community, and is pursuing plans to create a playground or splash pad for children in the town.
At the same time, community leaders across the region, who are also RALLY SWVA participants, have engaged in projects including the historic preservation of vintage signs, socially distanced river cleanups, youth photo contests and downtown mural development.
"At UVA Wise, we have the pleasure of bringing together great minds from across our communities and RALLY SWVA is a great example of how that is done," says Shannon Blevins, UVA Wise's vice chancellor for administration, government relations and strategic initiatives, under whose leadership the College's economic and workforce development initiatives take place. "We take great pride in being the convener and facilitator of some of the best community and economic development initiatives happening in the region, and are excited to share that at a national level to make Southwest Virginia proud."  
For more information to participate in RALLY SWVA, to learn about its momentum, or to hear hear more about Opportunity Southwest Virginia and its partners, contact McKenna Blevins at mblevins@uvawise.edu.