Featured
New guide puts Southwest Virginia hiking on the map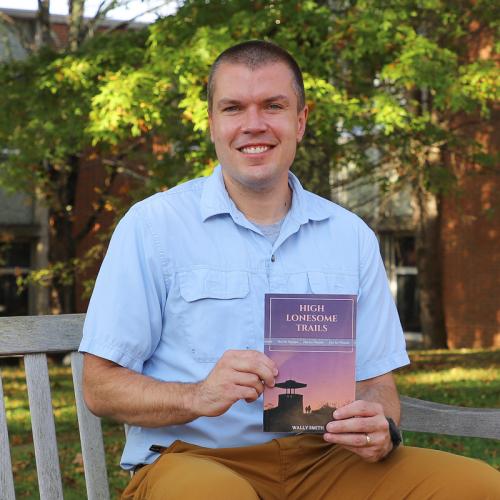 Whether you're looking to climb to high altitudes or simply change your attitude, you'll find no better way than hiking Southwest Virginia's outdoor hidden treasure—the High Knob region.
Thanks to University of Virginia's College at Wise Associate Professor of Biology Wally Smith, the region has its first comprehensive guide—High Lonesome Trails: Hiking Virginia's High Knob Region.
"As a hiker, I wanted to provide some information for local residents who haven't hiked and want to get outdoors," Smith says. "I also wanted to do this for visitors to the area. It's historically been hard to come into the region and know where to go without having a single location that has condensed information on various local trails. This can help our local economy and tourism."
Considered one of Appalachia's most underrated hiking destinations, the High Knob region is centered around the High Knob Tower standing in the Jefferson National Forest's Clinch Ranger District. From the tower's 4,200-foot altitude, visitors can view five states—Virginia, Kentucky, Tennessee, North Carolina and West Virginia.
"High Knob is not just a scenic feature but a core part of the identity of this rich culture. It's connected to the community, its people and history making it an important presence in this region," Smith says.
Plus, the guide comes out just in time for autumn--arguably Appalachia's most beloved season. So, Smith made sure to share some of his favorite spots to take in fall foliage.
The guide features 25 regional hikes including local, state and federal lands in Wise, Scott and Lee counties. Most are located in the Jefferson National Forest with a sampling of state parks including Natural Tunnel and the Clinch River State Park newly opened in St. Paul. City trails like Norton's nearby Flag Rock are also featured.
"This book will share the region with people who have never experienced it and share it with those people who call the region home but wish to better experience where they live," Smith says.
Whether readers are looking to find an easy or challenging hike, prefer a short excursion or day trip, the book helps identify best options. It includes trail directions, difficulty levels, trail lengths, features and maintenance conditions.
A lifelong hiker, Smith also offers a descriptive tour of each trail. It previews streams, bridges, scenic lookouts, waterfalls, geological features and unique native wildlife.
For example, the Guest River Gorge trail, a family-friendly trail, takes visitors along unique geological features including the 300-million-year-old sandstone cliffs along the river. An occasional outdoor classroom for Smith and his UVA Wise students, the trail provides a close-up look at a diverse habitat. On it, hikers can find Eastern Hemlock trees, copperhead snakes and the focus of much of Smith's academic research--the green salamander, known for its vivid emerald color.
Smith got the idea for the book while traveling and hiking during the COVID-19 pandemic, picking up guidebooks to local trails.
"I realized there wasn't a guide to our local trails and I saw there was a need, in terms of the hiking and outdoor and educational opportunities we have here," Smith says. "My family loves the outdoors in our back yard and, after work and on weekends, we get out and hike. It's a big draw."
The book is available now on Amazon and Smith hopes the guide will eventually be found at tourist locations, parks and outfitters.
"I've been stunned by the response so far. It has been really positive," Smith says. "I think we are riding this wave of getting out and experiencing the trails in this part of the state and I hope it's a timely moment to publish this guide."
The book also had its roots in the High Knob Regional Initiative, a collaboration of local governments, nonprofits, and other organizations including UVA Wise, says Smith, vice-president of The Clinch Coalition, a non-profit regional environmental group.
He hopes the guide will not only help raise interest in regional outdoor recreation but boost the local and regional tourism economy.
"People hiking or mountain biking can come into town, stay the night and spend money in these towns," Smith says. "I think there is a lot of interest and people simply don't know where to look. It's a good time to put out this type of guide with the regional movement focusing on the outdoors."