Featured
UVA Wise named Apple Distinguished School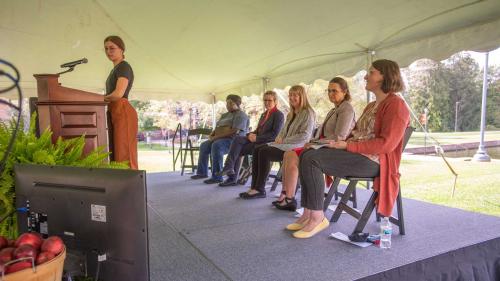 UVA Wise is pleased to announce that it has been recognized as an Apple Distinguished School for 2021-2024 for its 1:1 iPad program which provides each student and employee with an iPad, Apple Pencil and keyboard in order to bridge the digital divide for students. The College was honored by Apple for creating an equitable framework from which all students are equipped to face today's challenges and become tomorrow's leaders through its innovate2eleVAte program.
Apple Distinguished Schools are centers of innovation, leadership, and educational excellence. They use Apple technology to connect students to the world, fuel creativity, deepen collaboration, and make learning personal.
"We are excited to have leveled the playing field for our students through the innovate2eleVAte program, and are thrilled to have been recognized for the success of integrating technology so broadly and deeply across our college," said UVA Wise Chancellor Donna P. Henry.
The selection of UVA Wise as an Apple Distinguished School highlights the College's success in creating an innovative and compelling learning environment that engages students and provides tangible evidence of academic achievement.
UVA Wise provides easy access to a common library of educational applications to students through a self-service app, while faculty design a student-centered curriculum that bolsters students' skills in technology and research. Through Screen Mirroring over Apple TVs in each classroom or over video conferencing, faculty connect students with rich content and materials. And the result of these combined strategies is clear: students pursuing a wide variety of areas of academic interest have assembled digital portfolios designed to help them in their academic and post-college careers.
The College's iPad initiative has also benefitted faculty and staff, who have had additional opportunities beyond traditional professional development to utilize their iPad and other Apple technologies to enhance their work. The plethora of workshop offerings for these professionals continues today, as UVA Wise has recently debuted its Center for Educational Excellence and Innovation, which spotlights innovations in teaching and learning at all levels and in all disciplines.  
For more information about UVA Wise's iPad program, visit: www.uvawise.edu/innovate2elevate