Featured
Former Chancellor Jim Knight, Known for Building Relationships, Football Program at UVA Wise, Dies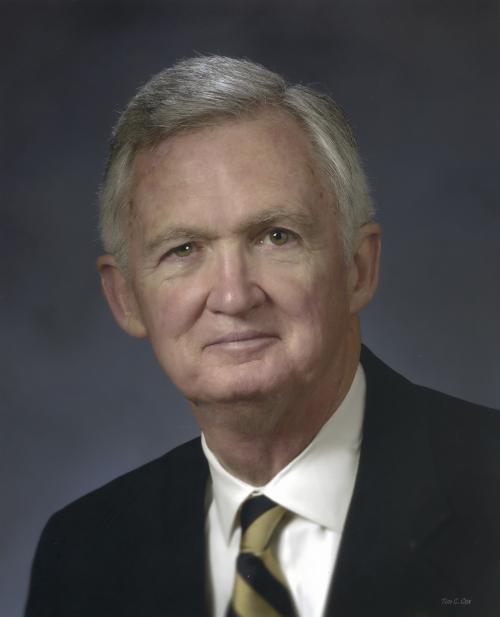 The University of Virginia's College at Wise mourns the loss of former chancellor Dr. Jim A. Knight. Knight passed away Dec. 23 in Due West, S.C. He was 78 years old.
He is survived by his wife, Jeannie Dove Knight; his sons, David Aldon Knight and his wife, Anna; Kevin Hunter Knight, and his wife, Debbie; and daughter, Anna Knight Todd and her husband, Caleb.
Knight made significant contributions to the College as its third chancellor serving from 1988 through 1992, and later in 2002 as vice chancellor of development and college relations until mid-2008. In between his UVA Wise service dates, Knight was the associate vice president of the UVA Health Sciences Center where he was responsible for fundraising for the University of Virginia.
"We are deeply saddened by the loss of a true champion for the College. Our thoughts and prayers are with his family," UVA Wise Chancellor Donna P. Henry said. "He elevated UVA Wise's presence throughout the Commonwealth and the community. He guided the College during a challenging time and left it on a firm foundation. He built a strong legacy that not only endures but that we continue to build upon today."
Knight is best known for promoting and establishing the College's (then Clinch Valley College) first football program to increase enrollment and improve student life. Under his leadership, the College hired its first full-time athletic director and expanded other sports including volleyball for women. He was committed to developing top-notch student-athletes. "We want our athletes to be students first and to understand that their goal is to graduate from Clinch Valley with good academic records and broad participation in student activities," he was quoted as saying in a Highland Cavalier article.
"He listened to the community and began a study of the impact to the region to bring football to campus. One of the most exciting times for the College was the first football game which was held at Carroll Dale Stadium at J.J. Kelly High School. Dr. Knight stepped onto the field where more than 5,000 were gathered to witness history in the making," said UVA Wise Vice Chancellor of Advancement and Alumni Engagement Valerie Lawson, who worked under Knight during this leadership at the College. "I still get chill bumps remembering the excitement of that beautiful Sept. 7, 1991 day when we beat Tusculum College. The football team, which is a huge spectator sport, was a great way to engage the community and it gave the community, students and alumni something to rally around. Football has always been a community rallying sport in SWVA so it made perfect sense."
Knight earned a Ph.D. in chemistry from the University of North Carolina. In 1969, he began teaching chemistry at Erskine College where he later served as Vice President and Dean from 1978 until 1988.
In 1988, as chancellor, Knight created a solid foundation for the growth of UVA Wise. He prioritized increasing enrollment, private fundraising and visibility at the state legislature, according to No Ordinary College, a history on the founding of UVA Wise.
In what is likely his biggest legacy to the College, Knight laid the groundwork to establish endowed scholarships, making private funding a more important source of the College's resources. That private support helped transform the campus. Some examples include the Carl Smith Stadium, the Wyllie Library and the Betty J. Gilliam Sculpture Garden, and the Chapel of All Faiths.
He instituted a fundraising unit, and developed a strategic planning process including the voices of students, faculty and staff. He increased new hires and resources as well as professional development for faculty and staff to help them excel. Knight oversaw the development of the College's new nursing program, which would enroll its first students in 1993.
Knight helped support a proposal by then-Del. Ford Quillen to create what is now the Southwest Virginia Higher Education Center in Abingdon.
As vice chancellor of development and college relations, Knight helped lead the College through an impressive 18-month long celebration of the College's 50th Anniversary. Working with the Campaign Cabinet, Knight launched the College's second capital campaign, "Fulfilling the Dream Campaign" which exceeded its fundraising goal target of $50 million, raising nearly $68 million. Knight left UVA Wise before the Campaign was completed.
Knight and his family were the first to live in what is now the Lila Vicars Smith House, a residence for the College's Chancellor. His wife, Jeannie, served as an "exceptional ambassador" for the College hosting events always keen to represent the College at its highest level, Lawson said.
"Jim Knight played an invaluable role in the history of the College in his roles as Chancellor and as vice chancellor of Development for which we should all have great appreciation. Most importantly, Jim will always be in my memory as a friend to all and a true gentleman who cared for all those with whom he came in contact," said UVA Wise College Advisory Board Chair Marcia Gilliam.