Featured
Governor Proposes New Budget Funds to Fuel UVA Wise Regional Economic Impact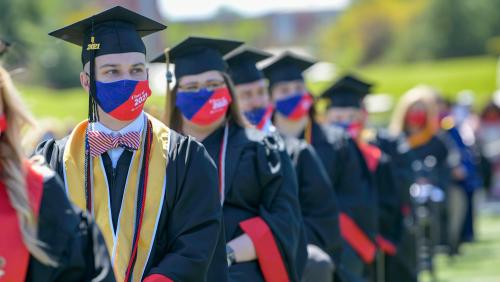 Gov. Ralph Northam unveiled his 2022-2024 budget proposal on Thursday that would provide $11.5 million in new state support for the growing needs of the University of Virginia's College at Wise as a regional economic leader.
"UVA Wise is doing great things in Southwest Virginia to help the region's economy grow and diversify," Governor Ralph Northam said in an announcement released by his office Thursday.
The introduced biennial budget appropriation, coming in Northam's last budget, would provide new funding over the next two years with a focus on educating new talent as well as creating ways to promote and support regional economic development efforts.
"This budget recommendation recognizes the unique role that UVA Wise plays in educating our workforce and entrepreneurial leaders for today and tomorrow to build a strong, bright future in the heart of Appalachia," UVA Wise Chancellor Donna P. Henry said.
All of the proposed budget recommendations would be funded from the Commonwealth's general fund and must be adopted by Governor-Elect Glenn Youngkin and approved by the Senate and House next year.
"This is a big step forward to growing our College and providing opportunities for growth for the region," Virginia House of Delegates Republican Majority Leader Terry Kilgore said.
The majority of the $11.5 million in new funding would aid the College in fulfilling its recently released strategic plan,"Your College For A Lifetime." A big part of that vision is to increase student enrollment, retain those students and help them graduate. Other funds would create programs to develop and retain faculty and staff and increase the College's role as a vital economic partner in the Southwest Virginia region.
More than $5.2 million of the proposed new funding positions the College to educate and train a pipeline of new talent in the Southwest Virginia region through two new undergraduate programs. Of that, $4.2 million would go to establish an applied data analytics major. The fund would help pay for faculty, support staff, marketing, equipment, classroom set ups and lab space. To support a burgeoning tourism economy, an additional $1 million would create a hospitality and tourism management degree.
"These proposed funds would grow UVA Wise to best ensure students are equipped with the qualifications they need to fill a variety of jobs in business and industry throughout the region. The funding will build a new, strong foundation for economic growth in Southwest Virginia for years to come," Henry said.
UVA Wise would also receive $2.4 million to establish a child care center to meet Southwest Virginia's regional need.
Through the creation of an early childhood development endorsement, the UVA Wise teaching licensure program would provide a skilled workforce for childcare facilities and allow students to gain valuable experience at the on-campus childcare facility.
Building on student success is a key component for the proposed budget funding with nearly $1.7 million that would be set aside for recruitment, retention and supporting student success. It would include funds to expand recruitment across the Appalachian region.
About $2.2 million in funding would also create programs to enhance student performance including summer bridge programs designed to ease students' transitions into college. It would also establish clearer pathways for timely graduation including hiring an additional counselor and developing a student success collaborative.
Remaining proposed funds would support student professional development and experiential learning programs specifically tied to students' majors and career interests.
The proposed budget funding would pave the way for UVA Wise to continue planning for the future growth.
Building on anticipated graduate programs including a Master of Education and Master of Science in Nursing, the proposed funding would help UVA Wise explore additional graduate programs in engineering and management and include new financial aid for graduate students. It also provides funding for planning the renovations of Darden Hall.
"UVA Wise is an important regional asset for Southwest Virginia and this budget recommendation recognizes that," said Senator Todd Pillion. "We look forward to working with our colleagues in the Senate and House, as well as Governor-elect Glenn Youngkin, to support and expand the College's mission and impact in the Commonweath."