Featured
A Place to Thrive: Rasnake to lead Annual Giving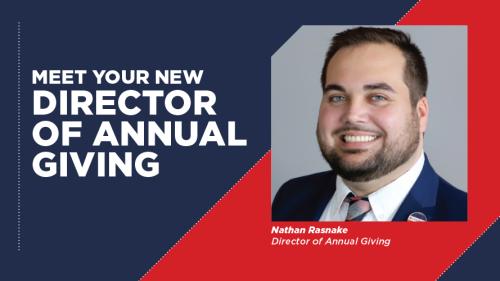 Today, UVA Wise announced that Nathan Rasnake, a 2014 graduate of the College, has been named Director of Annual Giving.
"We are incredibly pleased to welcome Nathan to our Advancement & Alumni Engagement team," said Valerie Lawson, vice chancellor for advancement and alumni engagement at UVA Wise. "He has been building strong relationships with alumni and friends throughout his career and is a natural fit to garner support to benefit our students."
Rasnake brings eight years of service to the College to this role, having served in the offices of admissions, student affairs, and marketing and communications. He has also served the College on its Alumni Association Board of Directors and received 30 under 30 recognition from the national chapter of Pi Kappa Phi Fraternity for his work at UVA Wise; he is a member of the College's Epsilon Epsilon chapter.
Rasnake said he is excited to connect with alumni and friends to hear about their passion for the College and about the experiences they've had here at UVA Wise.
"Our alumni and friends are a big reason why UVA Wise has grown into what it is today and why we are able to provide funding for critical programs that support our students' education," Rasnake said. "From my experiences in recruiting students across the country, helping develop student leaders, and sharing the stories of our students, I have seen the impact financial gifts have. I love UVA Wise and I see this position as a way to inspire others to support our college just as those before me did."
As Director of Annual Giving, Rasnake will communicate with key constituents; cultivate relationships with alumni and friends of the College, engaging them in the life of the College; and will identify and engage new supporters of the College. He will manage all aspects of UVA Wise's annual giving program, building a pipeline of vital annual support for the College's general operating needs and special projects.
"Annual giving helps UVA Wise continue to be a place where anyone can thrive," Rasnake said. "These funds help provide resources for our students and allow the College to fund essential programs that enhance the experiences our students have. I am excited to continue the great work that Valerie and her team have done by building and cultivating new relationships with alumni and friends of the College."