Featured
From Loss, Passion and Purpose Drive Volunteers of the Year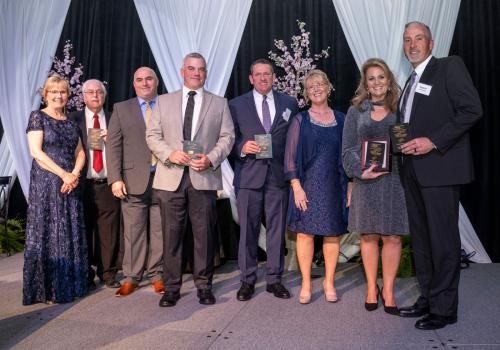 The England family has long contributed as public servants in Southwest Virginia. Dad Robert England served as a law enforcement officer and is now a Professor of Criminal Justice, and mom Jennifer is a sixth-grade mathematics teacher. Sons Nick, Daniel, and Jack have been active in high school sports, their church and various service organizations.
When they lost eldest son Nick in 2017, although their pain was paramount, they also came to see that the community they had served alongside came out to serve them—and Nick's legacy—in a way that would bring a healing for the family.
"Losing Nick was a tremendous loss, we were devastated," said Robert England. "But the people of Southwest Virginia are just the best. They rolled up their sleeves, propped us up, and have not stopped supporting us since."
Part of their efforts included creating to the annual Nick England Scholarship Foundation Golf Tournament—a premier golf tournament in Southwest Virginia. Now five years in, the tournament has enabled the family to honor Nick's love of golf—a shared family pastime—with a project that Robert hoped would build "purpose and passion" out of their grief.
"Regardless of what I've asked, people have said, 'Count us in,'" Robert says. Robert and family have served as the boots on the ground for the tournament, not only fundraising but arranging all the details to make the day special for everyone involved.
Together, the players, sponsors and England family have raised over $500,000 from their renowned tournaments, the proceeds of which have gone to support student scholarships at UVA Wise where Nick himself played golf, brother Daniel played football and, this fall, youngest brother Jack will also golf competitively.
"I think what attracted my boys to UVA Wise was not only the opportunity to do well academically, but also to play sports and actually be a contributor to the team," Robert says.
Nick is remembered not only as a contributor, but as a leader on his golf team, in the classroom and in his church. And the Englands have embodied Nick's signature team-work spirit in all they do to carry on his legacy. By cooperating with the community to carry out the tournament, they've created a remarkable event sponsored by individuals from across the U.S. And, in so doing, they've ensured many students have the opportunity that Nick and his brothers have had (and will have) at UVA Wise.
"The Englands rallied together in their time of sorry and focused their grief into something positive. Their generosity is inspiring and their hard work has not gone unnoticed," says Valerie Lawson, vice chancellor for advancement and alumni engagement at the College.
Recently, the University of Virginia's College at Wise recognized Robert and Jennifer England and the Nick England Scholarship Foundation Board as Volunteers of the Year during the College's annual Benefactors Celebration. The award honors extraordinary service that has a substantial impact on students and their families. Yet, the Englands stand firm in their belief that they are vessels for the community's hard work and generous contributions in the wake of their loss.
"You have helped us, through the last five years, to put our hearts back together. We would ask that you continue say Nick's name often," Robert England told the crowd.
Nick England graduated from UVA Wise in 2017 with a degree in biology, and was a valued member of the men's golf team, helping to lead his them to a conference championship in the fall of 2016. He is remembered by his classmates for his leadership, smile and contagious laugh.