Featured
UVA Wise Holds First Experiential Learning Conference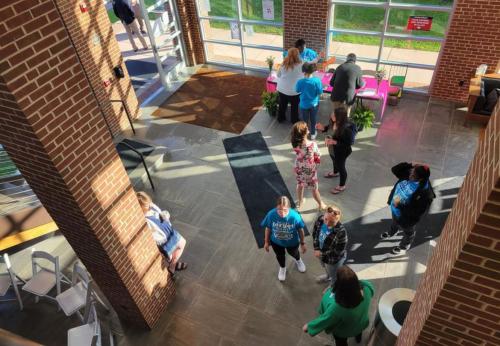 Photo by Heather Evans
Educators, students and community leaders came together recently to share the benefits of experiential learning at a new regional conference at UVA Wise.
The first annual Southwest Virginia/Northeast Tennessee Conference on Community Engagement and Experiential Learning was held in late April and sponsored by UVA Wise Connects and the College's Center for Educational Excellence and Innovation.
"The conference was a chance to come together and share ideas for community collaboration as well as share the value of experiential learning," said co-organizer Christa Moore, an assistant professor of sociology at UVA Wise. "It was a chance to come together as a regional community and a revealing glimpse of the joy of learning that can take place at the local community level."
The conference was held at the Chapel of All Faiths and offered researchers, community partners, students and local leaders opportunities to come together to explore the ways that institutions in the region can partner with their communities. There were a dozen informational sessions and presentations and a networking luncheon.
UVA Wise alumna Briana Sheppard whose undergraduate studies focused on community-engaged experiential learning gave the keynote speech, "Community Engagement as a Journey." Sheppard is now the associate director of research at West Virginia University Health Sciences Center Office of Health Affairs and an adjunct assistant professor at West Virginia University School of Public Health.
In her presentation "Integrating Library Media in the Liberal Arts Classroom," UVA Wise education student Kara Dotten offered a wide range of resources available at the library for campus and community use and collaboration.
In "Circle K International: Live to Serve, Love to Serve," Brittany Johnson, the incoming president of the College's CKI club, shared about the organization, the mission and goals, and ways that their service projects offer opportunities for collaboration.
Nine UVA Wise students from CKI and Student Government Association volunteered as part of the conference including Goldie Owens, Gabby Collins, Naya Davis, Tanner Lawson, Angel Johnson, Jiho Sung, Dylan Do and Chassey Stafford.
Nearly 60 faculty, students and community members from across Southwest Virginia attended and participated in the one-day conference. Higher education institutions including UVA Wise, Emory & Henry College, Mountain Empire Community College, and King University in Bristol, Tenn., were represented.
UVA Wise organizers included Moore, Experiential Learning Hub Coordinator and John Morton Beaty Endowed Chair in Political Science Heather Evans, UVA Wise Center for Educational Excellence and Innovation Director and Associate Professor of English Emily Dotson, and UVA Wise Assistant Professor of Education Elizabeth Dotson-Shupe.
"The conference successfully highlighted the positive impacts of engaged work and also explored ideas around how to define and evaluate the success of this work," Moore said.