Featured
UVA Wise hosts Commencement for Class of 2022
Genna Welsh Kasun and Senta Scarborough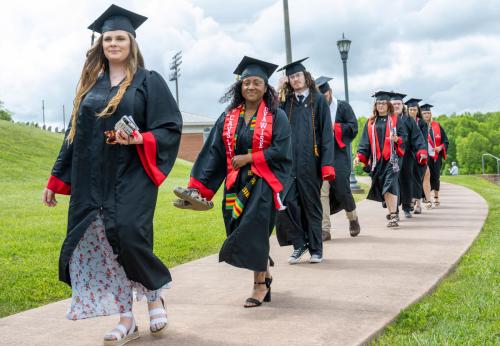 On Saturday, May 14, 2022, the members of the Class of 2022 of the University of Virginia's College at Wise graduated with friends, family members, faculty and classmates present. In total, 235 graduates crossed the stage, earning either a bachelor of arts, bachelor of science or bachelor of science in nursing degree. The ceremony took place at 11 a.m. at David J. Prior Convocation Center.
UVA Wise Chancellor Donna P. Henry welcomed graduates on the historic day saying, "The class of 2022, are well prepared to join more than 16,000 alumni of the college. I commend you for your unwavering commitment to your future and to earning your college degree. You have a promising future and you have choices to make and much work to do. So graduates explore and endeavor to make sound choices, shoulder the necessary responsibilities, and lead yourself, your colleagues and your community in making a better world."
University of Virginia Provost Ian Baucom thanked graduates, sharing, "All along, I bet you thought you were the ones who were learning, and I certainly hope that was true. But you were teaching as well."
Marcia Gilliam, UVA Wise College Board Chair and a 1982 alumna of the College, shared her greetings, as did graduating senior Joshua McCray, president of the Student Government Association.
Then, Noah Anderson, also a graduating senior, shared remarks as the honorary class speaker for the year.
"I dreamt big and sure enough UVA Wise met me at every step with so much support, opportunity and love. What is most beautiful about my testimony, perhaps, is that my story, my experience with UVA Wise is not all that unique. Rather, it is typical for the students here," Anderson said. "Here, students are destined to thrive. And thrive we have. What a special place this is."
Glenn Goad, the chief executive officer of EarthLink and a native of Southwest Virginia, delivered the Commencement address.
"Throughout my life, I always get asked, 'Where are you from?' and I proudly say SWVA. I don't think I am asked that question because of my accent or general curiosity. I think I am asked that because of what I learned from this area, and what that conveys to others through everything I do," said Goad. "I learned to work hard, and so have you. I learned to be kind, and so have you. I learned to be respectful, and so have you, I learned to be intellectually curious, and so have you. This place prepares you well for the future, I know that for sure."
After Goad's address, Provost and Vice President for Academic Affairs Trisha Folds-Bennett presented candidates for their degrees, with Chancellor Henry awarding. Alumni Association President Jimmy Adkins, a 2004 alumnus of the College, inducted all graduates into the Alumni Association.
The singing of the alma mater and recessional followed with the UVA Wise Concert Choir and UVA Wise Highland Winds, respectively, leading the musical charge. The Highland Winds also assisted with the processional, joined by Randy D. Stanley, a 1978 graduate of the College, and Liam Horne on bagpipes.