Giving
UVA Wise Recognizes Legacy Leaders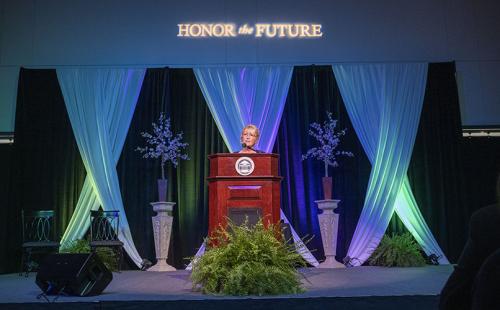 On April 25, at its annual Benefactors Celebration, the University of Virginia's College at Wise (UVA Wise) honored several of its Legacy Leaders. Each year, UVA Wise recognizes extraordinary gifts to the College and this year was no exception. Legacy Leaders are those advocates who have provided transformational gifts that enhance the educational opportunities for UVA Wise students.
"These Leaders help ensure that cost is not a barrier to attendance at the College and scholarship packages signal our interest in providing comprehensive support to students' individual goals," said Donna P. Henry, Chancellor of UVA Wise. "In addition to supporting our greatest needs, a recurring theme of the benevolence of our Honor the Future Legacy Leaders is to support our students through endowed scholarships, especially through the University's Bicentennial Scholars program. The majority of these scholarships assist students with the cost of tuition, fees, room, board and experiential learning."
Chancellor Henry continued on to share examples of experiential learning ranging from students performing music across the U.S. to student research on economic crashes, dentistry and eco-tourism development. In total, 12 individuals and foundations were honored as Legacy Leaders, including Van Daniel, Marvin and Marcia Gilliam, the Rapha Foundation, the Slemp Foundation, Andy and Delores Still, and others, who will be celebrated in the College's summer alumni magazine issue.
"One of the greatest gifts you can give to a community is a gift to education," says Marvin Gilliam. Marcia Gilliam, chair of the UVA Wise College Board and wife of Marvin added, "I've seen families come to commencement and parents cry because they see their child walk across the stage and they've accomplished something that their parents never dreamed they would." 
Charles "Jibber" Ward, a 1976 alumnus of the then-Clinch Valley College was in attendance as a representative of the Rapha Foundation, an organization that works to advance public health and education in the region. Ward said he enjoys seeing the College grow and that he and his wife, alumna Brenda, have great pride in seeing the number of students who are able to attend the college and graduate with little or no debt.
"Being local, we drive by the College often and are amazed at the growth we've seen. We want to continue to see the College prosper. There have been a lot of successful people graduate from the College and there will be a lot more successful people do so in the future," Ward said.
Similarly, Andrew Johnson Still, who was honored with wife Delores Ann Roark Still, says that the access to college that UVA Wise grants students is impressive.
"UVA Wise makes it possible for a student to go to college regardless of their financial situation," Still says.
Nancey Edmonds Smith, member of the Board of Trustees of the C. Bascom Slemp Foundation, is also looking forward to the College's future and hopes others will join the Foundation in giving to UVA Wise.
"It's just wonderful to have this College here," Smith said. "I think giving to UVA Wise will make you glow inside."