UVA Wise Celebrates 100 Decades of Retiree Service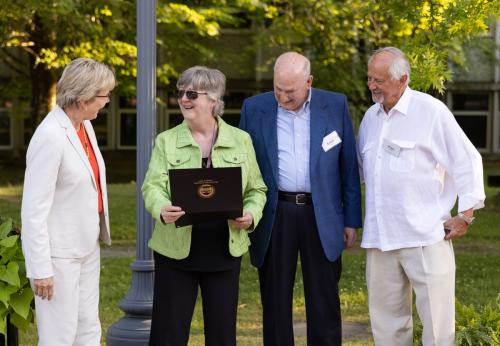 Photo by Mark Robertson-Baker II
UVA Wise recently honored retirees from the past three years whose service totaled 1,000 years.
The party held at the Betty J. Gilliam Sculpture Garden recognized the retirements of faculty and staff that began during the Covid-19 pandemic in 2020 through this spring.
"All of you retired in a time when we couldn't be together. We are here to celebrate the work of our recent retirees," Chancellor Donna P. Henry said. "We added all the years of service of everybody who retired over these past three years and it's 1,000 years or 100 decades of service to the college. It's a testament to the work of these dedicated faculty and staff."
UVA Wise Board members Roger Viers, Mike Allen, and Lewey Lee, who is vice chair of the Board, attended the celebration.
"Know that it will be on the shoulders of our colleagues who have done the good work to get us to this place. And we, and I personally, will forever remember your service to UVA Wise," Henry told retirees.
Retirees represented all facets of staff and faculty at UVA Wise from administration, faculty and staff. The many different roles include librarian, post office workers and campus police officers. Many of them accrued decades of service at the College and were also UVA Wise alumni.
For Paul Kilgore, who worked 35 years in housekeeping, UVA Wise was a great place to work and allowed him to raise his children in Southwest Virginia. He also worked on a program called Cavs On where he ministered football and basketball team members.
"It was steady, hard work, but I was able to raise my kids here. My greatest memories are the students, and staff and the faculty also. All their love I can just dwell on forever. I made many friends here and I cherish them.  The friendship is priceless to me, the friendship goes far beyond the time," Kilgore said.  "Those young men (athletes) are like my sons now. UVA Wise is that close to my heart."
Kilgore worked with David Short who retired as facilities director after serving 40 years at the College.
"It's been enjoyable through all the different decades to see the changes and everything grow," Short said. "I was also a graduate of UVA Wise which is very meaningful to me."
When Short attended UVA Wise as a student another retiree, assistant professor of French Michael "O.D." O'Donnell was his first adviser.
O'Donnell has worn many hats at the College. Over the years, he's taught French, served as director of admissions, dean of students and athletic director. He taught lifeguarding classes and even started the tennis team.
He holds the record for longest serving faculty member and retiree at 54 years of service, but you can't keep him away. He's returning as an adjunct faculty member in the fall to teach again.
"I love teaching, I love my kids and that's it. I don't have any kids of my own so I'm teaching again in the fall and I'm very excited," O' Donnell said.
Simeon Ewing, who began his work at UVA Wise in 1987 but started in an official role in 1995, eventually served as Vice Chancellor and Chief Operation Officer.
For Ewing, what's memorable is the people he worked with and hired including Vice Chancellor for Administration, Government and Strategic Initiatives Shannon Blevins and Vice Chancellor for Finance and Operations Joe Kiser.
"I liked watching them develop. They make you look good. My job was bringing in the right people," said Ewing who also taught at UVA Wise. "What's special is UVA Wise is a place that defines the community. How this College goes is how this region goes."
For more than 17 years, Susan Herron served as the College's Information Technology Security and Policy Coordinator. She also was the system administrator for the campus phone lines.
"My best memories are of being able to help everybody on campus. I didn't care if you were the Chancellor or the last guy hired on the maintenance team, everybody got the same treatment from me. If they called me and needed me, I was there," Herron said.
Herron shared her love of working at UVA Wise that stemmed from her father who was a big proponent of higher education.
"One of the things that my father told me was get as much education as you can because that's the one thing they can't take away from you. They can take your house, they can take your car, they can take your money, but they can't take your education," she said.
Ronnie Shortt started working at UVA Wise as a patrol officer on nights and weekends eventually becoming chief of police for the last seven of his total 29 years.
"We had a tight knit group. A lot of these retirees worked those 30 years together. We've moved up through the ranks together and stayed together," Short said. "The people I got to know are probably the fondest memories I had here."
Retiree Jewell Worley '76, former Vice Chancellor for Student Affairs, is also a UVA Wise alumna who is proud her daughter, son-in-law, niece and nephew are also fellow alumni. Worley also served as dean of students and worked in student affairs and as an associate vice chancellor for compliance, conduct and inclusion.
"I have always appreciated the fact that truly students come first here. I loved what I did here and I worked with wonderful people. The Chancellor was an excellent mentor. I enjoyed working with her and with her leadership team," Worley said.
Worley shared her favorite memories were working with student government and student engagement.
"We wanted to create an environment that was a home away from home, yet embedded in our student affairs programs. The idea was that we are growing leaders. Our student leaders, when we provide them those opportunities to be presidents of clubs and organizations and to work or to be a member of the Student Government Association, are able to take the skills that they learned here and move on and apply those away from here."
Retirees (faculty and staff) by Year
2022:
Laura Pritchard
Margie Tucker
2021:
Linda Miller
James Rose
Janice Davis
Mary Calhoun
Mable Bolling
Shirley Calton
Jewell Worley
Kathy Still
Simeon Ewing
Amelia Vangundy
Kimberly Marshall
Susan Herron
Debra Wharton
Christopher Stidham
William Banner
Kristin Pottenger
Ronald Shortt
Jeffrey Kiser
Rhonda Bentley
E. Carolea Newsome
Christina Turnbill
Elizabeth Mullins
David Short
Susan Mullins
Annette Moseley
Paul Kilgore
Bryan Hoyt
Robin Benke
James Horton
Debra Carter
Michael O'Donnell
Sandra Richardson
2020:
Janie Hamilton
Brenda Crabtree
Pamela Moore
Jean Good
Timothy Wright
Suzanne Adams-Ramsey
Robert Vangundy