Featured
UVA Wise Announces New Library Director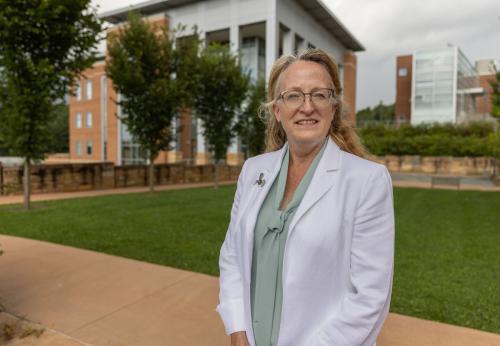 Photo by Mark Robertson-Baker II
UVA Wise announced today that Heather Groves Hannan, who has successfully helmed academic libraries across the Commonwealth, will join the College on September 12 as UVA Wise's new library director.
Known for developing creative and collaborative team approaches to library information services, Groves Hannan has more than 20 years of experience bringing a wide array of audiences together including higher education institutions, local schools and the wider community to offer engaging learning opportunities.
"Providing library patrons access to information they need is my passion. I want to make the UVA Wise library as welcoming as possible for what the faculty and students need it to be," Groves Hannan said. "There is a wonderful team here already, and I'm looking forward to working with them on evolving services, programming as well as the facility to best serve the UVA Wise community as it evolves and grows."
"At George Mason, I appreciated the opportunity to work on and off campus. I worked with the community and public college as well as those in the community and government. That role is similar to this new position. With new programs and initiatives on the horizon, I'm looking forward to being part of new growth and innovation," Groves Hannan said.
Groves Hannan holds a bachelor of arts degree in management science from Earlham College in Richmond, Indiana, and her master of science degree in library and information science from Catholic University of American in Washington, D.C.
A blend of personal and professional opportunities led Groves Hannan to UVA Wise.
Growing up as a dairy farmer's daughter in small-towns in Ohio, the new Library Director is excited to return to a more rural and outdoors friendly area.
In the Library Director role, Groves Hannan plans to ensure the library is an active collaborator in the growth of the College. Deploying welcoming personnel, innovative services and up-to-date and emerging information and technology access to foster student information literacy.  "There is an abundance of information and finding what you need can be complex.  "I want the library to be supportive, accessible and streamlined for students, especially those who might be juggling work or family obligations in addition to pursuing their degree."