Featured
UVA Wise Helps Students Kick Off Their College Search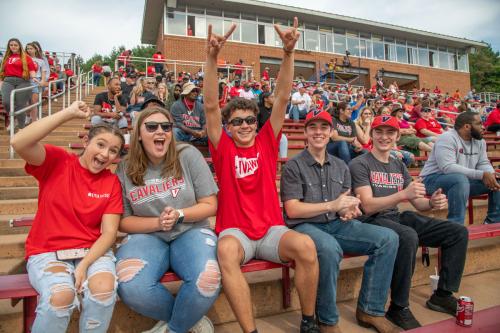 On September 1, UVA Wise will help high school students in Wise County kick off their college search as the College's football season debuts.
All high school students and their families are invited to attend the "College Search Kick Off" Game. At the event, they will hear a brief UVA Wise overview, tailgate with the Highland Cavalier community, and get free entry to the football team's inaugural game of the season against Ferrum College, which begins at 7 p.m. at Beatty-Richmond Field, Smith Stadium. Pre-registration is required at www.uvawise.edu/visit, but all attendees will be entered to win one of several door prizes which include an Apple Watch, AirPods, Chick-fil-A gift cards and gift certificates to Sugar Hill Cidery.
The College Search Kick Off Game is only one of many opportunities that college-bound students will have this fall to get to know the college founded by this region, which is why admissions leadership wanted to do a VIP event just for Wise County students.
"UVA Wise has graduated generations of alumni leaders, many of whom were local students, who work at some of the region's and country's top organizations including Amazon, Salesforce and Ballad Health," says Jeffrey Baylor, vice chancellor of enrollment management at the College.
For students who can't make the kick-off game, UVA Wise will play host to a college fair hosted by the Virginia Association of Collegiate Registrars and Admissions Officers on September 12. The Association chose UVA Wise to debut the Southwest Virginia leg of their tour which gives college-bound students the opportunity to learn about UVA Wise as well as other colleges. Walk-ins are welcome at this event, which begins at 6:30 p.m. in the David J. Prior Convocation Center.
On October 29, UVA Wise will host a prospective student tailgate open to all students who want to learn about the College and tour campus while enjoying a tailgate-themed lunch. While there, they will also get to play cornhole, which has become an even more popular pastime at the College after two UVA Wise students, Austin Schlobohm and Isaac Green, became the 2019 National College Cornhole Champions as televised on ESPN. Pre-registration is required for this free event, which begins at 9 a.m. in the College's Chapel.
All of these admissions events are free and open to the public. To register for these events or to schedule an individualized campus tour, visit www.uvawise.edu/visit or call 276-328-0102.