UVA Wise In-State Students to Receive Tuition Credit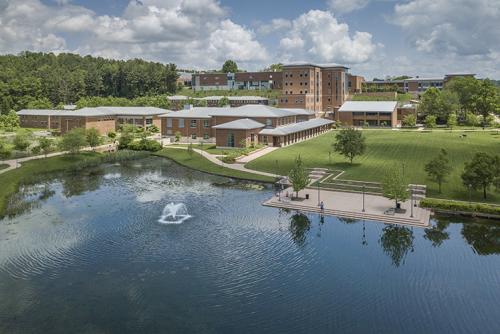 The University of Virginia's College at Wise (UVA Wise) announced today in-state students will receive a $182 credit for the 2022-2023 academic school year. The one-time tuition credit was approved Friday by the University of Virginia's Board of Visitors (BOV), which sets tuition and fees for the College. The credit is equivalent to the three percent tuition increase adopted last December by the BOV for this academic year.
"Expanding affordability to students and providing access to an exceptional educational value are always top priorities for UVA Wise," says UVA Wise Chancellor Donna P. Henry. "I'm pleased we are able to provide this credit for in-state students while continuing our remarkable and meaningful progress in expanding undergraduate programs and initiatives to grow our enrollment and contribute to a thriving Southwest Virginia."
Students will receive a credit on their student accounts for the fall 2022 and spring 2023 semesters, and UVA Wise's Office of Financial Aid and Cashier's Office have already begun reviewing student's individual financial packages to implement the change. 
The one-time action is in alignment with Governor Glenn Youngkin's request this summer that all state public colleges and universities consider ways to hold tuition flat for the current academic year.  
The BOV decision follows months of close collaboration with UVA Wise and UVA leadership, in addition to the College's Advisory Board, to find solutions ensuring students can continue to afford the exceptional education at the College.
The one-time reduction is in keeping with UVA Wise's longstanding commitment to helping students afford an exceptional educational experience. In the 2021-22 academic year, 96 percent of students received financial aid with the College awarding nearly $17 million in scholarships and assistance thanks not only to the University and legislature, but also to the generous and continued support of alumni and friends.
In 2019, the College debuted its Within Reach program, which provides scholarships for students from Virginian families who have an income of $40,000 or less to cover the cost of tuition and fees. The year before, the College announced a special, significantly reduced tuition rate for students living with Appalachian Regional Commission territory, which includes select counties in a geography stretching from New York to Mississippi.
The one-time tuition credit will result in a $156,000 budgetary impact to the College's 2022-2023 operating budget. However, the overall reduction will be absorbed through savings resulting from cost efficiencies and an additional $1 million in legislative funding, as part of a package of more than $12 million announced in June, designed to support affordable access.
That state investment helps fund UVA Wise's robust plans for new educational initiatives, recognizing the significance of the College's role as a regional economic and educational driver and catalyst.