Featured
UVA Wise's Crockett Award Honors President James E. Ryan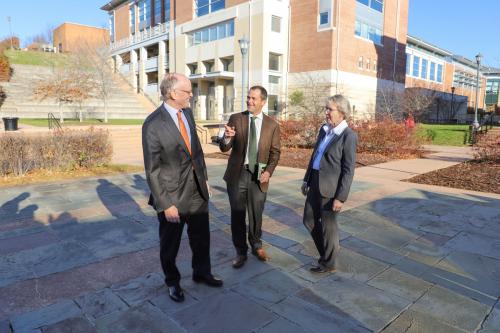 The University of Virginia's College at Wise has named UVA President Jim Ryan as this year's recipient of the Crockett Award, given to an individual who has made significant advances in strengthening the relationship between the two institutions.  
UVA Wise Chancellor Donna P. Henry presented the award to Ryan during the UVA Board of Visitors meeting on Friday in Charlottesville.
The Crockett Award, established in 1995 by then-Clinch Valley College, is named after Samuel R. Crockett Jr. who, in 1954, as the UVA extension representative in Southwest Virginia was instrumental in creating a division of the University in Wise. Ryan is the 22nd award recipient. The award consists of stone from Crockett Hall, one of two original buildings from the college.
When Ryan joined UVA as its ninth president in 2018, he immediately recognized the crucial role and value UVA Wise provides to the region and the Commonwealth, Henry said, and he continuously embraces the college as part of UVA's evolving story.
As a first-generation student himself, Ryan understands the importance of UVA Wise's mission to educate underserved students and uplift individuals, families and the region. 
He is a familiar face on UVA Wise's campus, speaking at commencement and convocation ceremonies, attending Benefactor's Celebrations and meeting with state legislators. He has encouraged UVA staff, faculty and members of the Board of Visitors to visit the college campus and see first-hand the important work that UVA Wise faculty and staff are doing.
"He is a visionary leader who sees the immense value of what the college provides today, and he strives for us to achieve more tomorrow," Henry said.
When UVA announced its new strategic plan in 2019 – the "Great and Good" plan – UVA Wise had just begun developing its own new strategic plan. Ryan, eager to embrace the college's mission, helped to secure added expertise and resources to conduct analysis and assist in the initial phases of planning.
"President Ryan helped us look at the landscape for public liberal arts colleges, and that assessment provided data to inform our strategic plan," Henry said. "The fact that he played an integral role shows how invested he is in the college's success."
That work culminated in UVA Wise unveiling its new strategic plan, "Your College For A Lifetime," which was made public last December.
Ryan has continued to encourage others to get to know UVA Wise. In one of his first initiatives, Ryan devised the Year In Wise program which provides the opportunity for competitive applicants to UVA to attend UVA Wise for their first year before transferring to the University. Last year, more than 70 potential UVA students spent their first year of college at UVA Wise. This year's program brought 68 students to the Southwest Virginia campus.
"He wants to elevate the college beyond being a hidden gem and showcase the excellent education we provide, sharing that value with more people," UVA Wise Board Chair Marcia A. Gilliam said.
Ryan has fostered close working relationships between the college's and University's divisions of academic affairs, marketing and communications, and enrollment management.
Expanding access to education is part of Ryan's own personal mission and journey. At his inauguration, he announced his plan for UVA to cover the cost of tuition for students from Virginia families with income of less than $80,000, and to cover the cost of tuition, room and board for in-state students from families earning $30,000 or less per year. This inspired UVA Wise to create its Within Reach initiative, which offers similar financial support for families earning $40,000 or less.
Ryan also knows the importance of supporting students' access after they are enrolled. As such, he secured seed money for UVA Wise's successful iPad project, "innovate2eleVAte," which has provided an iPad, Apple Pencil and smart keyboard for every student. Together with exceptional cross-campus implementation by the faculty and staff at UVA Wise, Ryan and Henry's leadership of this initiative led to the college's recognition as an Apple Distinguished School in October 2021.
Ryan has also advocated for UVA Wise to have continued access to UVA's Bicentennial Scholarships initiative, which matches gifts of $50,000 or more. He is a key supporter for a new housing scholarship that is currently in the works.
Under Ryan's leadership, a $1.5 million Grand Challenge Strategic Investment Fund is being pursued that will build strong collaborative research in biodiversity and neuroscience between the college and University. A third educational field will be determined through the collaboration of UVA Wise Provost Trisha Folds-Bennett and UVA Provost Ian Baucom.
Past Crockett Award recipients include UVA Associate University Counsel Barry Meek in 2018, UVA Senior Vice President for Operations and State Government Relations Colette Sheehy in 2019, UVA Vice President for Advancement Mark Luellen in 2020, and UVA Vice President for Communications and Chief Marketing Officer David Martel in 2021.