Featured
UVA Wise Alumni Establish New On-Campus Scholarship Fund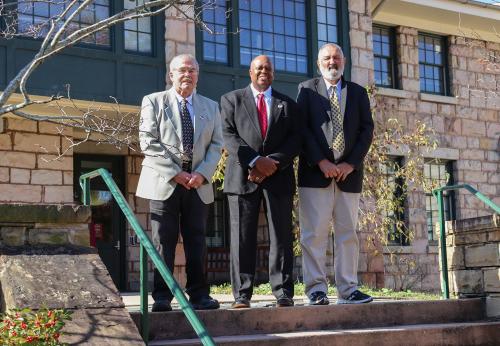 Three alumni of the University of Virginia's College at Wise have turned their memories of living on campus into a first-of-its kind scholarship aimed to help students off-set dorm costs.
The Crockett Hall Unity Scholarship Fund was established by Marion "Moe" W. Smith '73, John L. Sabo '74 and Stephen D. Curran '75. They all attended the College when it was Clinch Valley College and lived in Crockett Hall, a then men's dormitory that turned co-ed before becoming an administrative building.
Crockett Hall was the College's first building when founded in 1954. Today, it houses the offices of Admissions, Financial Aid, Business, Registrar and Advising.
"The three alumni established the scholarship to honor the incredible camaraderie, fellowship, sense of belonging and unity of its diverse residents that they and fellow members enjoyed. The legacy of Crockett Hall will live on in this endowed scholarship in perpetuity," said UVA Wise Vice Chancellor of Advancement & Alumni Engagement Valerie Lawson.
The "Unity" theme is inspired by the way Crockett Hall brought together three men from different backgrounds (Hungarian Cherokee, African American, and Martinsville, Va. resident who had been living overseas in Germany as a high school student before enrolling at the College) to become life-long friends and so many other students like them. The impetus for the scholarship came four to five years ago after they went on a campus tour to see the College's new library.
"These guys know me better than my blood brothers and we refer to each other as brothers," Smith said. "We decided to take this experience we had together, growing up and developing into the people we are, to establish the Crockett Hall Fund."
Together, the three alumni donated $10,000 to start the fund whose goal is to raise $100,000.
"With a fully endowed, the fund will continue to grow over the years and the impact in 10 to 20 years will be amazing," Lawson said.
It will help students pay for living-on-campus costs including room and board fees. Curran said he hopes the fund will help students have that same kind of transformational on-campus experience they did.
"Staying on campus you learn a lot. It's a great experience and we hope future students will share that as well," Curran said.
Once fully realized, the fund will provide scholarships for students based on both academic merit and financial need. The scholarships will give preference to students who demonstrate leadership abilities and dedication to building a strong community. Students involved in clubs, organizations, sports, student government or community service will be sought out.
Smith, a retired educator who began his career in Wise County, eventually worked for many years in Richmond, Va. where he was honored as Teacher of the Year in 2000.
Also a retired math teacher, Curran is perhaps best known as the voice of UVA Wise as the announcer for the College's football, softball and basketball games.
Sabo who has taught everything from French, English and physics serves as educator and coach. He is the winningest coach in Single A softball in the state with more than 600 wins.
To make gifts, checks should be made payable to the UVA Wise Foundation and sent to UVA Wise Foundation, 1 College Avenue, Wise, VA 24293 or gifts can be made online at:  giving.virginia.edu/wise and noting in the "In Honor Of" section that it is for the Crockett Hall Unity Scholarship.