Featured
Governor Youngkin Proposes Funds for UVA Wise to Expand its Research Capacity, Drive STEM Education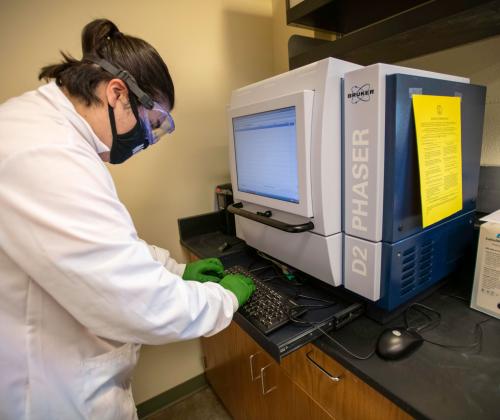 In an announcement made Dec. 15, by the Office of the Governor, UVA Wise learned that Governor Glenn Youngkin has proposed funds for two projects that would advance the College's and Southwest Virginia's efforts to meet the region's most pressing challenges.
A $500,000 investment was introduced for UVA Wise to investigate expanding research work into areas that will positively impact the region, which may include translational medicine, sustainable solutions and applied neuroscience. A total of $300,000 was also proposed to enable the College to assist with the significant teacher shortage in the region and across the state as well as increase science, technology, engineering and math (STEM) education.
"This funding supports our efforts to explore additional options to enhance the region and College," UVA Wise Chancellor Donna P. Henry said. "We are excited to help continue the work for a very bright future in SWVA."
The investigation of this concept builds on the successful partnership between UVA Wise and the University of Virginia (UVA). Under UVA President Jim Ryan's leadership, a Grand Challenge Strategic Investment Fund has been created to develop collaborative research between the College and University. UVA Provost Ian Baucom and UVA Wise Provost Trisha Folds-Bennett have been collaborating on the implementation of projects since Baucom's promotion to provost earlier this year. UVA Wise has also been planning with UVA Health, the University's medical center, on clinical trials.
"As we gear up for the 2023 General Assembly session, I am thrilled to see strong support for UVA Wise included in the amended budget proposal announced today by Governor Youngkin," said Senator Todd Pillion. "These proposed investments are a testament to the value of UVA Wise as a partner in addressing rural Virginia's talent and economic development needs, which will help position us for a stronger and brighter future."
The proposed budget recommendations must be approved by the Senate and House next year.
"UVA Wise is one of the region's greatest assets, and these funds will help identify ways we can increase the College's research capacity to support the growth of the region," said Delegate Terry Kilgore, a UVA Wise alumnus who serves as the Majority Leader of Virginia's House of Delegates.