Featured
Chancellor Henry's Top 10 Achievements From the Past Decade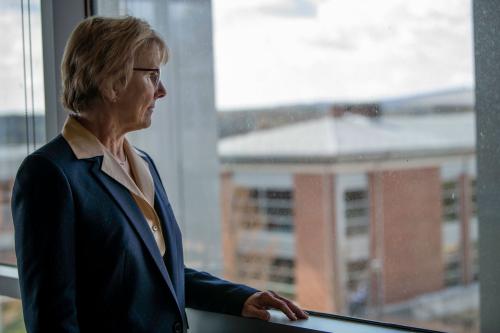 Donna P. Henry began her tenure as the eighth Chancellor of UVA Wise on January 18, 2013. In her 10 years as the institution's leader, she has partnered with faculty, staff and students from across the College–as well as leaders around the region and across the Commonwealth–to make positive change for UVA Wise.
This week, we sat down with Chancellor Henry's cabinet members and a few other influential leaders and asked them to share the top 10 impacts she has had on our magnificent college in the mountains.
A #1 Fan of Students
"I appreciate that Chancellor Henry greets everyone with openness and kindness," says Candice Stadler, dean of students. "She genuinely cares about our students and it shows!"
Stadler, who has only worked at UVA Wise for a year, recounted many moments when she watched the Chancellor take photos for students at events, saying "When a group of students gathers, she often offers to take their photo."
Stadler also pointed out that Chancellor Henry regularly opens her home to our student leaders for dinner or to celebrate the holidays.
"She always makes a point to get to know students. I've loved watching her interact with our Student Government Association (SGA) leaders, attending meetings and supporting them."
Innovation that Elevates: the iPad Initiative
Many cabinet members pointed out Chancellor Henry's visionary leadership in implementing innovate2eleVAte, a fall 2019 initiative that placed an iPad, Apple pencil and keyboard in the hands of every student, staff professional and faculty member at UVA Wise.
"No one could have predicted a pandemic, but her vision to ensure each student had the technology in their hands to be successful proved to be a critical component when instruction was pushed virtual. Even now that we have returned to in-person activities, the iPads have been a great asset to our students and employees," says Joe Kiser, vice chancellor for finance and operations.
Because of the campus's widespread and innovative use of this technology, UVA Wise was named an Apple Distinguished School in October 2021.
A Historic Gift
Valerie Lawson, vice chancellor for advancement and alumni engagement, says "I hope Chancellor Henry will be recognized for creating opportunities for the people of this region and beyond. I hope students will say that because of the scholarships we have established during Chancellor Henry's tenure, they were able to get an education that has changed the trajectory of their lives and their families lives forever in the most positive way."
Lawson shared that Chancellor Henry secured the largest gift in the College's history when she worked with Hunter J. Smith and the Hunter Smith Family Foundation, along with UVA, to close a gift of $10 million, which was matched with $10 million from the University's Strategic Investment Fund. The historic gift established the Carl W. Smith Bicentennial Wise Scholars Fund, which supports first-generation students; the Carl W. Smith Bicentennial Chancellor's Scholars Fund, which supports STEM students; and the Carl W. Smith Scholar-Athlete Bicentennial Scholarships.
"Today, more than 100 students are studying at UVA Wise, thanks to this incredible gift. In addition to the incredible support for tuition, fees, room and board, the Wise Scholars and the Chancellor's Scholars have the opportunity to participate in a one-time experiential learning project."
Calm, Collected Leadership
While she often inspires energetic momentum about UVA Wise and its innovative practices, one cabinet member was quick to point out Chancellor Henry's calm during a trying time for higher education and our world: the COVID-19 pandemic.
"The greatest achievement—and perhaps the most important—of Chancellor Henry's tenure was the way in which she led the College through the COVID-19 pandemic," says Director of Human Resources Stephanie Perry. "This was a hectic, confusing, frightening time and information regarding the virus and its recommendations changed practically by the minute. Managing the College's response required a calm and steady presence, which the Chancellor continuously displayed."
Perry, like many, pointed out not only that the Chancellor possesses poise and confidence—even during trying times—but that her role as Chancellor, while she is driven and dedicated, never precludes her role as a wife and mother and that the compassion she possesses in both roles is understated and ever-present.
"Many don't get to see the personal side of the Chancellor, but seeing her family values and how she cares and interacts with them is admirable," Joe Kiser adds. "Even though her family is at a distance now, she takes the time to care for each of them, including her parents, with care and compassion."
During Chancellor Henry's time at the College, she has stayed true to her inauguration theme, "Minds on opportunity, hearts on service." 
"It has been an honor and a blessing to witness her leadership and her unwavering commitment to the success of the College," says Dawn Jessee, Chancellor Henry's executive assistant.
Creating the College's first Office for Diversity, Equity and Inclusion
In 2014-15, Chancellor Henry partnered with Tabitha Smith to more intentionally value the unique contributions of all members of the UVA Wise community as representatives of diverse populations and rich cultural heritages by creating the College's first Office for Diversity, Equity and Inclusion. 
"Chancellor Henry is a culturally responsive leader who truly believes that you can change an environment and meet the needs of a community so all feel comfortable and belong," says Smith. "She has empowered our office and the campus community to become more mindful of our actions, ethics and work style so that we show compassion and care when needed while holding each other to standards of fairness." 
Extending UVA Wise's Educational Opportunities for the Young and Experienced
Long before the Chancellor's arrival at UVA Wise, the possibility of the College offering master's programs was discussed. Shortly after her arrival, talks about a childcare facility began. Now, UVA Wise is approved to offer graduate programs (with the first program itself pending approval this spring) and the Little Cavaliers Early Learning Center will open in 2023.
"Chancellor Henry has led the College's efforts to become a graduate-degree-granting institution, enhanced the college's capacity in research, secured scholarship money by leveraging the Bicentennial Scholarship Fund and more. Now, she's launching the childcare center. All of this speaks to the respect and credibility she has among her peers across the Commonwealth and throughout the region," says Shannon Blevins, vice chancellor of administration, government relations and strategic initiatives.
Cheering on SWVA
From collaborating with valued partners at the Town of Wise and within the broader region to helping host the first Southwest Virginia Economic Forum, Chancellor Henry works diligently to fully understand and advocate for the community the College calls home.
"What impresses me the most about Chancellor Henry is her deep commitment to the Appalachian region and especially Southwest Virginia. From the day I met her during my on-campus interview, she has consistently demonstrated her commitment to improving the economic opportunities and quality of life for Southwest Virginians," says Jinny Turman, associate professor of history. 
Turman adds that Chancellor Henry has also aided in the development of new majors that will expand opportunities for our graduates and area residents; and she has proven to be uniquely skilled at finding ways to harness campus resources to meet community needs, including adequate healthcare in our area.
Building Opportunity Despite National Trends
Marcia Gilliam, a 1982 graduate of then-Clinch Valley College and chair of the UVA Wise College Board, says that, of all of Chancellor Henry's outstanding feats, "Donna has enabled the college to move forward in an era of declining student enrollment and budgetary constraints."
Gilliam was impressed—but not surprised—about the Chancellor's ability to start initiatives like innovate2relevate and more during the past decade.
"The Donna Henry we interviewed 10 years ago exhibited these traits and has continued to demonstrate the contemplative skills and integrity for which she was chosen as our chancellor," Gilliam says. "As a result of her efforts and leadership, the College is expanding with a bright future."
Entering NCAA Division II
While busy partnering with others to offer new majors at the College and bringing technology to students, Chancellor Henry was also impactful in moving UVA Wise from the National Association of Intercollegiate Athletics to the National Collegiate Athletic Association (NCAA) Division II in 2015-16.
This additional step to bring opportunity and visibility to UVA Wise student-athletes shows another of the Chancellor's values and strengths.
"In her public persona, Chancellor Henry is always genuinely positive and kind, which is a strength of her leadership," says UVA Wise Provost Trisha Folds-Bennett. "But, behind the scenes, she is a bulldog in her efforts to bring recognition and resources to UVA Wise. She knows just how much to ask for support, but also to maintain good boundaries."
Whether speaking of athletics, fundraising or other ways Chancellor Henry has expanded the College's capacity to serve its students and the region, Folds-Bennett says that, 10 years from now, she "should be known for re-creating UVA Wise in a way that stays true to our original mission, but also expands our scope to address regional needs and brings a broader spectrum of students to us."
Our Chief Storyteller
It's rare to encounter Chancellor Henry and not hear her tell a great story about a UVA Wise student or alum who is making a difference. Because Chancellor Henry wanted to encourage others to have additional opportunity to do that, she created the College's first Office of Marketing in 2019, but her ability to champion UVA Wise far predated this initiative.
"Chancellor Henry is a quiet, calm leader, but the spark in her eyes when she gets fired up about the College's many positive impacts can't be missed," says Genna Welsh Kasun, associate vice chancellor for marketing and communications. "In the past four years, she has pitched countless stories about student success, but many don't know she's had a hands-on role in making some of their success happen. She tells their stories with a humble smile in recognition of the student's efforts, knowing that together we achieve more."   
In Summary
A decade into her tenure at UVA Wise, Chancellor Henry is still innovating, most recently through the Your College for a Lifetime strategic plan. Progress on the plan was recently reviewed with faculty and staff in an employee forum, with many projects well underway and some implemented. All are collaborative and work to further realize the mutually beneficial environment of growth and learning for all.
"Donna is a great leader in every sense of the word," says UVA President James Ryan. "She's forward-thinking, collaborative, responsive to the interests and concerns of the community, and wise in her decision-making. I've not only enjoyed working with her, but I've learned a great deal from her, and the Wise community is stronger because of her extraordinary commitment and dedication. I'm grateful for her work and applaud her ten terrific years of service to UVA Wise and to the Commonwealth of Virginia."