Featured
UVA Wise Hosts Black History Month Lecture Series and Soulfest in February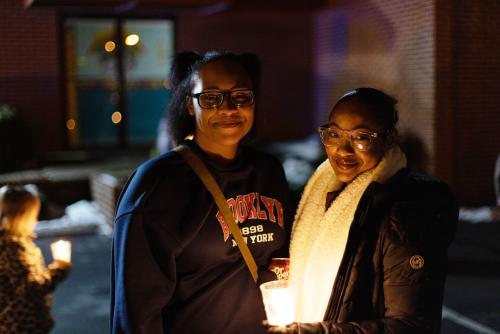 Photo by Mark Robertson-Baker II
This February, UVA Wise will celebrate Black History Month through its month-long series of lectures focusing on community activism, entrepreneurship and raising Black voices in Appalachia.
The annual series, which is free and open to the public, is hosted by UVA Wise's Office for Diversity, Equity and Inclusion, the Department of History and Philosophy and Black History Month Committee. Members of the UVA Wise Lecture Committee and student interns with the College's Multicultural Center also helped plan and organize this year's series of five lectures throughout the month. The Black Student Union is helping moderate the panels and hosting additional student events.
"Black History month is a time of remembrance, celebration and commemoration of the many powerful, influential activists and leaders that have selflessly served the people of this nation. It is so comforting to go to a college that recognizes such feats and does its best to highlight and acknowledge the work of those before us," said lecture series organizer Kameryn Darrington, vice-present of the College's Black Student Union. "The month of February holds a special place in my heart and I cannot wait to take part in the many activities and events to be held."
This year, UVA Wise's lecture programming offers a wide range of subjects including academic research, community activism, journalism and entrepreneurship.
"I think celebrating Black History Month is extremely important. It reminds us of the crucial significance of Black people in our history. As important as it is, however, it's unfortunate that we need to set aside one month a year. Black History is really OUR history. We should remember and celebrate it year round," said Tom Costa, UVA Wise professor of history, who co-chairs the lecture series.
As in past years, the series leans into the personal experience or expertise of African American life in the Appalachian region.
"Our hope is this lecture series enhances critical thinking but also elevates the stories and visibility that Black history has on our Appalachian culture," said Tabitha Smith, UVA Wise associate vice chancellor for diversity, equity and inclusion. 
To kick off the month, Soulfest, the College's annual music festival, will feature music by Black composers, singers and performers including the Wise Guys, Chris Rose and Robbie White. It will be held on Feb. 1 at Cantrell Banquet Hall at 1 p.m.
For the first time, the College's Division of Administration, Government Relations and Strategic Initiatives, which coordinates UVA Wise's economic development initiatives, is also hosting a diverse entrepreneur panel.
"I am excited that we can showcase stories from Black entrepreneurs in our region. This event should give a peek into what fuels them, as well as the challenges they have overcome on their journey and still face today. We hope it is inspiring to all considering entrepreneurship as a path forward," said UVA Wise Innovation and Ecosystem Manager Blake Salyer.
Lamar Steele, the UVA Wise entrepreneur coordinator who helped organize the panel, said it's also inspired by the work and life of Dr. Martin Luther King Jr. who once said, "I still believe that standing up for the truth of God is the greatest thing in the world. This is the end of life. The end of life is not to be happy. The end of life is not to achieve pleasure and avoid pain. The end of life is to do the will of God, come what may."
Black History Month Series events:
"Expanding the Archive & Classroom; Channeling Blackness, Comics, and the Speculative"
Wednesday, Feb. 6, 1 p.m.
The speaker will be virtual but there will be a live viewing and Q & A in Cantrell Hall and available on Zoom.
An evening with Virginia Commonwealth University assistant professor of African American Studies Grace D. Gipson. She will discuss her research on comics and pop culture, while also engaging with issues surrounding disability, the speculative, race and gender.
Register in advance for this webinar
"Why Black Huntington Matters"
Monday, Feb. 13, 1 p.m.
This event is both in-person at Cantrell Hall and on Zoom.
Marshall University Assistant Provost for Inclusive Excellence Cicero Fain III will share insights from his first book, "Black Huntington: An Appalachian Story," which was published in 2019 by the University of Illinois Press and was a finalist for the Appalachian Studies Association Weatherford Award.
Register in advance for this webinar
"Diversity Panel of Black Entrepreneurs"
Wednesday, Feb. 15, 1 p.m.
Black Box Theater, Gilliam Center for the Arts
Join a lively panel discussion of what it takes to be a Black entrepreneur. Representatives from the Nest, the College's student entrepreneur organization, will moderate the discussion between Raven's Hair Studio owner Raven Lester, UVA Wise Alumnus '12 Jahmal Potter, owner of JGreat Entertainment, and George Smith and Adam Harris, co-owners of the Sugar Shack BBQ. They will share their experiences from start up to success. After the panel, refreshments will be served.
"The Urgency of Now"
Monday, Feb. 20, 1 p.m.
This event is both in-person at Cantrell Hall and on Zoom.
The Multicultural Center and DEI student interns will introduce and moderate the panel featuring Deborah H. Travis, Judy Barlyske and Karen Sanders of the Montgomery County-Radford City-Floyd County, Virginia chapter of the National Association for the Advancement of Colored People. They will discuss their chapter, its vision and work and share with students and faculty how to form a chapter.
Register in advance for this webinar
"Black by God: The West Virginian"
Monday, Feb. 27, 1 p.m.
The speaker will be virtual but there will be a live viewing and Q & A in Cantrell Hall and available on Zoom.
Crystal Good, founder and publisher of "Black by God: The West Virginian," a print and multimedia publication centering on Black voices in Appalachia, will share her insights and experiences.