Featured
With $250,000 grant, UVA Wise Leads Effort to Expand High School and College Student Internships in SWVA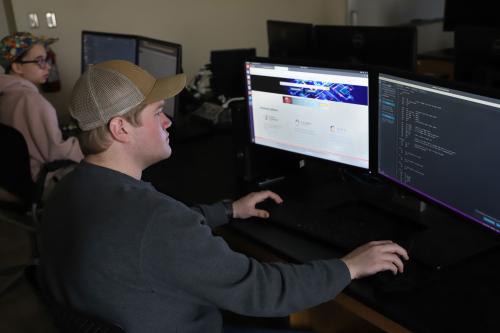 Southwest Virginia high school and college students will soon have more access to high-quality paid and academic credit internships in a wide variety of fields, including valuable skilled trades. These opportunities are made possible by a new $250,000 grant led by UVA Wise.
The two-year grant is part of the Innovative Internship Partnership Program, also known as the Virginia Talent + Opportunity Partnership (VTOP), created by the State Council of Higher Education for Virginia (SCHEV) and funded by the General Assembly.
UVA Wise joins University of Virginia, Virginia Tech, University of Mary Washington and Old Dominion University, all of which are leading similar regional efforts.
"Learning outside the classroom is as important as inside the classroom. Employers expect recent graduates from high school or college to be ready to hit the job running on the first day. Providing valuable hands-on experience not only helps graduates gets jobs here in SWVA, but it also aids employers in keeping their businesses going and growing," Chancellor Donna P. Henry said. "It's another way we can deliver on our strategic mission to promote economic and community development in Central Appalachia."
The grant also aims to address SWVA's estimated loss of 11,584 jobs, equivalent to 8.5% of the regional workforce, at the height of the pandemic in the first quarter of 2020.
As the support organization for GO Virginia Region 1, the College will also oversee this project which encompasses the cities of Bristol, Galax and Norton and counties including Bland, Buchanan, Carroll, Dickenson, Grayson, Lee, Russell, Scott, Smyth, Tazewell, Washington, Wise and Wythe. 
The region has identified several key economic areas for internships. Among these are GO Virginia 1 regional priority industry clusters which consist of: information and emerging technology, energy innovation, mineral resource development, agricultural manufacturing and food and beverage manufacturing. The project will also include other economic sectors including healthcare, tourism and hospitality, among others. The grant will include student participants from both public and private schools.
Already, UVA Wise has garnered the support of United Way of Southwest Virginia, the Southwest Virginia Alliance of Manufacturing and regional colleges, including four- and two-year institutions. The coalition plans to bring chambers of commerce, economic development organizations, industry groups and other vital stakeholders together.
"We are committed to working alongside UVA Wise to build a strong foundation for long-term economic growth in the region. We strongly support this project as a way to develop a more resilient region as we continue to navigate economic impacts of the coal economy," said Mary Anne Holbrook, vice president of community impact of United Way of Southwest Virginia.
Grant funds will be used to improve the readiness of students, employers and higher education institutions, and will facilitate and strengthen connections between employers and students. It's aimed at elevating the economy, reducing population decline, reducing workforce brain drain, and helping educate and prepare K-12 and college students to be best prepared to work and thrive in SWVA.
SCHEV is also providing additional funding to help employers with human resources or administrative assistance needed to set up a new internship program or expand an existing one. It's for any size of business.
Student internships will mean gaining real-world experience through an apprenticeship for a trade or in manufacturing. Internships may include study abroad, undergraduate research and workplace experiences in a wide range of businesses and industries.
For students, the internships mean valuable training and skills and serve as a resume enhance that can lead to a better chance of landing a good-paying job and staying in SWVA.
For employers, the project can help train a new talent pool for existing needs, new growth, emerging industries and succession planning in their business.
Both employers and student interns must complete a series of mandatory introductory lessons developed by the National Association of Colleges and Employers (NACE) to prepare them for their respective roles. The courses for employers will help them learn how to develop a successful internship. Students will learn how to take full advantage of the internship and obtain career readiness skills. 
UVA Wise, the grant's fiscal agent, will serve as the regional hub. During the first year, the College will launch the planning effort by leading and convening a growing coalition of education and business leaders to increase school internship opportunities across the region.
The College will work to identify existing internship programs, resources and new experiential learning opportunities among regional educators and employers. The College and stakeholders will also gather and prioritize regional employers' needs that are not currently being met.
The College will bring all key partners together at an annual regional conference like the College's SWVA Economic Forum or the United Way of Southwest Virginia's Rural Summit for additional engagement. Possible engagement might include employers, educators and industry leaders participating in roundtable discussions, or students meeting with company representatives to learn about potential internships.
UVA Wise also has another role as a participating stakeholder.
Based on student feedback, the College's Office of Career Discovery and Planning identified the need for paid internships and created a highly successful program, Wise Works, which has connected students to paid technology internships since 2015.
As part of its 2030 Strategic Plan, Your College For A Lifetime, the College has prioritized expanding its already successful internship programs in technology to all academic disciplines through experiential learning opportunities including study abroad, research and internships to meet employer needs.
The United Way of Southwest Virginia has an additional role in the project through its Youth Expo and its existing IGNITE Tech Talent initiative, which provides high school juniors and seniors an internship or apprenticeship the experience they need to be ready for work upon graduation
Those interested in additional information or joining the initiative contact vtop@uvawise.edu.