Featured
Eighth Annual SWVA Economic Forum Serves Up Award-Winning Appalachian Chef and Restaurateur as Keynote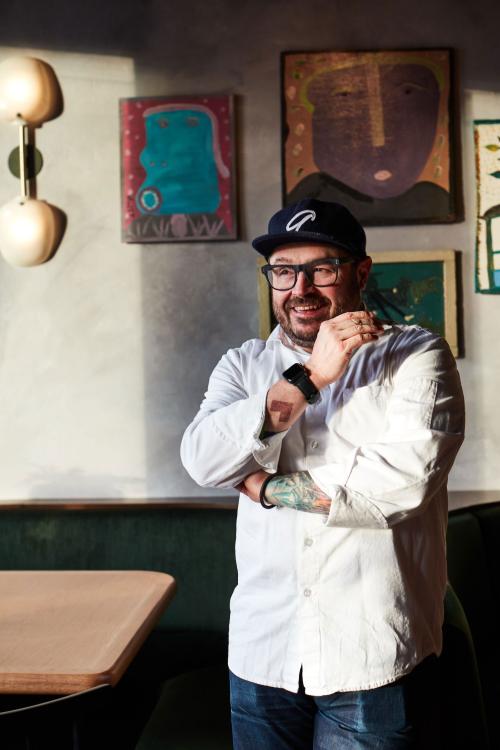 Sean Brock, the chef and restaurateur behind four Nashville restaurants—Joyland, The Continental, Audrey and June—will deliver the keynote speech at the Eighth Annual Economic Forum at UVA Wise on May 25.
A Pound, Va., native, Brock has been on a culinary journey of more than 20 years during which he's reinventing Southern cuisine through the discovery of lost flavors and ingredients, thereby creating some of the most sought-after, award-winning dining experiences in the U.S.  He is also a New York Times bestselling author and has been featured on popular television shows including "Mind of a Chef" and "Chef's Table."
At the Forum, Brock will share what makes Appalachia special and unique, how growing up in Southwest Virginia shaped his entrepreneurial spirit, and his passion for Southern food and love of building community.
"Our hope is Chef Brock's amazing story will help inspire other entrepreneurs to pursue their own passions and build their own businesses and communities," says UVA Wise Chancellor Donna P. Henry
Named after his inspirational Southwest Virginia grandmother, Audrey is Brock's flagship restaurant, which debuted in East Nashville in 2021. There, Brock continues his work studying Appalachian foodways and hospitality.
Last summer, June opened its doors above Audrey. It features modern dining with a distinctive tasting menu exploring the possibilities of the ingredients indigenous to the American South.
In 2020, Brock opened his first solo venture, Joyland, a high-quality, fast-food restaurant inspired by his love of cheeseburgers and Southern fried chicken. The Continental, offers a fine dining experience mixing a passion for culinary history with the elegance of a traditional hotel restaurant experience, came next.
For more than a decade, Brock served as chef and partner at McCrady's and McCrady's Tavern in Charleston, S.C. Brock is also the founding chef of Husk, which has several locations across the South.
Brock's passion for cooking imaginative, high-quality Southern food has garnered him the prestigious James Beard Award for Best Chef-Southeast in 2010. He is a four-time finalist in the Outstanding Chef category and a three-time finalist in the Rising Star Chef category.
Brock's debut cookbook, "Heritage," is a New York Times Bestseller and winner of the 2015 James Beard Award for American Cooking. Inspired by his desire to preserve the heritage foods of the South, the book features dishes that are "ingredient-driven and reinterpret the flavors of his youth" in Appalachia and Charleston.
In his second book, "South," Brock shares his recipes for key Southern staples from grits and fried chicken to collard greens and cornbread. "South" was also a New York Times bestseller and nominated for a James Beard Award.
Brock has appeared on the popular Netflix show, "Chef's Table," in 2019 (Season Six, Episode 4), and hosted season two of the Emmy-Award winning show, "Mind of a Chef," produced by the late Anthony Bourdain.
The 2023 SWVA Economic Forum is a day-long conference held at the College's David J. Prior Convocation Center. It returns this year as a hybrid conference where participants can attend either online or in person. Presenting sponsors include GO Virginia Region One and UVA Wise. The Forum's media sponsor is The Business Journal of Tri-Cities Va./Tenn.
Registration for the Forum is required. Virtual tickets cost $25 and in-person attendance tickets are $45. Day of conference walk-ins are welcomed. Please visit the Southwest Virginia Economic Forum website for registration, program updates and sponsor information.