Featured
UVA Wise Commencement Celebrates the Class of 2023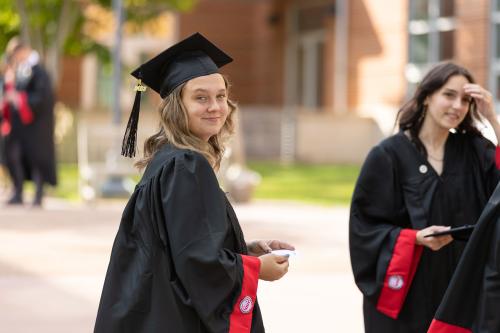 Photo by Mark Robertson-Baker II
On Saturday, May 13, 2023, the members of the Class of 2023 of the University of Virginia's College at Wise graduated with friends, family members, faculty and classmates present. In total, 218 graduates crossed the stage, earning either a bachelor of arts, bachelor of science or bachelor of science in nursing degree. The ceremony took place at 10 a.m. at David J. Prior Convocation Center.
"UVA Wise alumni are leaders in medicine, business, law, politics, education, community service, military service, clergy, the sciences, the arts and essentially every walk of life; and you, the Class of 2023, are well prepared to join those alumni," said UVA Wise Chancellor Donna P. Henry.
Chancellor Henry then introduced University of Virginia Board of Visitors Vice Rector Robert D. Hardie, who wished graduates well.
University of Virginia President James E. Ryan also congratulated graduates, saying, "Stay curious. If you stay curious, I promise it will help you find joy, success, and fulfilment in your life, and that when you gather for your college reunions, you will have some amazing stories to share with anyone curious enough to ask."
Marcia A. Gilliam, UVA Wise College Board Chair and a 1982 alumna of the College, shared her greetings, as did graduating junior Logan Smith, president-elect of the College's Student Government Association.
Then, Ashlyn G. Mullins, a graduating senior, shared remarks as the honorary class speaker.
"In my four years as a student at the University of Virginia's College at Wise, I have constantly been supported both on and off campus. I feel so fortunate to have a community here, and in the town of Wise, that celebrates my successes and supports me in my failures," Mullins said.
Judy Harding, a native of Southwest Virginia, College alumna and retired leader in the field of engineering, delivered the Commencement address.
"You were blessed in your time at UVA Wise to have attended smaller classes than you would find at larger universities, to have professors that knew you, took an interest in you, guided you, coached you, pushed you, nurtured you, taught you to think critically, to test your limits and push beyond, to question and not accept the status quo," Harding said. "You have thrived in a tight-knit community of instructors and learners, among people who accepted you, believed in you, supported you and wanted you to succeed. For many of you, this was exactly the support you needed at this point in your life while you developed skills and confidence to thrive when outside this secure environment. You are now well-prepared to move on."
After Harding's address, Provost and Vice President for Academic Affairs Trisha Folds-Bennett presented candidates for their degrees, with Chancellor Henry awarding.
The UVA Wise Army ROTC program then commissioned six officers in the U.S. army. Those promoted to second lieutenant include Ian W. Anderegg of Waverly, Ga.; Joseph W. Collins of Big Stone Gap, Va.; Zachary L. Cunningham of Sierra Vista, Ariz.; Connor Giza of Pound, Va.; James T. Graybeal of Johnson City, Tenn.; and Robert W. Jobe, Jr. of Haysi, Va. Each newly commissioned officer took the oath of office, received his first salute and was honored on stage by family and friends.
Alumni Association President Fran G. Hunt, a 1980 alumnus of the College, welcomed all graduates to the alumni body of UVA Wise and inducted each into the Alumni Association.
The singing of the alma mater and recessional followed, with the UVA Wise Concert Choir and UVA Wise Highland Winds, respectively, leading the musical charge. The Highland Winds also assisted with the processional, joined by Randy D. Stanley, a 1978 graduate of the College, and Liam C. Horne on bagpipes.