Featured
UVA Wise Student Hal Taylor Wins FAO Schwarz Fellowship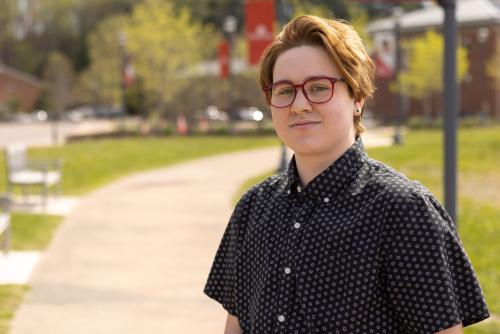 Photo by Mark Robertson-Baker II
Hal Davis Taylor of Wise, Va., a student at UVA Wise, has been awarded the FAO Schwarz Fellowship. Taylor, who is double majoring in sociology and communication studies, is set to graduate from UVA Wise on May 13, 2023. He is also a member of the Darden Society and a newly inducted member of Lambda Pi Eta, the National Communication Honor Society.
The FAO Schwarz Fellowship is a highly prestigious, two-year experience designed specifically for future social impact leaders. The Fellowship seeks out new college graduates that are initiators of social change and gives them the opportunity to gain the skills and experience necessary to transform them into impactful leaders themselves. Less than three percent of qualified applicants received offers this year.
Each year fellows are selected to work at leading non-profit organizations in Boston, New York City and Philadelphia. Host organizations vary from year-to-year, but all involved have had a proven commitment to addressing critical issues of social inequity.
"I was mainly shocked when I was offered the fellowship," says Taylor. "It came as a pleasant surprise that I was really happy and excited about."
Taylor is going to be working in Boston with Year Up, a nonprofit organization that aims to close the Opportunity Divide by ensuring that young adults gain the skills, experiences and support that will empower them to reach their potential through careers and higher education.
Fellows receive both professional development and individual mentoring through the program. Those who start their fellowship during the summer of 2023 will receive total compensation of approximately $85,000 plus benefits over the two-year period.
Being a Wise native, Taylor grew up participating in the Upward Bound program at UVA Wise, which provides participants with high school and college academic advising, workshops on study and test-taking and life skills as well as SAT and ACT preparation. They also receive assistance with college applications and financial aid. His time participating as a student inspired him to become a Resident Advisor for the program today, so that he can help give students the same opportunities that he was afforded.
"My degrees in sociology and communication studies have given me the ability to recognize more prevalent social issues in this area specifically and in the world overall. Having the opportunity to be able to research the ways in which I can potentially address those problems has really developed my overall understanding of how I can go out and help people make a difference," Taylor added.
Taylor specifically cited his support system at UVA Wise as a part of his success. The offices of Career Discovery & Planning and National Awards and Fellowships played an integral role in Taylor's journey. Coming from two different majors, he also had the opportunity to find support systems in multiple academic departments. Taylor says Rachel Tighe, department chair and associate professor of communication studies; Julia Weiss, assistant professor of communication and faculty advisor of Lambda Pi Eta; and Christa Moore, associate professor of sociology, were vital to his success.
"Hal is such a model student, and I always look forward to having him in class. He is driven, intelligent, kind and cares about the well-being of others. We in the Communication Studies Department are all incredibly proud of him for getting the FAO Schwarz Fellowship and know he is going to do great things!" says Weiss.
Taylor will start his FAO Schwarz fellowship journey in August of this year and is looking forward to seeing what he can do to foster effective social change.