Featured
UVA Wise Celebrates Campus Additions and Improvements to Kick Off Fall Semester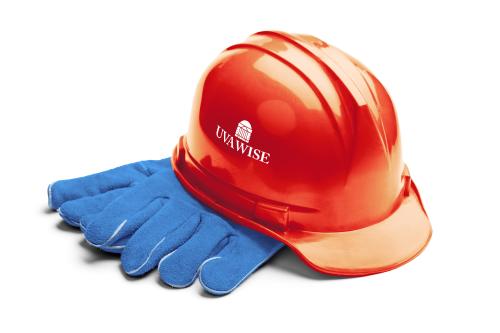 UVA Wise has been busy taking advantage of the summer months to rev up its construction and renovation projects across campus.
From new academic facilities to athletic upgrades to student support and experience enhancements, the campus has been buzzing with activity all season long.
"It's an exciting time for the Highland Cavalier community. If you come and visit UVA Wise, you will see an unprecedented level of investment and activity," UVA Wise Chancellor Donna P. Henry said. "Regardless of the size or scale of these projects, they all will significantly improve student experience and success and create an improved quality of campus life for faculty, staff, students and Highland Cavalier fans alike."
With the fall semester days away, here's a roundup of many of the new improvements already completed.  Collectively, the projects listed will help UVA Wise attract and retain students, and bolster our employee recruitment and retention which are central pillars of our Your College for a Lifetime, the College's strategic plan.
A host of several ongoing construction or renovation projects included are scheduled to be complete this year or next. No traffic interruptions are anticipated from on-going construction and renovation projects.
Little Cavaliers Early Learning Center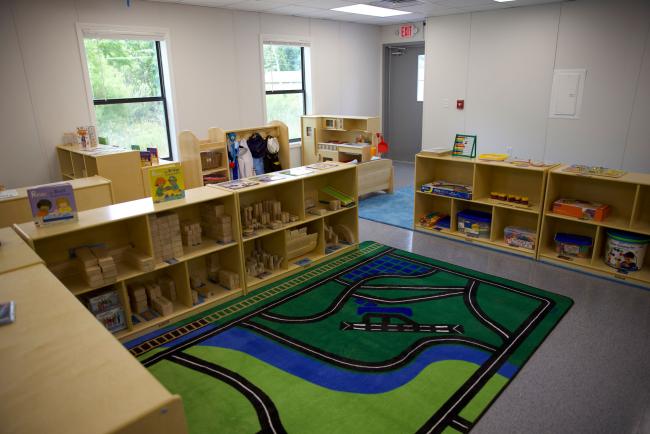 The Little Cavaliers Early Learning Center is opening this fall and will bring much-needed childcare to the College's community.
The Center will serve up to 45 children ages six weeks to five years old in a 3,608 square-foot facility on UVA Wise's campus.
Licensed by the Virginia Department of Education, Little Cavs houses four classrooms which include individually designed rooms for each age group: infants, toddlers, transitional preschool and pre-K. Observation windows in each classroom allow parents to view their child's room from the entrance halls.
Three outdoor play environments will give children plenty of opportunities to have fun with developmentally and age-appropriate equipment. The Center will be managed and staffed by YWCA Northeast Tennessee and Southwest Virginia which has recently hired its director, Jodi Leigh Campbell, and assistant director, Carleigh Ray.
In addition to supporting employee and student recruitment and retention, Little Cavs is also part of UVA Wise's larger plan to educate a new pipeline of early childhood educators in the region with the establishment of an early childhood endorsement within its existing Teacher Education Program.
C. Bascom Slemp Student Center Gaming Hub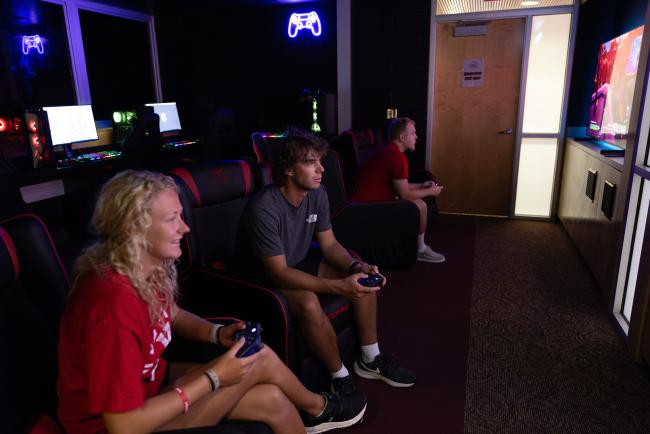 The Slemp Gaming Hub, located on the third floor of the C. Bascom Slemp Student Center, is now open. The room features gaming PCs as well as Xbox Series X, PlayStation and Nintendo Switch consoles.
The breakdown of consoles includes:
Three Xbox Series X consoles, six wireless Xbox controllers, and Ultimate game passes for all Xbox consoles with online services and cloud gaming
Three PlayStation 5 gaming consoles, six wireless PS 5 controllers, and PlayStation Plus online services and gaming for each console
Three Nintendo Switches with joy cons and controllers along with Nintendo Switch Online + Expansion Packs for each system
Three 65-inch Samsung TVs with background LED lights and six leather recliners, two for each gaming TV
Eight MSI gaming PCs—each has an Xbox Ultimate game pass for online/cloud play and the EA Sports package, an Xbox controller, Play Station controller, gaming headset, neon keyboard specifically designed for gaming and a massaging game chair for extended play
All gaming equipment is set for online and cloud gaming. The room will be open seven days a week for free play and students can reserve a console by signing up at the Slemp Center's main office. The hub will be used for intramural sports gaming seasons throughout the year.
UVA Wise Lactation Station
At UVA Wise, nursing moms now have a room of their own. The lactation station will be the first designated space of its kind to support students and employees who are caring for newborns.
Located on the second floor of the Ely Wellness Center, the parenting space will eliminate barriers for students, employees and guests who are nursing so that they can work, learn and provide care in a safe and peaceful environment.
Pippin-Wyllie Renovation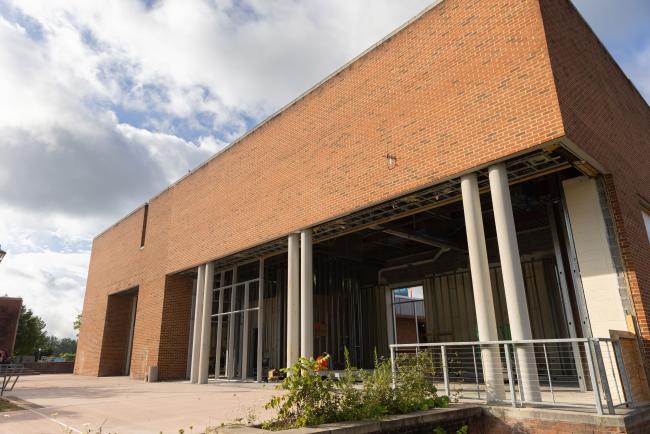 With a new name and vision, the former College library's transformation into a state-of-the-art nursing education facility is well underway this year and expected to be completed by year's end.
Don R. Pippin & John C. Wyllie Hall will house brand-new classrooms, nursing skill labs and simulation rooms. The facility is aimed at expanding learning opportunities in nursing and improving healthcare across the Southwest Virginia region.
Design architect Clark Nexsen has reimagined the former library into a beautiful contemporary educational setting with a lower courtyard level adjacent to the College's Student Center.
Once renovated, the 28,530-square-foot building will house all nursing students and faculty and will include common-area gathering spaces and a suite of nursing faculty offices. The new facility is expected to be complete in early 2024.
Outdoor Intramural Basketball Court between Henson Hall and The Dining Commons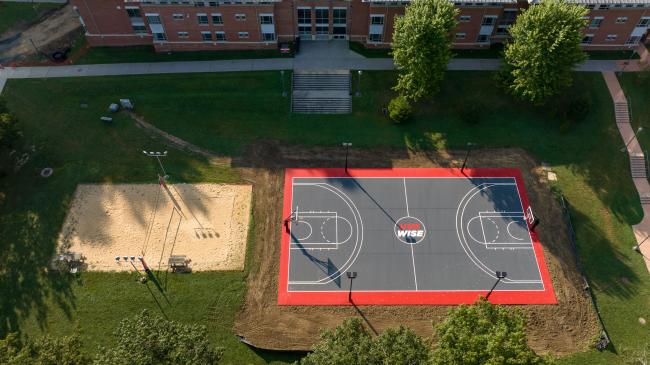 Just in the nick of time, a new outdoor court is ready for students to relax and have some fun for the start of the fall semester.
The multi-purpose court is designed to play half-court basketball, full-court basketball or pickleball. The court features an NBA layout with both NCAA and NBA regulation three-point lines. The lighted court will be the hub of a newly reinvigorated intramural sports program.
New Burchell "Slew" Stallard Baseball and Cavalier Softball Artificial Fields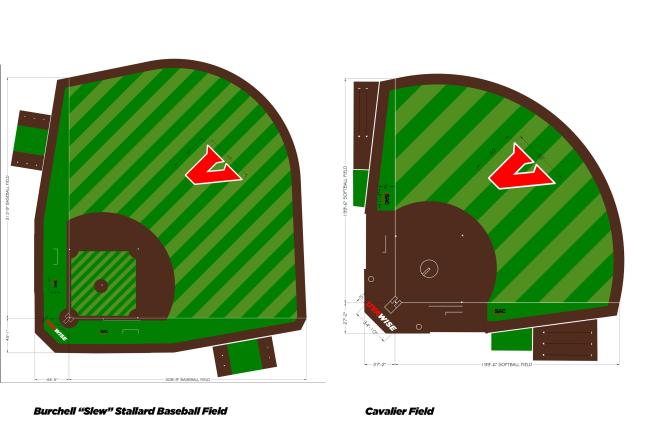 Slated for completion for the spring 2024 season, the estimated $3.8 million project will replace the existing natural grass softball and baseball fields.
Burchell "Slew" Stallard Baseball Field will be replaced with Field Turf Double Play Natural, the same surface found on other universities in NCAA Division I and II.
Cavalier Softball Field's new surface will be Field Turf Triple Threat similar to other NCAA Division II colleges and universities. The new softball field will also increase from 200 to 220 feet meeting NCAA tournament hosting regulation size.
The new athletic fields are possible from generous private support and donations. Nearly half of the donations have been committed as part of the ongoing Honor The Future Campaign. A new fall campaign will provide additional opportunities to complete the project's funding needs.
Demolition has begun on both fields, and construction is expected to take four to six months.
Academic Success Center in the UVA Wise library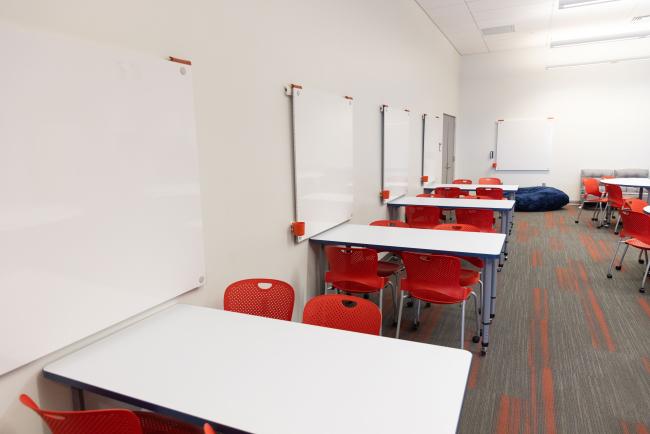 UVA Wise's new Academic Success Center (ASC), located on the second floor of the UVA Wise Library, opens this fall.
The Center will provide a welcoming environment for students to study, collaborate and succeed. With tutoring rooms, workstations and a variety of study spaces, ASC is a dedicated place for students to hone their skills and achieve their academic goals. Expert staff, new academic interventions specialists and peer tutors will offer one-on-one or group support.
The Center features four study rooms for private and focused individual learning, each with a monitor and Apple TV, and several designated relaxation spaces with bean bag chairs.
The main hub of the center is a cutting-edge study space equipped with three large monitors each with Apple TVs, four individual computer terminals and collaborative study areas, promoting creativity and innovation among students.
The Center has an inviting office where dedicated staff members offer expert guidance to students, ensuring they receive the necessary support to excel academically.
It's also the home of a newly created peer mentor program, the Mentorship and Adaptability Program (MAP) initiative, to help first-year, Pell Grant-eligible students, especially those who are low-income or first-generation Highland Cavaliers, find their way to personal and academic success.
In July, the State Council of Higher Education for Virginia (SCHEV) awarded UVA Wise a four-year, $354,000 grant to establish the program, which begins this fall.
Darden and Zehmer Hall New Learning Environments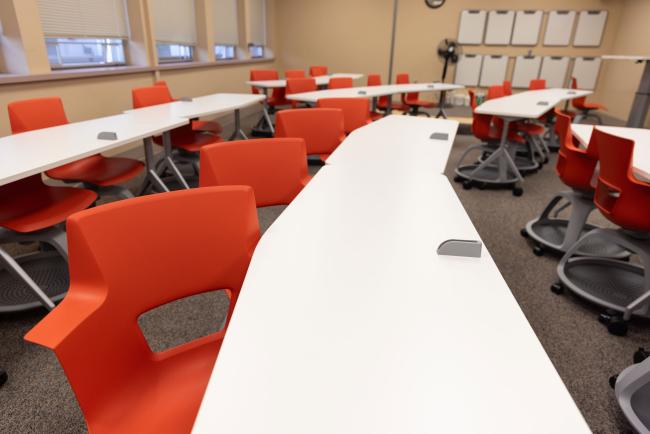 Two of the College's academic hubs now feature all new furnishings.
In Darden Hall and Zehmer Hall, every classroom is decked out with new tables and chairs. Faculty can chose to teach from a desk that allows them to sit or stand. The entire makeover is designed to create flexible learning environments to enhance teaching and learning. For example, all of the tables are flip-top and mobile, and each classroom is equipped with Dry Erase dividers, which can be clipped to the tables to provide separate spaces for testing or group-learning environments.
Humphreys-Thomas Field House Athletic Weight Room Renovations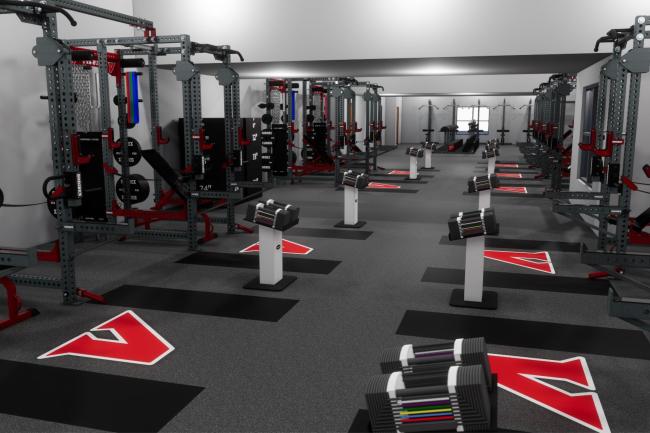 UVA Wise's athletic weight room is getting its own Highland Cavalier branded makeover. Along with its new look, the weight room will get Activ Plus flooring with inlaid logo platforms. New state-of-the-art equipment will be installed including Sorinex equipment and accessories, 10 Base Camp racks and Power Block Pro dumbbells. The upgraded weight room will serve more than 350 student athletes on campus. Installation is expected to begin in mid-August and be complete in mid-September.
Carl Smith Stadium and Beaty-Richmond Field at Carl Smith Stadium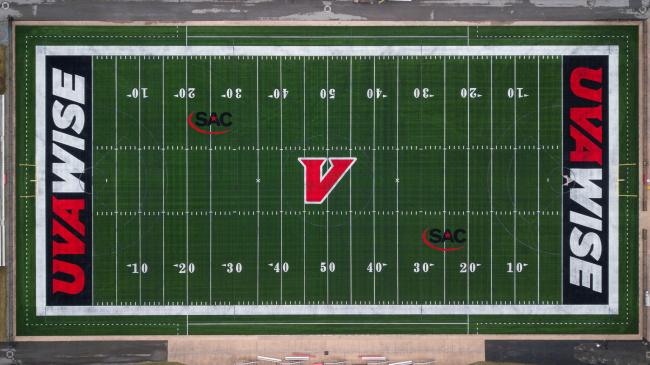 The state-of-the-art FieldTurf XT Dual Slit Film Turf System is ready for the 2023 football season at the Beaty-Richmond Field at Carl Smith Stadium.
The artificial turf also has new UVA Wise and SAC logos for both football and women's lacrosse fields. The improvements were completed during the previous winter, and UVA Wise Women's Lacrosse played its 2023 season on the new field this spring. The new turf and improvements were made possible partially through the financial support of alumni and friends of the College.
Valley Lot Repairs and Resurfacing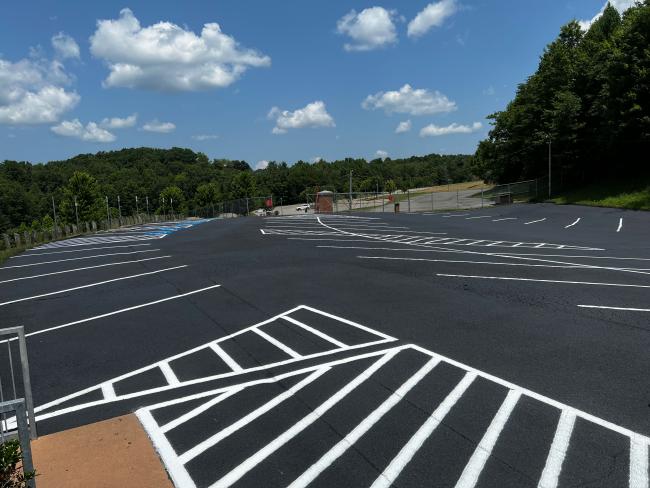 Highland Cavalier fans and tailgaters will soon enjoy a resurfaced parking lot by the Carl Smith Stadium and Beaty-Richmond Field at Carl Smith Stadium. The repairs and resurfacing began in July and are expected to be completed by the fall sports season. This project was funded in part through the generous financial support from alumni and friends.