Featured
UVA Wise Announces New Business and Economics Chair, Applied Data Analytics Institute Executive Director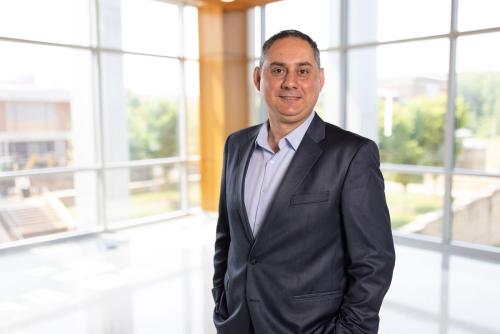 Photo by Mark Robertson-Baker II
UVA Wise welcomes Gurkan Akalin, an academic leader with a wealth of real-world expertise, as executive director of the College's newly formed Institute of Applied Data Analytics and Chair of the Department of Business and Economics. He also serves as a professor of business analytics.
In his role, Akalin is further developing the College's new data analytics curriculum and institute, and building out the new hospitality and tourism program for the business and economics department with colleagues. He is also leading the department's implementation of the College's new online business administration major, which provides an easier path for associates degree holders to obtain their bachelor's degree. Under Akalin's leadership, the new data analytics institute will also work with local businesses and public entities for their consulting needs.
This fall, the College has also added new business department faculty in hospitality management and has kicked off two new hospitality and tourism management courses this semester.
Akalin holds his doctorate in business administration with a focus on management science from the University of Texas at Arlington, a master's degree in industrial engineering from Georgia Institute of Technology and an undergraduate degree in industrial and systems engineering from the University of Southern California. His research interests include business analytics, managing uncertainty and risks, digital technology use and supply chain management.
Most recently, Akalin spent 11 years at Eastern Illinois University's Lumpkin College of Business and Technology where he served as the assistant chair for administration and as an associate professor. At EIU, Akalin regularly taught courses in business analytics, supply chain management, logistics, project management, operations management and other quantitative subjects.
While there, he earned tenure and full professorship, but Akalin was looking for a new career goal and purpose.
"After you become a full professor, many people focus on their ongoing research or take things a bit easy and settle down. I wanted a challenge," he said.
Akalin was drawn to UVA Wise because of its unique vision and new strategic plan.
"I was very impressed with the leadership of Chancellor Henry. The leadership is innovative, dedicated, focused and aligned with my vision and values. I appreciate the focus on the economic growth of this region as well as the personal growth of the staff and students," Akalin said. "UVA Wise is providing me an amazing opportunity to help develop new student programs, help foster new startups and boost economic development efforts in the region."
UVA Wise is in a unique position because it's located close to rapidly growing areas including Tennessee, North Carolina and Georgia, Akalin said.
"You have a nice location that has access to fast-growing areas in the country. It's a picturesque area and very tourism-attractive in terms of scenery. I see tremendous opportunity," he said. "UVA Wise wants to be innovative, and the region has lots of potential. It's exciting to be a part of that."
His academic vision is to make "the second wave of data analytics" through artificial intelligence available and accessible for all students to apply immediately in their fields of study and later in their careers.
"Data is everywhere. It is in business, journalism, real estate, farming, transportation, banking. All of us are consumers of data, and we generate data and use data," Akalin said. "Data is the source that has the answers. Whoever uses data has the knowledge and power in the business world."
Challenging subjects can be taught in a way that is accessible to all college students regardless of their major or subject interest, he said.
"We don't expect everyone to be a data scientist, but I want everyone to understand data, how to use data and how to generate data and use some of the software tools out there," Akalin said.
Raised in the mountains of western Turkey, Akalin said he loves being near the greenery and beauty of the Appalachian mountains, his new home. Akalin came to the U.S. to pursue his college education twenty-one years ago.
He is not only a veteran of academia, but also has considerable hands-on experience in the business and corporate sectors which he plans on bringing to the classroom.
Trained as an engineer, Akalin has worked in logistics, transportation, financial, energy and information systems. His time in the corporate world includes roles as a quantitative and data analyst for Morningstar, the financial services firm; an operations analyst at Norfolk Southern Railroads, and an analyst at a Los Angeles logistics company.
The goal of the interdisciplinary program will be to bring more applied data analytics to a student's education whether in marketing, real estate, health care or other fields. Professors from other subject areas will also teach in the subject.
"We want to provide skills and knowledge to enhance their education and prepare them for careers which will be useful to companies and increase economic development in the region," Akalin said. "The mission is to not just train and graduate these students, but to keep them here in Southwest Virginia. It's all about growing this area."
Akalin also hopes to develop certificate programs and workshops to assist local and regional companies.
"I always see myself as someone doing research and, at the same time, working with the businesses around me. I've never considered myself a researcher alone. My research is primarily applied to real-world applications," he said.
Akalin, who moved to the area from the Midwest this summer, said he's enjoyed meeting community members and getting to know the campus, faculty and students.
"I'm impressed with the campus. It feels like a private college, but it's a public institution and it's growing," he said. "I met with students during my interviews. They are smart and want to learn. I want to help them and remove any obstacles so they can succeed."