Featured
UVA Wise Appoints Alumna Jenny Nichols as GO Virginia Program Director for Region 1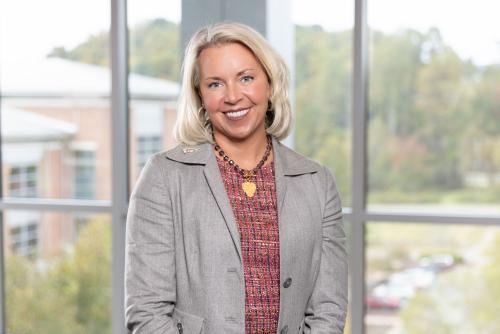 Photo by Mark Robertson-Baker II
UVA Wise is pleased to announce the appointment of Jenny Nichols, a 2001 alumna of the College, as the new GO Virginia Program Director for Region 1. With an impressive background in public service, education and community engagement, Nichols brings a wealth of experience and a passion for economic development to this pivotal role.
Nichols, who currently serves as the Vice Chair of Washington County Virginia Public Schools and is a member of the Virginia School Board Association Board of Directors, has demonstrated leadership and dedication throughout her career. She also actively contributes to various community boards, further establishing her commitment to fostering regional growth and progress.
Prior to her current roles, Nichols served as a legislative aide to Virginia Delegate William C. Wampler III, where she gained valuable insight into the legislative process and developed a deep understanding of policy development.
"Jenny's unique experience in public service, education and community involvement makes her the ideal candidate to lead the GO Virginia program and promote economic growth in our region. We are confident that her leadership and expertise will be a tremendous support to the Region 1 Council who works to have a transformative impact on Southwest Virginia," said Shannon Blevins, vice chancellor for administration, government relations and strategic initiatives at UVA Wise.
GO Virginia is a bipartisan, business-led economic development initiative which supports programs to create more high-paying jobs through incentivized collaboration between business, education and government to diversify and strengthen the economy in every region of the Commonwealth.
UVA Wise serves as the support organization for Region 1 which consists of the cities of Bristol, Galax and Norton; and the counties of Bland, Buchanan, Carroll, Dickenson, Grayson, Lee, Russell, Scott, Smyth, Tazewell, Washington, Wise and Wythe.
As GO Virginia Region 1 program director, Nichols will also serve as UVA Wise's lead as the support organization, which provides administrative support, activities and other services for the state program and works with members of the GO Virginia Region 1 Council.
"We are delighted to welcome Jenny Nichols as the new GO Virginia Program Director for Region 1. Her life experience and leadership skills make her the perfect fit to lead our efforts in fostering collaboration and advancing economic opportunities. We look forward to working closely with Jenny and UVA Wise to build our community's thriving and prosperous future," said GO Virginia Region 1 Council Chair Mark Eschle.
Nichols, earned a bachelor's degree in political science from UVA Wise, and is currently pursing a M.A. in public policy analysis from Liberty University.
She is also currently attending the Sorensen Institute Political Leaders Program, which is run by the Weldon Cooper Center of Public Service at the University of Virginia.
Nichols and her husband, Brock, reside in Bristol, Va., and are proud parents to two sons, Jack and Todd. As a native of Southwest Virginia, Nichol's personal connections to the region further enhance her understanding of the challenges and opportunities faced by the local community.
"UVA Wise is excited about the future of the GO Virginia program under Nichols's leadership. With her experience and dedication, we anticipate great strides in promoting economic development and collaboration throughout Region 1," Blevins said.