Featured
UVA Wise Honors Alumnus, Past Foundation Board President as 2023 Volunteer of the Year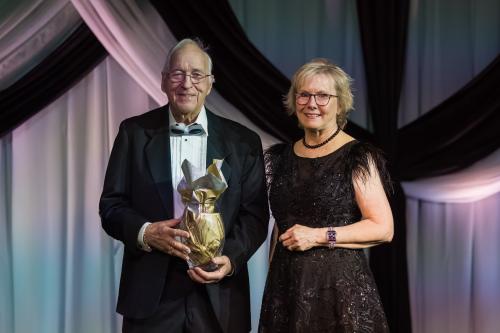 Don Green always finds a way.
During the planning stages of the first capital campaign for the University of Virginia's College at Wise's (UVA Wise), it was suggested leaders set a goal of $4 million.
A 1961 alumnus of the College, Green convinced leaders to go for what was considered an "unfathomable goal" of $13 million. By the campaign's end in 2001, the College had raised $21 million.
The next campaign in 2006, Fulfilling the Dream, kicked off with another Green-inspired goal—$50 million. It eventually exceeded the target, raising $67 million.
"He never misses an opportunity to praise the College, introduce the College to someone who might not know about it or to effectively fundraise. Whatever the school's needs are, he is there," said recently appointed UVA Wise Foundation Board President Dawneda Williams.
For the second time in the College's history, Green was celebrated by UVA Wise as Volunteer of the Year Saturday night at its annual Benefactor's Celebration at the David J. Prior Convocation Center. A staunch supporter of the College, Green previously received the Volunteer of the Year award in 2001.
"It's a humbling experience. So many of the students have stayed in touch, and it's a good feeling," Don Green said. "A lot of things, money, cars, clothes, food, travel—they give us pleasure. There's nothing wrong with pleasures, but helping other people gives us happiness. I discovered that a long time ago. Helping someone else that's not necessarily in a position to return the favor, I think that's always looking to serve. And I just love doing it. It's not an end, if anything, an honor like this makes you look for more ways to make a difference."
In 2003, Green joined the Foundation Board which he led from 2004 to 2023. He's also been a member of all three campaign leadership cabinets and has served on the UVA Wise College Board since 2000.
"We honor an individual who has been one of the College's greatest ambassadors," Chancellor Donna P. Henry said Saturday night. "As president, he led the Foundation Board for 19 years with great confidence, vision and wisdom."
"I am incredibly grateful for the time and talent he's devoted to advancing UVA Wise and the Foundation. He is truly the most deserving individual we could honor," said UVA Wise Vice Chancellor of Advancement and Alumni Engagement Valerie Lawson.
During Green's volunteer tenure, the College landed several of its largest investments in capital projects—the addition of the Hunter J. Smith Dining Commons, the renovation of the theater building into the Gilliam Center for the Arts and upgrades to the Lila Vicars Smith House and the Winston Ely Health & Wellness Center.
"His leadership style is enthusiastic and positive. He believes in what he says, and believes he can get it done. I think that was contagious to other foundation board members as well as us who were employed by the College. If Don believes it, why shouldn't I?" said Winston Ely, an alumnus of the College and a retired UVA Wise development officer.
"We were fortunate to have his business and finance acumen and expertise. He was the perfect leader of a foundation," said Tami Ely, an alumna and retired UVA Wise vice chancellor.  "He always finds a way."
The Wise County native didn't have a lot of money growing up. He attended then two-year institution Clinch Valley College and worked his way through his four-year degree taking night classes at East Tennessee State University.
Ask anyone, or Green himself, and you'll find that he's always sharing his love of UVA Wise and encouraging young people to consider applying there. He's also committed to their success, helping former students get internships and jobs.
Under Green's volunteer leadership, the College has boosted the number of privately-endowed scholarship funds, increasing access to higher education and improving experiential learning opportunities for UVA Wise students. Green and his late wife, Phyllis, endowed several scholarships as well as an operational fund, Henry said.
"I love Don for his unassuming, down-to-earth personality. I admire him for dedication, work ethic, intelligence and integrity," said UVA Wise Foundation Board and College Board member Rhonda Perkins. "Don is so worthy of receiving the Volunteer of the Year Award because of his love for the College and his dedication to the success of the College and its students."
Green played a significant role in the effort to change the name of his alma mater, Clinch Valley College, to become UVA Wise.
"I knew the name change would be a tremendous benefit to us and help us share the story of the College," Green said.
Green has helped steward the current Honor the Future campaign, continuing until 2025, that has already raised $76 million.
"He is truly interested in people and wants them to do well," said Williams. "His fingerprints are on so many successes related to the College. There is no metric to compare Don's standard of commitment, participation and dedication to his alma mater."