Featured
UVA Wise Posthumously Honors UVA Alumnus as 2023 Benefactor of The Year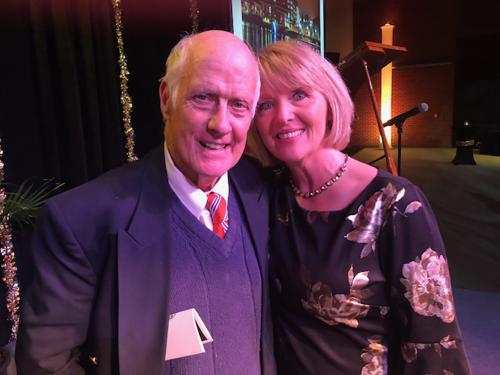 UVA Wise honored the late University of Virginia (UVA) alumnus Richard Durham as its 2023 Benefactor of the Year last weekend at its annual Benefactors Celebration.
Durham left a sizable portion of his estate to further support the Durham-Rogers Bicentennial Scholars Fund at the College. He wanted to give back to Southwest Virginia, where his family originated. The retired West Virginia businessman passed away last year at 81 years old.
"He wanted to support students who recognize the value in being part of a community and who were willing to devote time and energy toward common goals," UVA Wise Chancellor Donna P. Henry said Saturday night. "Gifts like these provide funds to support the improvement of the campus. They inspire faculty, provide access and change lives."
The Durham-Rogers Fund supports need-based scholarships to undergraduate UVA Wise students who demonstrate financial need. Special consideration will be made to support students from Southwest Virginia and those students who participated in athletics, the arts or community service during high school.
"I had many calls with Richard over the years where I came to admire and value his expertise," said UVA Wise Vice Chancellor for Advancement and Alumni Engagement Valerie Lawson. "I wish he were here to enjoy this honor. His educational legacy will live on forever."
Durham earned his Bachelor of Arts degree in 1962 from the School of Arts and Sciences at the University of Virginia and an Master of Business Administration degree from Mount St. Mary's College. He created the Durham Agency.
In 2017, Durham attended a reunion on the UVA grounds and learned about the University's Bicentennial Scholars Fund established by UVA President Jim Ryan. As part of the Bicentennial Scholars Fund, UVA will make a 50 percent match on gifts of $50,000 or more to UVA Wise that are fully paid within five years for new endowments to support merit and need-based scholarships.
To date, UVA Wise has established 77 scholarships that qualify for matching funds from UVA. With gifts and matching funds, more than $40 million has been added to the College's endowment.
That inspired Durham—who had never visited UVA Wise—to make a gift to the College because it would benefit students from rural areas, a personal passion for him.
In 2019, Durham visited UVA Wise at attend the Honor The Future campaign launch where two students, John Fansler and Telena Turner, took him on a tour of campus.
"He met so many people that night and thoroughly enjoyed the visit," Lawson said.
Delores and Andy Still, steadfast supporters of the College, met and spent time with Durham during his visit.
"He was a genuine, sincere person. He was really interested in the College and wanted to get a deep knowledge of it. I think he had a feeling in his heart for the College's success and its students," Delores Still said.
Over the years, Durham continued to remain in close contact with UVA Wise, always wanting to keep up with what was happening on campus.
"Although we were deeply sorry to learn of his passing last year, we know his relationship with the College impacted his life in a very positive way," Chancellor Henry said. "We are truly grateful for Mr. Durham who unselfishly invested in the lives of students that he will never meet."