Featured
UVA Wise Receives State Funding to Expand Online Licensure Program and Address Statewide Special Education Teacher Shortage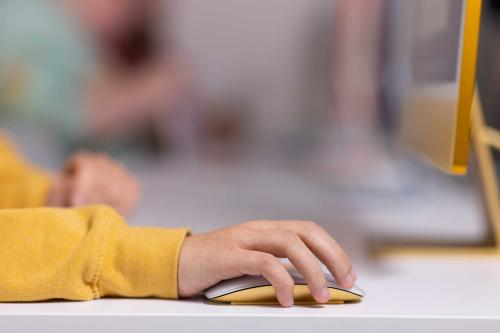 Provisional teachers, or those interested in seeking a special education certification, now have an affordable, online path to state licensure at UVA Wise.
From anywhere in the Commonwealth, provisional teachers can complete all coursework to obtain a special education license in two years at UVA Wise's Center for Teaching Excellence (CTE). Those without provisional licenses can take a prerequisite class to pursue the certification.
Recently approved state appropriations include funding for the College to expand its Provisional Pathway Program (PPP) and combat the significant teacher shortage in Southwest Virginia and across the Commonwealth. The new funding is also aimed at addressing the growing crisis in teacher recruitment and retention statewide, especially in special education.
"UVA Wise is proud of its long-standing history of educating fine teachers, not only in Southwest Virginia, but across the Commonwealth," UVA Wise Chancellor Donna P. Henry said. "This new funding will help us carry on that tradition of excellence, address the growing demand for high-quality classroom instructors in areas like special education, where they are sorely needed, and elevate educational and career attainment of Virginians for a lifetime."
The online program allows teachers to receive instruction in classroom management, child development, curriculum, instruction, reading and assessment.
Special education teachers will receive intensive instruction in legal aspects and foundations of special education, student characteristics, instruction of students with disabilities, individualized program development and implementation, as well as assessment and evaluation of student disabilities.
For those interested in pursuing a special education certification who don't have a provisional teaching license, UVA Wise offers the online survey course, Foundation and Legal Aspects of Special Education (EDU-369), which meets Virginia Department of Education prerequisite requirements for a provisional license.
Provisionally-licensed teachers will receive the reduced educator tuition rate.
Advisors are available to assist students as they develop their individualized program schedule. Courses meet all state requirements for full licensure.
Teachers who already have a provisional license can register immediately to start their remaining coursework in the spring 2024 semester.
Since its inception in 2010, UVA Wise's CTE has offered online courses for provisionally licensed teachers, helping more than 10,000 Virginia educators meet their licensure and continuing education needs.
"One of the greatest strengths of our program is that it bridges the gap between the accessibility, affordability and scheduling flexibility of workshop-based programs yet maintains the licensing, credentialing and rigor of an accredited institution," CTE director James Wardell said.
The program is entirely administered and taught by professionals who have worked in Virginia K-12 public schools bringing valuable, practical experience to new teachers.