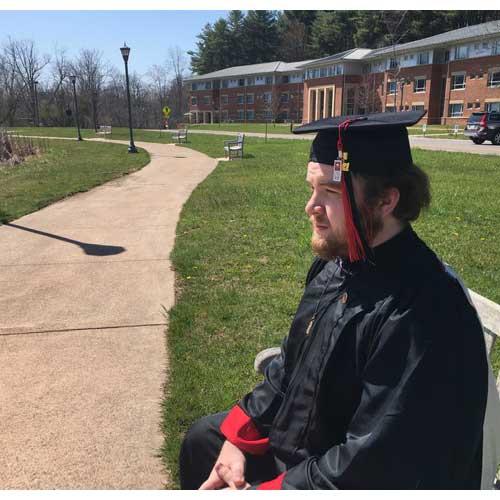 Starfire Cherrix first arrived on campus as a high school student. He was accepted to the Governor's School at UVA Wise because of his keen interest in theatre.
It was his love of the Governor's School program that prompted him to give UVA Wise a try when it came time to begin his college years.  As the Floyd, Virginia resident was wrapping up his last two semesters in the Covid-19 restricted campus, it was revealed in mid April that Cherrix has been Smiddy, the college's mascot for the past few years.
Wearing a 50-pound costume in the blazing sun during a Saturday football game is not easy. In fact, it takes more than one Smiddy to do a proper job as mascot. The College has two Smiddy teams in place to alleviate some of the difficulties that arise from wearing the heavy costume at certain events. Cherrix is the lone senior this year that wears the costume. Each Smiddy has a handler to help them as they go about their official duties at various college functions.
Cherrix was going about his normal business when he received an email inviting him to try out for the mascot role. Two faculty members who were unaware that each of them suggested Cherrix would be a good Smiddy recommended him. He began his duties about a week later and soon became the leader of Team Smiddy.
"I couldn't believe I was going to be Smiddy," he said. "Being able to perform in the mascot suit and to be the face of the College was an experience. The majority of the people would not know who I was so it was a new level of performance for me."
As team leader, he recruited new members and coordinated the scheduling for appearances around campus and in the community. It kept him busy but a group chat application made it easier to keep up with all team members.
"I enjoyed it so much" he said. "One of the biggest challenges was being in the costume in the heat, but it was worth it all when a cool breeze finally hit. It was amazing."
Cherrix also left some advice for future Smiddys.
"It's hard work, but you've got to live a little and have some fun," he said. "Do Smiddy the way you always wanted to do. I always tried to bring my personality into it."
Cherrix says he is a different person now than he was when he arrived as a freshman. He is grateful to be in the place he is now, and he said he has learned from the normal freshman mistakes over the years.  He plans to look for work in theatre, either behind the stage or on stage once he graduates. Through it all, he cherishes the memories he made as Smiddy. He would not change a thing.