Featured
Expanded roles announced for leaders in finance and operations, government relations, strategic initiatives and administration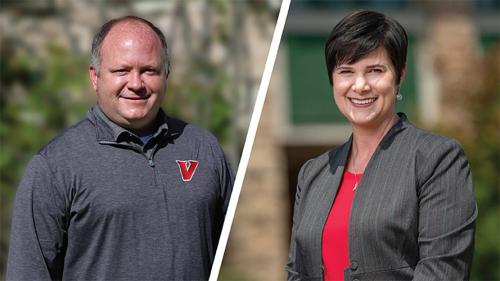 After a successful, highly competitive national search for the position of Vice Chancellor for Finance and Administration that resulted in a rich pool of candidates, UVA Wise Chancellor Donna P. Henry announced today two promotions aimed to help advance not only the financial planning and operations of the college, but also the governmental relations and institutional excellence of UVA Wise.
Effective on July 1, 2021, Shannon Blevins, who currently serves as vice chancellor for economic development and strategic initiatives, will expand her role to the position of vice chancellor for administration, government relations and strategic Initiatives. Joe Kiser, who currently serves as associate vice chancellor of finance and administration, will step up to serve as vice chancellor of finance and operations.
"This search produced a very rich pool of candidates, and Shannon and Joe rose to the top," said Chancellor Henry. "Each will help the College move to the next level."
Blevins is a 1991 alumna of UVA Wise who majored in marketing management, holds an M.B.A. and completed several leadership programs including one at Harvard University and another from Darden at UVA. She will draw on her considerable experience leading at UVA Wise, for the Commonwealth of Virginia and at various corporate organizations, at which she developed cultures for continuous improvement. In addition to keeping economic and community development, career discovery and planning and strategic initiatives in her portfolio, she will also oversee UVA Wise's human resources and governmental relations efforts.
Kiser is a 2000 alumnus of UVA Wise who majored in accounting, holds an M.B.A., completed his master's degree in education at UVA, and also completed the Harvard University Institute for Management and Leadership in Education program. He'll draw on more than 21 years of experience at the College, where he has worked to find innovative ways to achieve and advance UVA Wise's goals through financial planning and the procurement of goods and services. In addition to continuing his work of overseeing finance, operations, and auxiliary services, Kiser will also oversee capital operations, public safety and the comptroller and budget offices.
"Both Joe and Shannon have displayed remarkable transparency in their work and each has a talent for working across divisions, which are skills that will be an important part of our future at UVA Wise," added Chancellor Henry. "I'm excited for Shannon and Joe's promotions because they both are focused on our collective work to continue to evolve the College for our students and the ever-changing world which they encounter."
Henry added special thanks to the cross-campus search committee assigned to this effort, who were led by Valerie Lawson, vice chancellor for advancement and alumni engagement.