Featured
ROTC commissions two new officers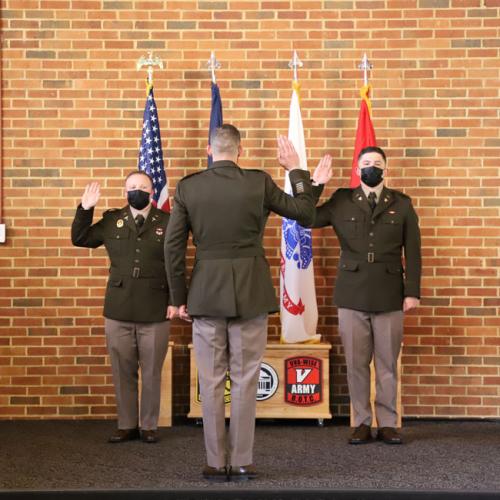 Two recent graduates of the University of Virginia's College at Wise were commissioned as Second Lieutenants in the United States Army after completing four years of training in the Army ROTC program on Friday, May 7, 2021. Col. Kyle Redman, U.S. Army (Ret) addressed the newly minted officers and UVA Wise ROTC Officer in Charge administered the oath of office to Zachary Cannon and Conor Jessee.
Cannon served as executive officer and company commander in Cavalier Company. He earned his bachelor of science degree in business administration on Saturday, May 8, 2021, and is receiving his U.S. Army commission in the Tennessee National Guard as Second Lieutenant in the Quartermaster Corps. He will serve as a company-level Executive Officer in the 278th Armored Cavalry Regiment in Lafayette, Tenn., while also working as a route service sales representative for Cintas in Nashville. He is the son of Robert and Kathy Cannon of Virginia Beach, Va.
Jessee served as supply non-commissioned officer, personnel non-commissioned officer, executive officer and company commander in the Cavalier Company of the Buccaneer Battalion. He earned his bachelor of arts degree in government on Saturday, May 8, 2021, and is a distinguished military graduate. Jessee is receiving his U.S. Army commission as a second lieutenant in the Medical Service Corps. Upon completing the service corps course, he will be assigned to the 1-75 Cavalry Regiment, 2nd Brigade Combat team in the 101st airborne division at Fort Campbell, Ky. He is the son of Tina and Eric Jessee of Wise, Va.
"Being a leader in the Army is a great obligation and a great responsibility," said Redman. "But, I'm very, very confident in your potential. Both of you have exhibited tremendous potential since the day you walked on campus."
CPT Brenay added, "You are leaving a very positive legacy here at UVA Wise. I am extremely proud of you and the work you have put in during your time here, leading from the front line as the UVA Wise ROTC program grows."
Rank bars were pinned on each officer, and the men received their first salute. Each gave the traditional silver dollar to a non-commissioned officer who gave them their first salute.