Featured
Wyllie Hall Renamed to Honor Don R. Pippin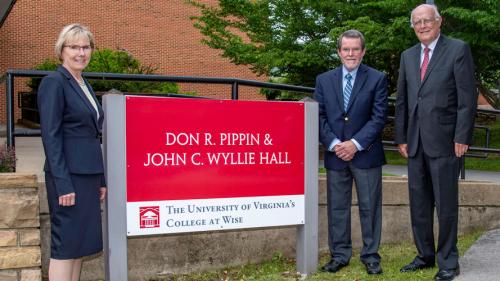 UVA Wise has honored Don R. Pippin with the renaming of Wyllie Hall as Don R. Pippin & John C. Wyllie Hall.
Pippin is a 1958 alumnus of then-Clinch Valley College, a 1960 graduate of the University of Virginia, and a 1963 graduate of the University of Virginia School of Law. His service to UVA Wise spans decades, and includes, among other contributions, an impassioned plea before the General Assembly that resulted in the funding for Fred B. Greear Gymnasium, service on the University of Virginia's Board of Visitors and UVA Wise's College Board, and leading the effort before the General Assembly to change the College's name in 1999.    
During a virtual ceremony held simultaneously in Wise and Charlottesville, Pippin shared a heartfelt message of gratitude, saying, "It is impossible for me to express to you my love for Mr. Darden's College on the Hill. That love is beyond language – but I will try to say as best I can – my sincere and deep appreciation for the honor of having my name mixed into the brick and mortar of this beautiful building." Colgate W. Darden was President of the University of Virginia when UVA Wise was founded in 1954.
UVA Wise Chancellor Donna P. Henry said, "Don Pippin is joining a list of greats in UVA Wise history, a small number of people whose names are etched into our buildings and cherished spaces…and also into our hearts and our minds." Henry continued, "The work that each of them has done on behalf of the College at Wise has shaped the course of this College in so many great ways."
On behalf of the UVA Wise College Board, Jeffery A. Sturgill remarked "Don has played many roles and worn many hats in our community over the past 60-plus years. He has been a steadfast advocate for the College, all that time constantly keeping the College in the forefront of his mind and on the front page of the agenda."
Sturgill shared that Pippin was just 20 years old when he first advocated for the College before the General Assembly, and that he has continued that advocacy for decades.
"The Don Pippin story is part of the future of the College," said Dr. Joseph F. Smiddy, son of Joseph C. "Papa Joe" Smiddy, late Chancellor Emeritus of UVA Wise. Smiddy pointed out that Pippin served as Assistant Director of Extension for UVA shortly after CVC was founded. Smiddy also said that Pippin was a mentor to him, especially when Pippin was a law student and Smiddy was an undergraduate at UVA.
John T. Casteen III, President Emeritus of the University of Virginia, and a steadfast supporter of UVA Wise who led the University for over 20 years, continued the narrative of Pippin's impact, saying, "There was a period when otherwise responsible people questioned whether there was a need for a College at Wise, questioned whether there was a justification for the linkage [between UVA and UVA Wise] that Mr. Darden, Mr. Wyllie, and others had effected between Wise and Charlottesville. Don immedately understood the danger of that talk, but he also understood how to confront it....Don won. He won in a big way....That's Don's contribution. It was uniquely his."
"Don was an excellent lawyer. He was one of the best storytellers that I have ever known. And he was a steadfast advocate for the University of Virginia's College at Wise," said Leonard W. Sandridge Jr., retired UVA Executive Vice President and Chief Operating Officer. "Don didn't just talk the talk. He walked the walk."   
Daniel R. Abramson, Principal of Abramson Properties who served on the UVA Board of Visitors with Pippin, said "Don has shown, over the years, a moral compass. He has a calm style and a deep intellect. His lightheartedness kept us, on the Board of Visitors, well focused."
Pippin's son, F. Scott Pippin, said that his father developed what he calls "a love of the printed page" at UVA Wise. "It is so fitting that the building named for Dad served as the library at UVA Wise for many years,"  Pippin said.
The building will be completely renovated into a nursing education facility that will expand learning opportunities in the field and enhance healthcare across the Southwest Virginia region.