Featured
Army ROTC program contracts 10 new officers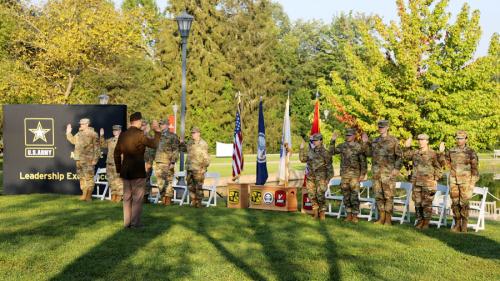 UVA Wise contracted 10 new cadets in their ARMY ROTC program on August 25, 2021 at 8 a.m. on campus at the College's Lawn by the Lake.
The students contracted include Dakota Ball of Raven, Va., Avery Boehm of Greenville, Va., Arabella Brown of Cleveland, Va., Haley Caviness of Dugspar, Va., Zachary Cunningham of Park Hills, Mo., Zachary Hammonds of Gate City, Va., Haley Kerhart of Spotsylvania, Va., Isaiah McCall of Neon, Ky., Thomas Nauss of Wise, Va., and Victoria Wright of Meadows of Dan, Va.
Captain Kyle Brenay, who oversees UVA Wise's Army ROTC program, presided over the ceremony, which was attended by the family and friends of the contractees as well as by several leaders from the United States Army. These included the Command Sergeant Major (CSM) of the United States Army Cadet Command CSM Jeremiah Gan; the 7th Brigade Command Team from USACC, Colonel Brent Clemmer, and CSM Shannon Adkins; and the East Tennessee State University ROTC Command Team, Lieutenant Colonel Kent Monas and Master Sergeant David Tirko. The Carroll County JROTC program made the three-hour trip to celebrate the contracting of one of their alumni, despite some mechanical challenges on their bus.   
"The UVA Wise ROTC program contracted more individuals this morning than we have ever done at any one time before," Captain Brenay said. "It's an understatement to say I'm excited about this program and these fine cadets."
According to Captain Brenay, contracting is the first step toward becoming a Cadet rank in the Army, which leads to students eventually becoming Commissioned Officers. Earning the right to contract involves earning good grades, meeting physical fitness requirements, displaying leadership attributes and competencies and more. The second step toward becoming a Commissioned Officer is finishing an undergraduate degree and the ROTC curriculum, and the final step is being sworn in as a Commissioned Second Lieutenant in the Army. 
In the summer between their junior and senior year, cadets obtain Advance Camp Credit, attending a 38-day assessment during which cadets display their leadership attributes and competencies by leading their ROTC peers across the country through various missions.
"I'm extremely proud to say that our UVA Wise cadets who performed at this past summer's camp assessed exceptionally well," Captain Brenay said. "In fact, we're above the national average of 49% with 60% of our cadets achieving an 'excellent' or 'outstanding' rating at Advance Camp."
The addition of these 10 cadets brings the total of the UVA Wise Fighting Cavs cadre to 42 young servicemen and women.
"This entire ROTC process is not for the faint of heart, but it builds character, camaraderie and strong, agile leaders," Captain Brenay concluded. "Most of all, it forms bonds over a lifetime."