Featured
New Center Makes Showcasing Best Practices, Bringing Campus Community Together Fun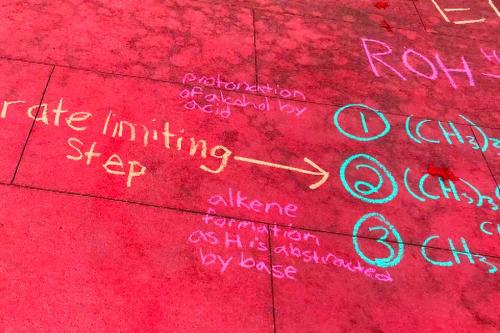 When her students refused to do an assignment, it was one of the best teaching moments of chemistry professor Margie Tucker's life.
It's a story Tucker shared in her presentation, "Spotlight on Teaching Excellence: Sidewalk Science," last fall for the College's new Center for Educational Excellence and Innovation.
The faculty workshop focused on how sidewalk chalk "can help students summarize, synthesize and organize complex information as they also learn leadership, communication and teamwork skills," said Tucker.
"It brought students together and got the creative juices going," Tucker said.  "It wasn't about them having fun, it was about learning, but they had fun secondarily."
Tucker teaches organic chemistry—a must-have requirement for students who want to go on to medical, veterinary or pharmacy school.
As a result of Covid-19, Tucker discovered a new purpose for her Keynote slides—a virtual "flipped class." In this teaching strategy, Tucker provided students with instructions and materials, then they solved problems independently before posing questions for the professor.
The flip was that Tucker didn't know what would happen in class until the students shared their questions.
Tucker then asked students what they were "still confused about." Students had remaining questions about complex alcohol and alkene compounds and reaction pathways.
"Students find these concepts incredibly confusing. There are two reactions and two pathways for each reaction. I wanted them to think vertically not horizontally," Tucker said.
Associate Professor of English and Faculty Director of the Center for Educational Excellence and Innovation Emily Dotson had shared an instructional graphic that inspired Tucker.
First, Tucker had students write from memory words and phrases that describe the pathways. At the College's Betty J. Gilliam Sculpture Garden, Tucker then divided them into groups where students worked on the reaction pathways in colored chalk on the sidewalk surface.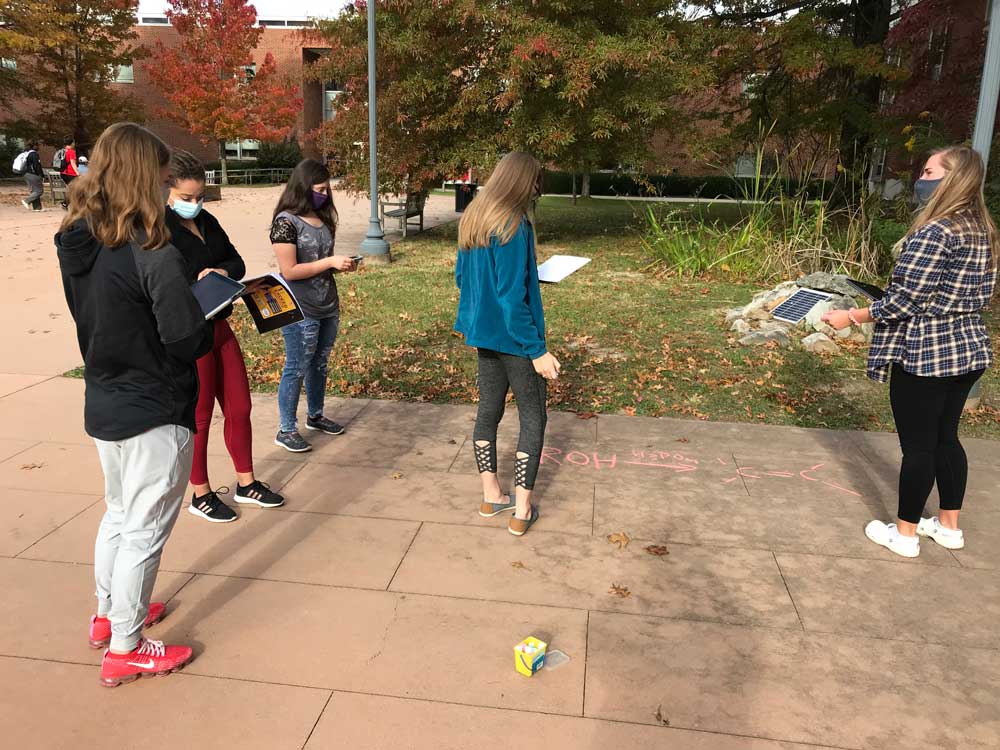 "Students would jump up and run to another group and write something. All of a sudden, you'd hear, 'no, no, no—that is not right' and they would argue back and forth until they reached consensus," Tucker said. "It helped clarify things once it was all laid out and sharing and talking in groups helped tremendously. All I did is bring the chalk and take the pictures."
For the next problem, Tucker asked students to repeat the exercise, but they refused because they immediately realized that they hadn't done the pre-work necessary. This understanding was key to the students learning, Tucker said.
"It was an incredible moment and happy day when they said 'No.' Their eyes were really opened. It was impressive," Tucker said. "My sense is that flipping the class made a difference. They are taking responsibility for their learning in a way I have not seen before; I have seen it in individuals, but I saw the whole class out there, including some students who were struggling, and that was a really wonderful experience."
The project also illustrated multiple learning opportunities both digitally through iPads and going physically outside, Dotson said.
"Taking students outside allowed them the freedom to make sense of the material in their own structural way," said Dotson, who attended Tucker's workshop.
This is just one example of the "real demand for teaching workshops and faculty learning opportunities" that the Center hopes to fill, said Dotson.
Creating a Campus Community of Excellence and Innovation
Born of the College's new strategic plan, "A College For Your Lifetime," which outlines a new mission, values and initiatives for 2020-2030, the Center for Educational Excellence and Innovation opened its doors officially in August 2021.
The Center uniquely embodies the spirit of the strategic plan by offering events catered for employees' full life, in and out of work, providing skills and knowledge for personal and professional development.
According to its website the Center's aim is "advancing educational excellence in all areas of campus life, spotlighting and inspiring innovations in teaching and learning at all levels and in all academic disciplines, and nurturing a campus community that celebrates our mission and values."
It also serves as a way for both faculty and staff to come together, learn together and build community among UVA Wise's nearly 350 full-time and part-time faculty and staff. Another key component is investing in faculty and staff development and retention.
The Center is co-directed by Dotson and Human Resources Director Stephanie Perry.
"What's unusual and exciting is that at the Center we collaborate to offer campus wide workshops that promote a holistic experience of academic life. We try to offer the perfect marriage of knowledge and community building," Dotson said.
Only a semester under its belt, the Center has progressed at warp-speed, facilitating more than 130 workshops last fall alone.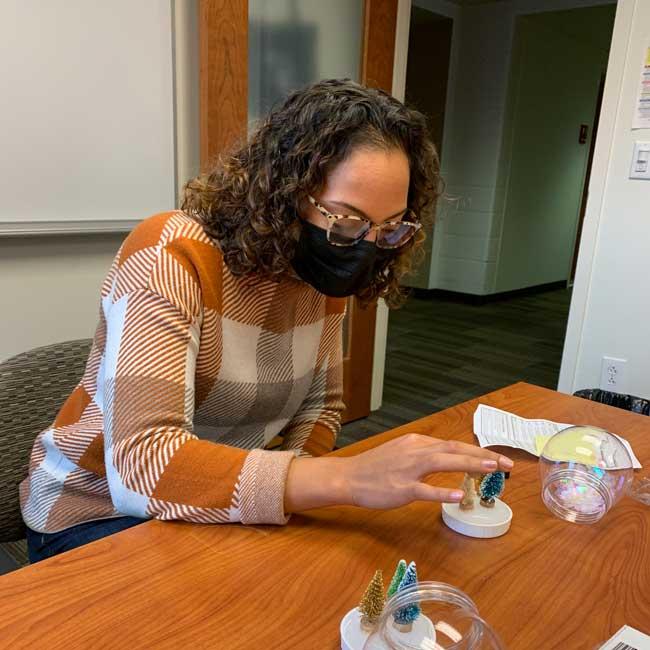 Many of those events have been geared for both faculty and staff participation. For example, the Center hosted a popular and well-attended Sip Cocoa and Paint event and a holiday-themed workshop where faculty and staff made custom snow globes.
"It was relaxing to sit and craft with colleagues," said Genna Welsh Kasun, associate vice chancellor for marketing and communications. "We found ourselves sharing personal stories, but also discussing, and making progress on, work projects."
And this semester, there are events ranging from mindfulness training, a women's leadership summit, a jewelry-making class and a beer school held off-campus at a local cidery.
Future course ideas include communication and email etiquette, time and sleep management, supervisor training, elder care, and financial management and budgeting skills. Other possible workshops will focus more on faculty-related or staff-related topics, including a faculty workshop on tenure applications, for instance.
While many of the workshops, programs and events are located throughout the campus, the Center has its own designated location in Smiddy Room 214, a smart conference room equipped with high-tech media, including an Apple TV, to serve the Center's wide-ranging needs. The room even has its own sound-blocking machine to offer a quiet space to get away or for meditation classes, Dotson said.
"I think getting things off the ground has been huge. The Center is essential for employees, community and students. There has been a need for professional development opportunities on campus, and hopefully we are filling that need," Perry said.
To start off, Dotson held a faculty forum early in August to get input from professors on what they would like to see. Faculty identified mentoring as a priority.
"Before, we didn't have any mentoring for new faculty so we did an orientation and got more people involved. Faculty also now have additional opportunities to meet people outside of their disciplines," Dotson said.
The Center is also working on issues of diversity, equity and inclusion (DEI) and working with Associate Vice Chancellor Tabitha Smith on a DEI series for this semester, including tackling a host of issues like implicit bias and microaggressions.
"Everyone needs to be more inclusive. We need to strengthen that and expand to a whole lot more people," Dotson said.
In September, Perry held a session with staff to brainstorm ideas.
Some staff ideas became workshops held last semester. One program focused on mental health resources and another featured a local attorney who provided advice on how to write a will, Perry said.
Because of their unique roles, faculty and staff can sometimes feel separated and isolated from each other, Perry said.
"We want to build those relationships so there is one big community rather than separate faculty and staff," she said.
Also, Covid-19 has created a need for more community building and professional development, Perry said.
"I think Covid has led us to a place where people work differently than they used to and they need different sets of skills and work- life, balance," she said. "I was downright giddy when I had my first in-person meeting since Covid. Everyone is Zoomed out and people want to get together."